In March, we learned about the Ryobi P3150 18V Heat Gun which offers the ease of use and performance of an electric heat gun with the portability only a battery powered tool can offer. In this review article we will check it out and go over it's features and performance.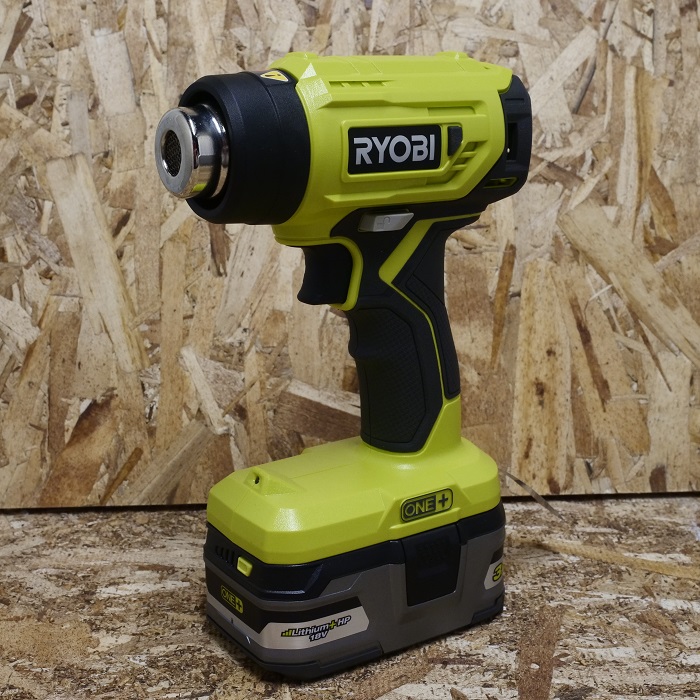 Ethics Disclosure:
Disclosure: This a review. I am not paid to give a positive review. These are my opinions. Tool Craze cannot guarantee the accuracy of the information/specifications/features of any tool listed in this article. Manufacturer marketing claims may not always meet expectations. Tool Craze is not responsible if products do not live up to claimed expectations. Please do your full research before buying any products. Tool Craze is an Amazon Associate, and also an affiliate with the Home Depot, Acme Tools, Ohio Power Tool, Tool Nut, Lowe's, Ebay, and Walmart and places affiliate links to these retailers. If you purchase something through a link on the Tool Craze site, Tool Craze may get a share of the sale.
Manufacturer Specs:
High temperature of 875° F
Reaches operational temperature in less than 10 seconds for increased productivity
Deflector nozzle increases productivity for applications such as shrink tubing and pipe thawing
Concentrator Nozzle intensifies heat for specific areas
LED Work Light illuminates workspace for increased visibility

Max Temperature: 875° Farenheight
CFM: 6
Weight: 1.4lbs (baretool)
Price $79 (baretool)

Features:
One of the greatest feature of Ryobi's 18V cordless lineup is the large variety of products ranging from diy home use to trade specific tools to outdoor tools and everything in between and it's no surprise to see Ryobi add yet another unique tool to their lineup with the P3150 cordless heat gun. Being part of the One + system means any Ryobi 18V battery, whether it's the old nicad's or the newer lithium batteries, they all work with this new tool.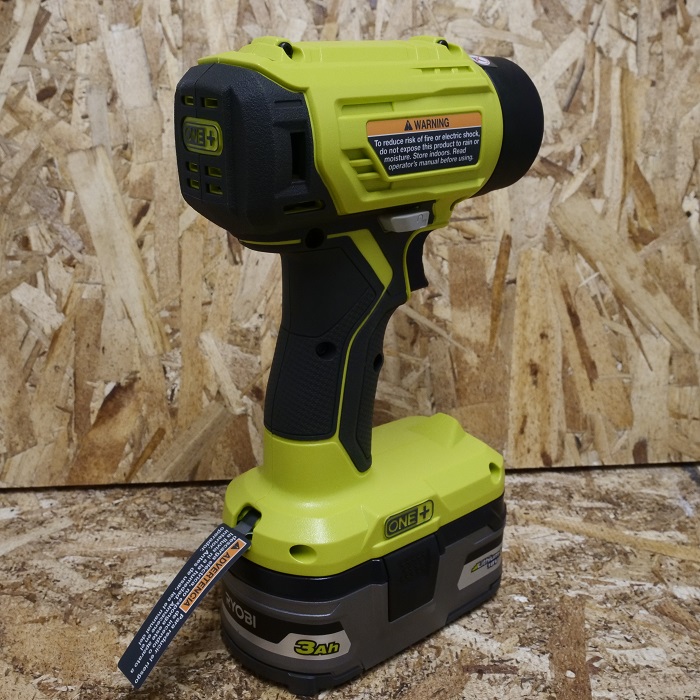 The P3150 heat gun reaches a max temperature of 875 degrees and reaches operating temperature in less than 10 seconds. As far as features go, it's very basic with a on/off trigger with safety buttons that must be pressed in order to operate and an LED at the base of the handle to illuminate the working area in dim light. There are no advanced features like variable temperature control settings, no multiple air speeds and there isn't even a lock on button which means you have to press the trigger the entire time you use this heat gun. However Ryobi does include a couple of add on accessories that do make using this heat gun a lot easier and faster to work with such as a deflector nozzle and concentrator nozzle. Both of these accessories come bundled with the unit and the concentrator nozzle is a step down cone to concentrate heat into a specific point and the deflector nozzle has a wrap around flap that forms an arc to heat the front back and sides of something and is perfectly suited for heat shrink tubing.
The overall design is very simple but you do get Ryobi's usual finishing touches like their nicely ergonomic handle which was first introduced in their first generation brushless tools but has now trickled down into all new Ryobi 18V cordless tools and the handle itself is very ergonomic with a nice bump that separates your ring and middle finger and holds them in place and the top of the handle slims and tapers down for comfortable ergonomics. The handle itself features their nicely textured rubber overmold which is very grippy.
Because Ryobi's battery packs are flat bottomed, this gives the Ryobi 18V heat gun the ability to stand up just like the rest of their cordless tools do. This is a characteristic all 18V tools share not just Ryobi's but what's interesting about this feature on a heat gun is that you don't see any other corded plug in heat guns that can stand up. This gives the Ryobi 18V heat gun an edge over corded heat guns just for the fact that you can stand it up when not in use so as to not worry about damaging delicate surfaces from heat from the hot metal tip.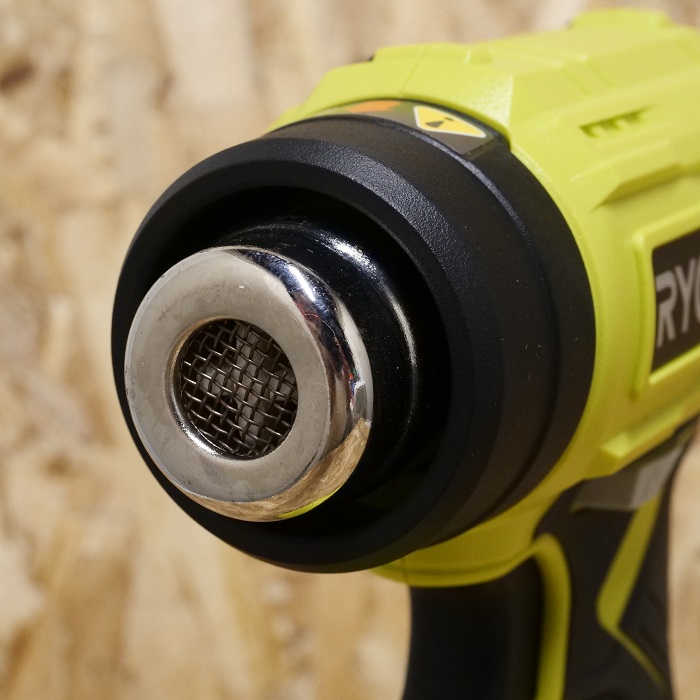 Right now the Ryobi P3150 cordless heat gun comes as a baretool only and is priced at $79. This is $50 cheaper than Milwaukee's cordless M18 heat gun which is also made by parent company TTI. You don't miss too much going with Ryobi's heat gun since the only extra physical feature on the Milwaukee heat gun is a fold out ladder hook which is not found on the Ryobi version. Other than that both are very similarly featured units and both have a max 875 degrees heat output. I also want to mention that there are many heat guns on the market that go for far less than $99, even lower than $50, and will probably perform better but keep in mind that this unit is cordless meaning you don't need to plug in and can work anywhere even where there's no power. Also cordless power tools always command a higher price point since there's a premium for going cordless but with that said, Ryobi's 18V heat gun is still the lowest priced options from the top brands at the moment. As was mentioned above, the Milwaukee M18 heat gun is $50 more at $129 and Dewalt's latest 20V heat gun goes for $119 baretool making the Ryobi 18V the cheapest of the three so far. There's also a cordless Ridgid 18V heat gun but that one works a bit differently as it uses Butane as the power source along with the battery to power it all but even then it's still priced more than Ryobi's at $129.
Performance:
I'll start off by saying I've never used a heat gun before, or rather I should say I've never used a real power tool heat gun as for the the few times I've ever needed a heat gun, I just borrowed my wife's hair dryer which is a sort of heat gun if you think of it. A hair dryer got the few jobs done however very poorly since that's not what it's used for. I mostly used it for removing stickers and such and even that would take ages. After trying out Ryobi's 18V heat gun, the difference between using this and a hair dryer is night and day. Not only does it reach a much higher temperature it also does so much faster. I tried it out on removing stickers and was able to do so in a fraction of the time and that was when using the heat gun without any of it's attachments. Once I installed the concentrator nozzle, it got the work removing stickers even faster in less than half the time it takes without the nozzle.
I also tested the Ryobi heat gun on some heat shrink tubing and worked very well without any nozzle attachments and after installing the deflector nozzle, it too cut the time it took to heat shrink tubing down to less than half the time without the nozzle since I didn't need to manually go over all sides of the heat shrink tubing. All in all I was very pleased with the performance that came out of the Ryobi cordless heat gun.
The P3150 heat gun reaches a max temperature of 875 degrees and reaches operating temperature in less than 10 seconds. I tried testing these claims myself with my Flir C2 thermal imager but to no avail since the thermal imager maxes out 356 degrees.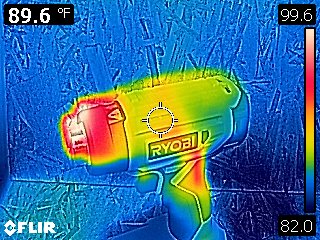 The heat gun is also well designed since the heat is contained at the tip of the unit. What I mean by this is that after long periods of use, the handle never got hot or even warm so no worries about every having to burn your hand from regular use. Even the top section of the body behind the front doesn't get hot and barely got warm after minutes of use. This means you can pick up the heat gun from the top of the unit even after it's been used and not have to worry about harm.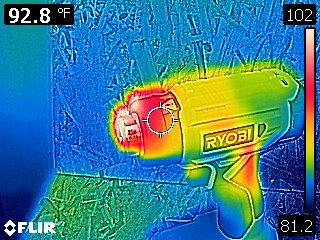 You should never touch the tip after use as that does stay very hot even after several minutes which is common sense. There's a plastic collar surrounding the metal tip and surprisingly doesn't get hot immediately after use. However once the unit has been used and after 5 minutes of downtime, the plastic collar does start to get very warm at a tested 113 degrees. Not enough to harm you but it's just a heads up and I wouldn't hold on to that for more than a few seconds.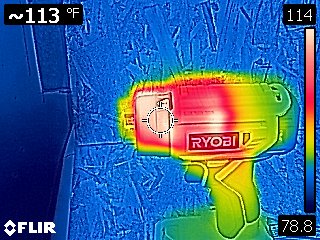 Runtime:
As far as runtime goes, Ryobi says you can get up to 20 minutes of runtime with this heat gun when paired with their newer 6ah batteries. I don't have any on hand to test their claim but after a few minutes of use with the new Lithium+ HP 3.0 ah battery, I did see the fuel gauge bars start to drop fast after continuous use. Of course larger batteries such as 4ah, 6ah and even their 9ah batteries will help with better runtime however if you need to work all day, I'd suggest getting a corded heat gun instead. This cordless heat gun is better suited for a few quick uses here and there, otherwise you'd better have extra batteries for continuous use.
Room for Improvement:
So far performance is good on this unit and is a huge improvement over a hair dryer for use with DIY projects around the house. Although that's not to say the Ryobi heat gun is perfect. I would have liked a lock on button for extended periods of use and the 6 CFM's of air volume is ok but would have liked it to push more air but I don't find either of these as deal breakers. Also would have been nice to see variable heat settings but again for my uses it was not necessary so not a deal breaker and would no doubt raise the price point if they included such a feature. But that's what we like about Ryobi, we might skip a few features but for a lower more affordable price point than the pro brands so everything looks good for this unit.
Pros:
reaches operating temperature quickly
includes concentrator and deflector nozzles which speed up work
handle does not get warm or hot after extended use
LED light to help in low light
Cons:
no lock on button for extended use


DISCLOSURE:
We are a participant in The Home Depot Affiliate Program, an affiliate advertising program designed to provide a means for us to earn fees by linking to homedepot.com. Tool Craze does not sell this product or any product on the Tool Craze website. Tool Craze does not handle the sale of any item in any way. If you purchase something through a post on the Tool Craze site, Tool Craze may get a share of the sale. Please refer to the About section for more info. Tool Craze cannot guarantee the accuracy of the information/specifications/features of any tool listed in this article. Please do your full research before buying any products.