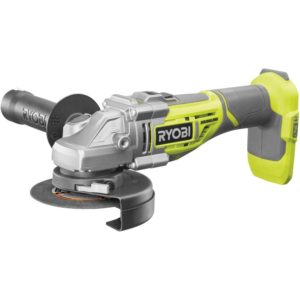 We've seen this spotted outside of the USA and Ryobi USA recently gave us a teaser of a bunch of brushless 18V tools coming soon which included this USA model but until now we didn't know much about the new USA model. Luckily for us Cody Robertson spotted the USA spec model, the Ryobi P423 18V Brushless Angle Grinder / Cut Off Tool.
What we know:
Yes we already knew Ryobi had a new brushless 18v grinder in the works so it's no surprise this new model is brushless. In fact, it seems that most of Ryobi's new cordless tools are brushless and it seems that moving forward, brushless will be the way to go. Previously I believed the Euro model only had a two position handle but the USA spec will in fact have a 3 position handle. This means you'll be able to place the handle on the left, right and top of the gearbox for a variety of positions. It takes 4-1/2 inch wheels with a maximum no load speed of 10,400 RPM and will have a slide lock on switch for continuous operation.
I liked that Ryobi uses tool less to change and rotate blade guards. Although the arbor is not tool less to change blades, I do like that Ryobi fattened the side handle to accept and store the spanner wrench.
One thing I noticed that Ryobi didn't mention while other brushless 18V grinders do is that Ryobi didn't mention that it will have corded like performance. Makita's and Milwaukee's 18V brushless grinders both mentioned that they had corded like performance and they do, I know because I reviewed both of them, but I'm afraid the Ryobi MIGHT not have similar corded like performance. What Ryobi DOES mention is that you can expect more runtime, more power, and a longer motor life all thanks to the new brushless motor. They also say that it will have 60% more speed than their brushed motor P421 angle grinder. So my guess is that we can expect this new brushless grinder to be more powerful and run longer than their current brushed motor 18v grinders, but might not be as strong as lets say the Makita or Milwaukee 18V brushless grinders. It wouldn't surprise me if that's the case because Ryobi isn't known to be a high end high performance brand. Sure a lot of their newer stuff keeps up with the high performance brands but is usually a step back since it is more of a VALUE brand.
Ryobi's teaser video stated that this would be available in November but it's already available for sale now and with a retail price of $99. Supposedly we're saving $20 off the full retail price of $119 which is weird because it barely came out and already it's on sale. It could just be the placebo affect marketing where they inflate the MSRP to make it seem like you're saving money on the "current" price but in reality never hits the inflated MSRP price. Either way $99 is better than $119 since that would be too close to the price of Makita's and Milwaukee's brushless models although even at $99 might be a bit high for the Ryobi users. Most people choose Ryobi because of their lower prices but $99 as a bare tool which means a battery or charger are NOT included might be too high and out of reach of their average user. In either case I like the fact that Ryobi is stepping it up with more and more brushless tools to choose from.
18V brushless motor
10,400 RPM
3 position handle
slide lock switch
5/8″ arbor
tool less blade guard
spanner wrench storage in side handle
DISCLOSURE:
Tool Craze does not sell this product or any product on the Tool Craze website. Tool Craze does not handle the sale of any item in any way. If you purchase something through a post on the Tool Craze site, Tool Craze may get a small share of the sale. Please refer to the About section for more info.