While it's not surprising that Ryobi has another new tool coming to their ever growing 18v One Plus battery line, the new tool in question is something you'd expect from the more pro focused brands which is the Ryobi P590 18v 2-1/2" Capacity Portable Bandsaw. While the P590 18v portable band saw is a smaller tool with a 2-1/2" cut capacity, it should be a great option for cutting electrical conduit, gas pipe, and smaller hollow and solid steel.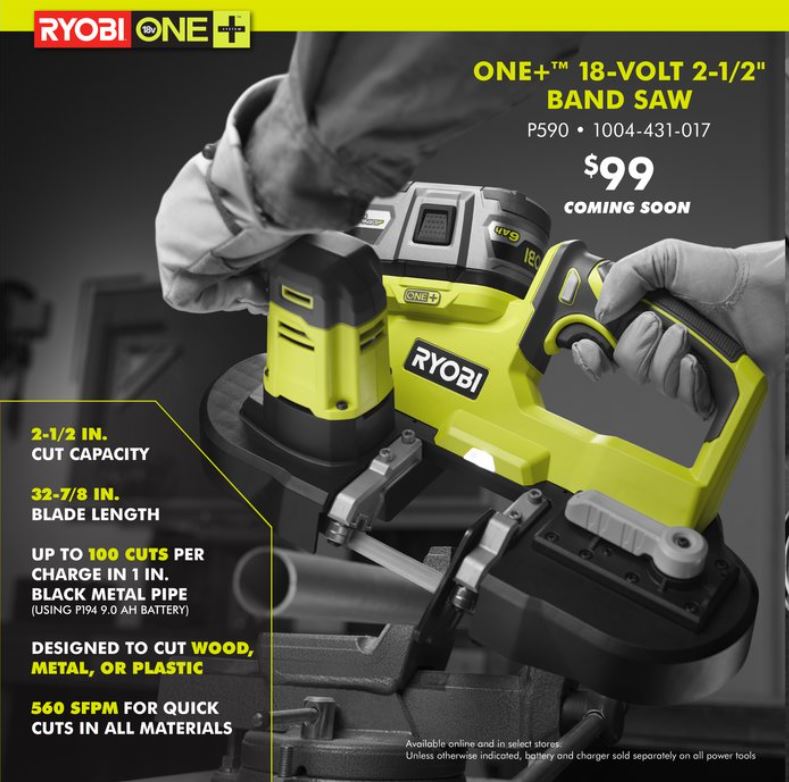 My thoughts: While this hasn't showed up for sale yet, the Ryobi flyer on the Home Depot website includes it and shows a few of the features and specs, as well as pricing. I did look up the manual to see about more specs but the Ryobi manual site hasn't been working so I couldn't open it at the time of writing. What the flyer does show is a cut capacity of 2-1/2", 560 SFPM, a 32-⅞" blade, and up to 100 cuts per charge through 1" black metal pipe using a 9ah HP battery, which is pretty impressive runtime. There's no word if it features a variable speed trigger, but I hope it does to provide maximum control starting cuts and high speed to power through larger materials. The only other feature I can spot for sure is a quick release tension lever for changing the blade. The low price point of $99 makes this look like it will be an excellent small saw for electricians and plumbers who are using the Ryobi One Plus 18v battery platform. EDIT 10/18/2019 We have gotten word directly from Ryobi and have since learned that the actual retail price is $129 USA launch and will be available some time in October 2019 per the Ryobi Press Release.
EDIT 10/15/2019: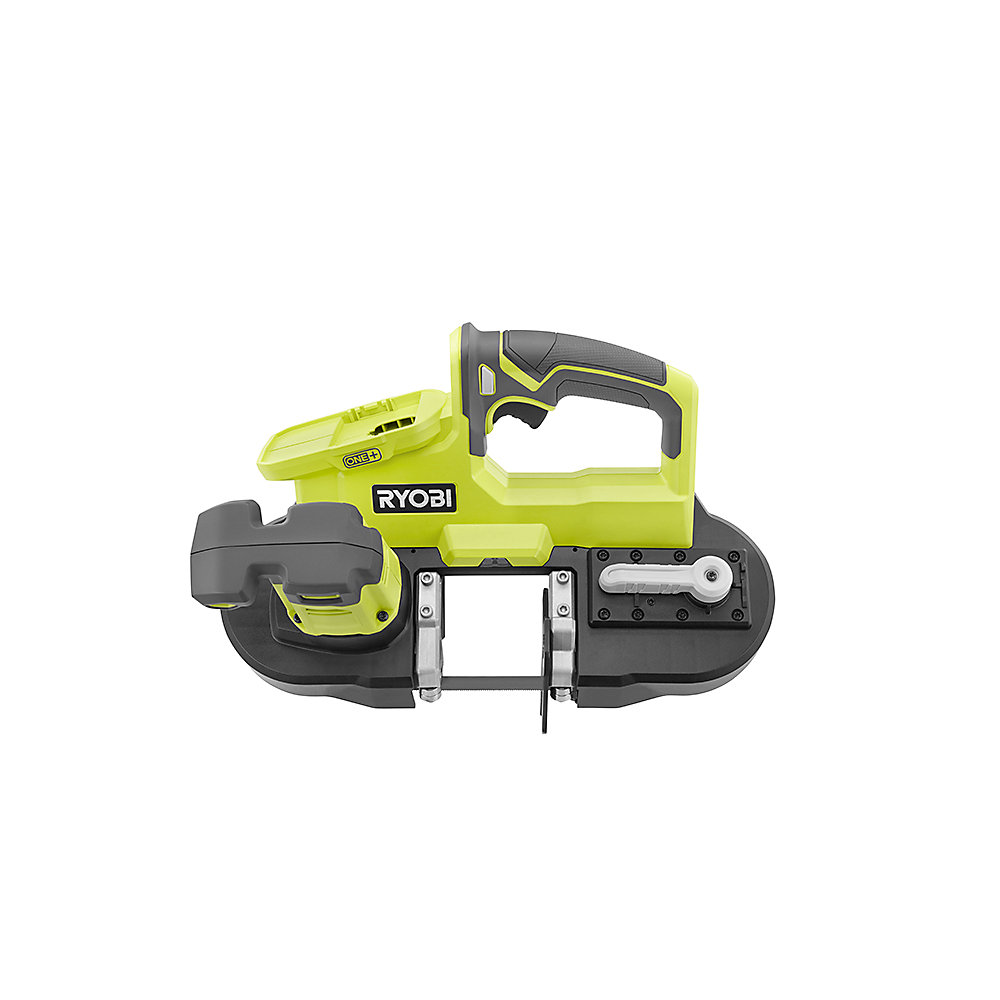 We have since learned that the new Ryobi 18V P590 Band saw has a built in LED light to help the cut line when working in low light and it is not a variable speed band saw. The trigger clicks to engage on and that's it. I know none of the pics show it but there's a rafter hook on the backside. While the new P590 band saw isn't out in the USA HD site, it's up on the Canada HD site which leads us to believe it should be out very soon in the USA. Workshop Addict also has a video review of it before official USA release if you want to check out what they have to say about it. I also want to mention that the Canada HD site mentions slightly different blade speed of 575 SFPM however Workshop Addict mentions the same 560 SFPM as the USA HD flyer.
A big thanks to DrewBHAM for spotting on the Canada HD site!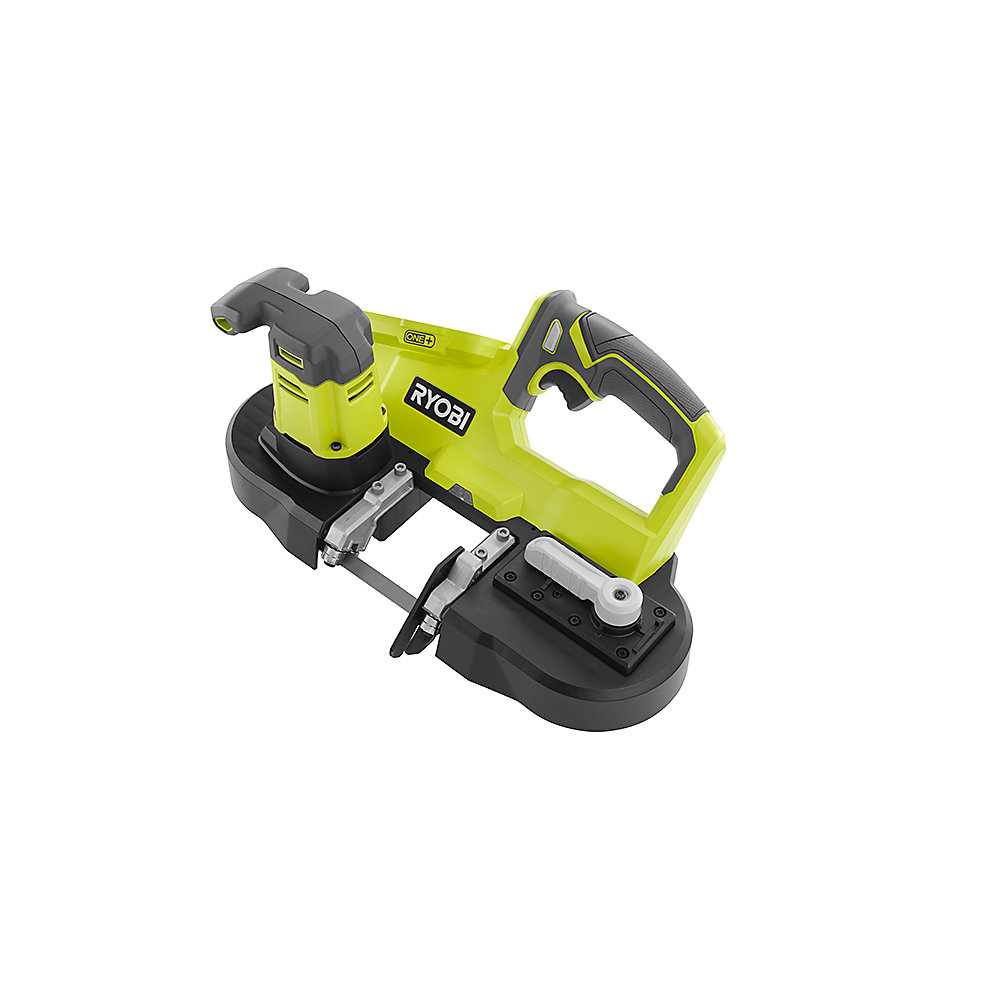 Features and Specifications:
Cut capacity: 2-½"
Model number: P590
SFPM (surface feet per minute): 560 SFPM
32-7/8″ blade
LED light
Voltage: 18v DC
Blade size: 32 ⅞"
Up to 100 cuts though 1" black metal pipe on a 9ah HP battery
Designed to cut through wood, metal, and plastic
$129.00
Warranty: not yet listed (but presumably 3 years)


DISCLOSURE:
We are a participant in The Home Depot Affiliate Program, an affiliate advertising program designed to provide a means for us to earn fees by linking to homedepot.com. Tool Craze does not sell this product or any product on the Tool Craze website. Tool Craze does not handle the sale of any item in any way. If you purchase something through a post on the Tool Craze site, Tool Craze may get a small share of the sale. Please refer to the About section for more info.