I found another Ryobi 40V mower, the RY401110 40V Brushless 20″ Lawn Mower that has never been covered here on Tool Craze.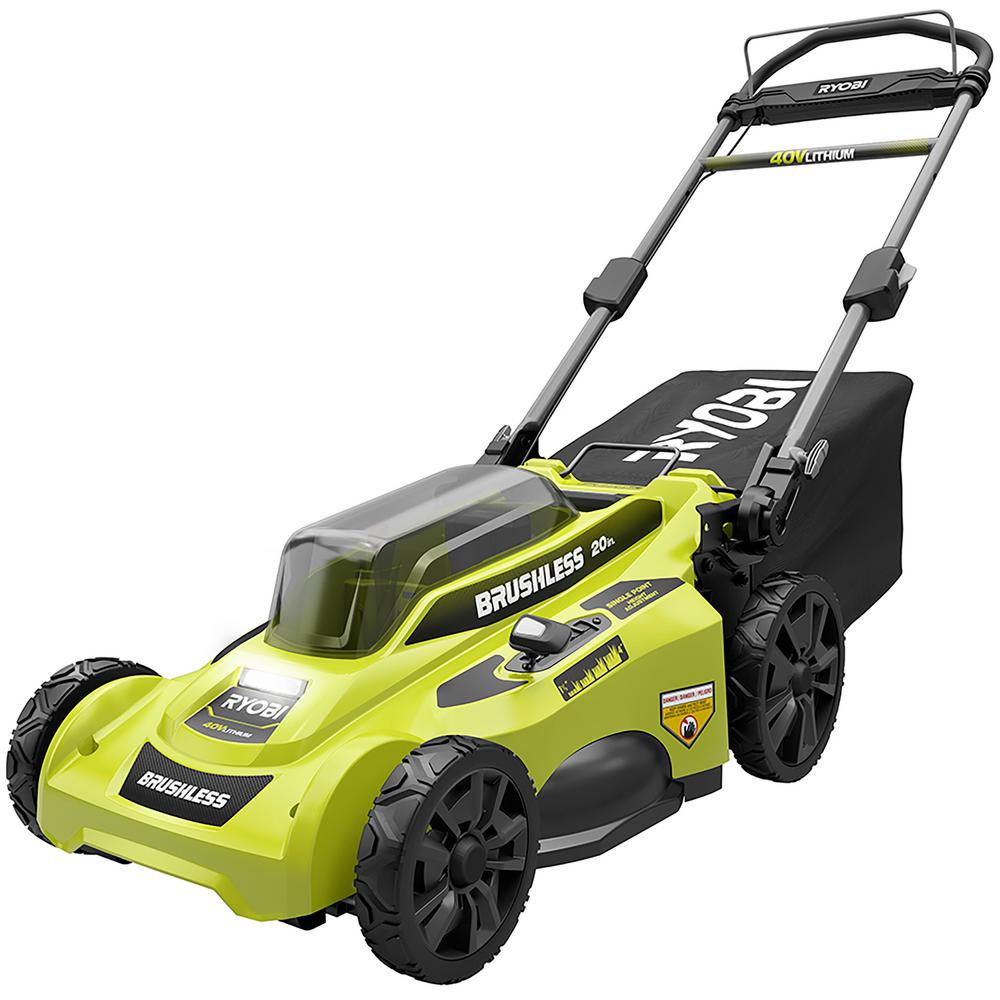 While not exactly new as the Ryobi RY401110 40V Brushless 20″ Lawn Mower came out last year in Spring 2019, it's still worth mentioning since it offers a lot of value for it's low $299 price point which includes a large capacity 6.0 ah battery pack and charger. Other features include a brushless motor for better runtime and performance which Ryobi claims has Gas-like power and has a very respectable 20 inch deck. So far so good and even offers more than the recently mentioned Ryobi RY401100 40V 2 in 1 18″ Push Mower which debuted at $249 as a kit but for $50 more, the Ryobi RY401110 gets you a brushless motor, larger 20 inch deck, larger battery, a bag for bagging clippings as you cut (also has the ability for mulching and side discharge although you'll need to buy the side discharge accessory to do so) and also includes an LED headlight.
Ryobi claims the runtime is up to 48 minutes which is good for a 40V mower, not as good as the best 56 volt mowers but still good for cordless. They also mention the battery charge time as 4 hours which is nowhere near as good as the best brands such as Ego that can charge a similar sized battery as fast as 30 or 60 minutes.
I also noticed that the battery compartment has slots for two batteries. Although only one has electrical contacts which means the second slot is used for storage for making easy battery swaps in the field instead of having to go back to the garage for a spare. I also noticed there's one of those annoying battery keys in the battery compartment, which means you need the key to operate so make sure not to lose yours.
Powerful brushless motor delivers gas-like power
Load sensing technology maximizes power and efficiency
6.0 Ah high-capacity battery for extended run time
Push button for hassle free starting
Easy-lift lock-and-release bagger for single motion bag removal
Collapsible telescoping handles for compact storage
7-position, single-point height adjustment from 1.5 in. to 4 in.
3-in-1 mulching, bagging and side discharge capability (side discharge accessory sold separately model, AC040VSD01)
High-intensity LED headlights
On-board battery storage compartment for easy battery exchange
5-year limited warranty (tool), 3-year limited warranty (battery), 90-day no risk satisfaction guarantee
Up to half acre per charge


DISCLOSURE:
We are a participant in The Home Depot Affiliate Program, an affiliate advertising program designed to provide a means for us to earn fees by linking to homedepot.com. Tool Craze does not sell this product or any product on the Tool Craze website. Tool Craze does not handle the sale of any item in any way. If you purchase something through a post on the Tool Craze site, Tool Craze may get a small share of the sale. Please refer to the About section for more info.