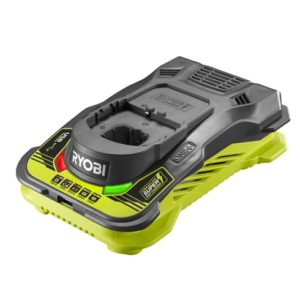 Ryobi's current 30 minute charger is fast if you need to charge a compact 1.5 ah battery but not so much with their largest battery in the USA as of now, the 4.0ah battery which takes over an hour to charge. Ryobi is changing things up and now looks to compete against super fast chargers such as Makita's and Milwaukee's Rapid charger with their own Ryobi super fast charger.
With a name like Ryobi super fast charger, you know right away it's going to charge, well, super fast. How fast? Ryobi states it can charge their 1.5ah battery in 20 minutes which is 10 minutes faster than their 30 minute charger. It charges a 2.5ah battery (not available in the USA) in 30 minutes and a 5.0ah battery (also not available in the USA) in 60 minutes. That's fast!
With this kind of charging speed it brings it in charging territory such as Makita's already fast stock charger and Milwaukee's upgraded Rapid charger.
What's interesting about the Ryobi super fast charger is that it doesn't appear to use air cooling to cool down batteries as they charge and might be similar to Milwaukee's rapid charge system that doesn't air cool either (Fun Fact: Milwaukee and Ryobi tools are made by parent company TTI).
Last but not least, the new Ryobi super fast charger also incorporates a built in USB port to charge your mobile devices, a feature that is becoming more and more common on new power tool battery chargers.
Before we all get too excited, keep in mind I spotted the new Ryobi super fast charger over in Australia which means its not available here in the USA, yet. It may be sometime before it hits other markets such as North America.
Charge times are:
20 minutes for a 1.5Ah battery
30 minutes for a 2.5Ah battery
60 minutes for a 5.0Ah battery.
DISCLOSURE:
Tool Craze does not sell this product or any product on the Tool Craze website. Tool Craze does not handle the sale of any item in any way. If you purchase something through a post on the Tool Craze site, Tool Craze may get a small share of the sale. Please refer to the About section for more info.