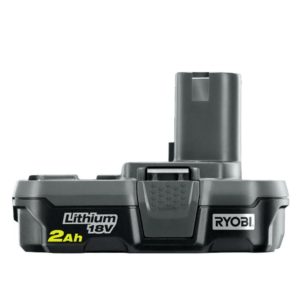 Rob Johnson has spotted a new Ryobi 18V 2.0 ah P161 battery over at the Home Depot website. The battery is sold as a two pack and can also be found bundled with certain 18V Ryobi kits such as their outdoor power tools.
The new battery is model P161 and is a compact battery meaning it is smaller than their larger 4.0ah battery and has a 2.0 ah capacity. I'm sure many of you Ryobi fans are happy about this news of a larger compact battery as their current top compact battery was the 1.5 ah model, however I'm a little bit let down by this news and I'll tell you why. First of all we already know that Ryobi has 2.5ah compact batteries, and no this isn't a rumor, and this isn't an announcement either that they will have them later, what I'm saying is that they have them available now, as in right now and have had them for years. Not here in the USA but in other parts of the world. So knowing that Ryobi has a better compact battery with a larger capacity than what we are barely getting now is disappointing.
Then more details about the new USA spec 2.0 ah battery are that it doesn't have the built in fuel gauge like the 1.5ah battery does. This means that it's more of a budget battery without the vital fuel gauge feature and it comes in the budget themed black and grey color scheme of the budget 1.3 ah battery.
Next pricing, a two pack of Ryobi 2.0 ah batteries will set you back $79. This might seem like a good deal but considering you can find the 4.0 ah 2-pack for $99. I'd say the 2-pack of 2.0 batteries is not a good deal since you get the total runtime capacity with the two batteries combined equal to just one 4.0ah battery, but you get a two pack of those for only $99.
I'm not sure why Ryobi doesn't give us their 2.5ah batteries and also while we're talking about Ryobi batteries, why don't they give us their 5.0 batteries here in the USA as well? Ryobi has been making tremendous progress with regular new tool updates and moving lots of their cordless tool to the brushless power tool race, yet Ryobi USA is behind the times with their batteries. I don't understand why they are holding back their best batteries for the USA market? This doesn't make sense to me.
DISCLOSURE:
Tool Craze does not sell this product or any product on the Tool Craze website. Tool Craze does not handle the sale of any item in any way. If you purchase something through a post on the Tool Craze site, Tool Craze may get a small share of the sale. Please refer to the About section for more info.