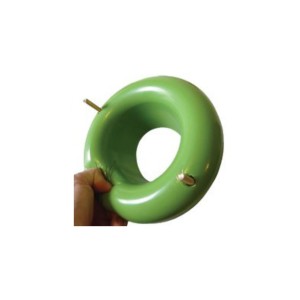 Thought I'd show you guys a neat interesting concept in toilet installation, the Sani Seal waxless toilet gasket is made out of polyurethane foam instead of wax. It's flexible nature allows you to make installations easy and because it flexes and conforms, it can move with your toilet and not lose it's seal. As opposed to a wax ring that once it's bent out of shape is not longer good and needs to be replaced.
Another benefit is that its reusable and can be reseated after use. This would have saved me money years ago when I had my toilet replaced. The wax ring seal was properly seated although the bowl was not properly attached to the base. Before we diagnosed the problem, we had to remove the toilet from the floor thus rendering the current wax ring useless because they are one time use item. I had to make another trip back to the store and waste more money on a new wax ring. Having a reusable toilet gasket would have saved me time and money.
According to the manufacturer of the Sani Seal, it is said to accommodate varying flange to floor height variations. Many cases where you install new flooring such as tile or wood flooring, the new installation raises the floor height above the flange opening. This poses a new problem that can be solved either at the source with flange extenders or as many people do and double up on wax rings. This product also solves this problem and the Sani Seal is said to be able to be used where typically you'd end up using to wax rings.
I seen the video below and it looks like an easy straight forward install. Just place the Sani Seal gasket over the flange and line up the two bolts into the hole slots on the Sani Seal and place your toilet on top as normal. Seems hard to get it wrong, but if for some reason you do, just reinstall it again (correctly this time). The price aint bad at just under $12 at the time of writing over at Amazon. I believe I paid around $8 for my premium wax ring years ago, but then again I had to purchase it twice so $12 would have been much cheaper in the end plus not having to waste extra time going to the store.
Polyurethane foam
no messy wax
universal fit
holds bolts up
moves with toilet
countless attempts at setting toilet