Skilsaw is most famous for their legendary worm drive circular saws and have recently placed a worm drive drivetrain into a table saw and they didn't stop there as they now put a worm drive drivetrain into their new miter saw with the Skilsaw 12 Inch SPT88-01 Worm Drive Dual Bevel Sliding Miter Saw.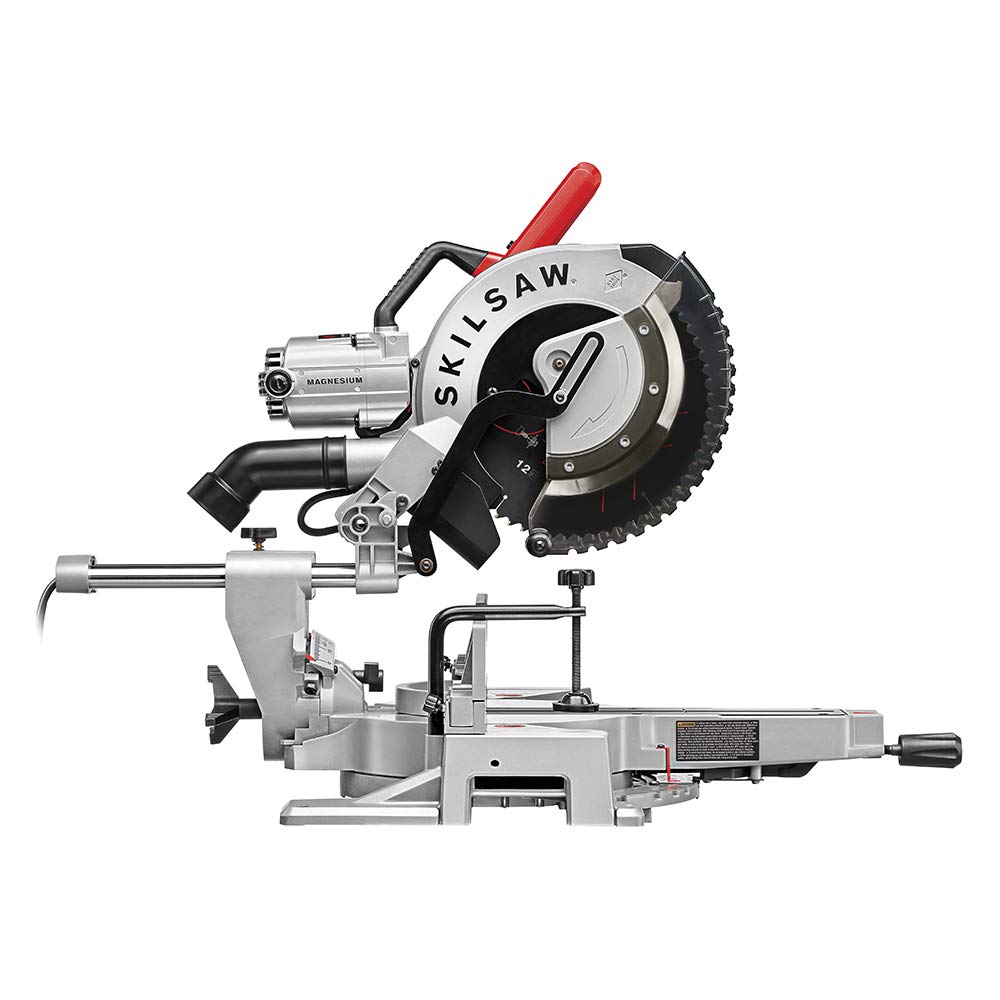 As such you can expect the power from a worm drive on this miter saw. While the worm drive gearing is the standout feature, don't let that fool you into thinking this is a one trick pony as it's a very feature packed miter saw. Expect the ability to cut 2x lumber up to 2×14 and can cut 4x lumber in one pass thanks to it's tall cut capacity. They don't mention vertical cutting capacities but the fences appear to be tall and might possibly do about 6 inches or taller. It has flagship features such as double bevel ability with selectable hard stops at 45 degree angles and thanks to included crown stop accessories, cutting crown molding is easy out of the box without the need to buy extra accessories, cough*Dewalt*. It does miters up to 50 degrees left and 60 degrees right just like the other flagships and has a clamp and extensions included. Extensions help if part of the piece hangs over the ends of the saw but you'll still need a good miter stand with extensions for supporting long boards. It has locking blade depth stops which help when making dado cuts and an LED cut line system is also featured in this Skilsaw miter saw. What's great about LED cut line systems on miter saws is that they cast a shadow over the cut line and it never needs calibration and even takes blade thickness into account. One thing I'm not crazy about is that they went with a twist lock knob instead of a cam lock which means several rotations to lock instead of an easy push down to lock and pull up to unlock miter angles.
This new Skilsaw miter saw is available now and retails for $599-629.


Free 2 day shipping – Try Amazon Prime 30-Day Free Trial

DISCLOSURE:
Tool Craze does not sell this product or any product on the Tool Craze website. Tool Craze does not handle the sale of any item in any way. If you purchase something through a post on the Tool Craze site, Tool Craze may get a small share of the sale. Please refer to the About section for more info.