We've seen so called cordless worm drive saws from Makita then Dewalt and now Milwaukee however none of those were real worm drive saws. They were all fakes and were actually sidewinder saws made to look like a worm drive saw and thus were given the name "rear handle" saws. I was starting to wonder when a real cordless worm drive saw would come out. It appears this year is it as Skilsaw has announced a true cordless worm drive circular saw with actual worm drive gearing! It's called the Skilsaw 48V TrueHVL SPTH77M-12 Worm Drive Circular Saw.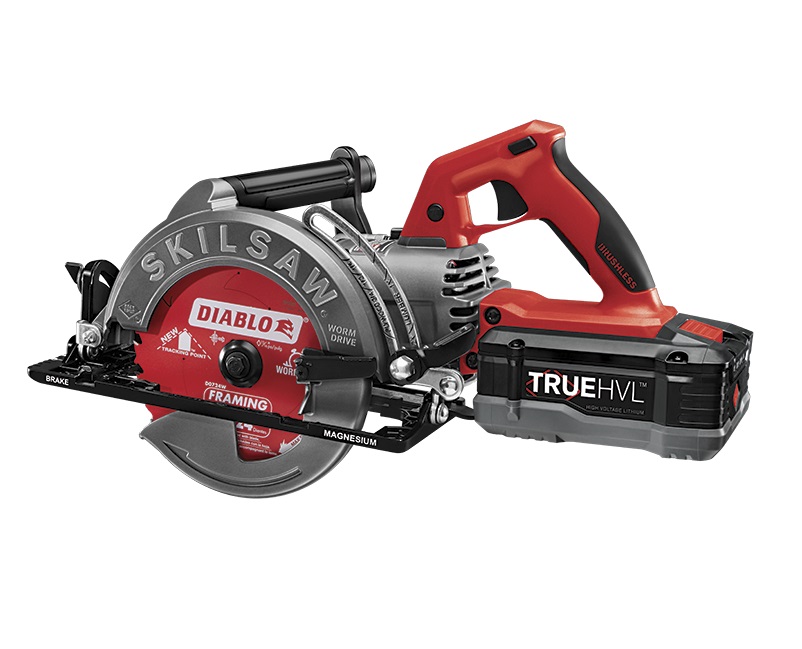 It actually doesn't surprise me that Skilsaw would be the ones to come out with a cordless worm drive as these guys love their worm drive saws. In fact they love worm drives so much they put them in just about anything from worm drive table saws to worm drive miter saws. At this rate they'll soon come out with worm drive tile saws, worm drive angle grinders and worm drive reciprocating saws. That last sentence was a joke in case you were wondering but it wouldn't surprise me if they did.
Going back to the Skilsaw 48V TrueHVL Worm Drive Circular Saw, it basically looks like they took one of their existing worm drive circular saws and added a battery. You get the same quality and construction of their corded worm drive circular saws with lots of lightweight but strong magnesium throughout. Even the motor housing is magnesium, something you don't see on cordless circular saws as the trend is to go plastic but not Skilsaw. The saw will get it's strong power from a brushless motor with electric brake.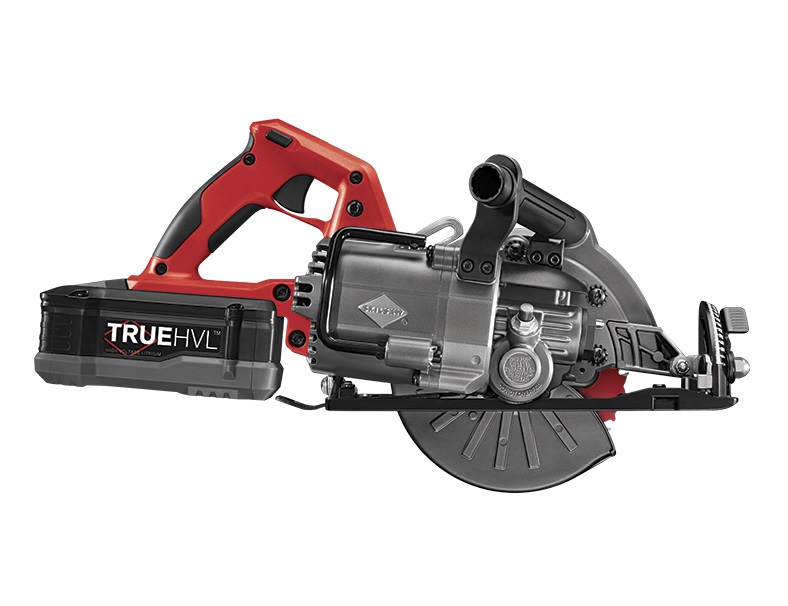 The new cordless worm drive uses a 48 volt lithium slide-pak battery pack. Skilsaw calls this tech "TrueHVL" which stands for high voltage lithium. And it doesn't surprise me they went with a higher voltage than 18 volts as a worm drive would need as much power as it could get to run off a battery pack. The battery pack is rated at 5.0 ah for 48V and comes with a charger that charges this battery in 1 hour. Runtime is said to be upwards of 400+ cuts per charge, most likely cuts into 2×4 lumber. It appears their battery packs use 12 individual cells which should mean it's actually rated as a 43.2 Volt battery but rounded up to 48 volts for marketing purposes. Much like many manufacturers nowadays say 20 volt instead of 18v and 40V instead of 36V. They also have "Stay Cool Cell Technology" in which each cell is wrapped with a temperature controlling material that keeps cells cool to provide better performance. A 4 bar fuel gauge is in front and the cells are said to be arranged in a way to evenly distribute heat for better runtime. They also have an intelligent power management system in place that monitors and optimizes each cell to maximize power, performance and run time.
The saw itself uses a traditional 7-1/4″ blade and runs at 5,800 no load RPM and the saw weighs in at 11.1 lbs as a bare tool making it lighter than corded worm drive saws but only when the battery is not installed. The battery pack should no doubt make the cordless worm drive as heavy as a corded worm drive. Depth of cut will be 2-3/8″ at 90 degree and 1-15/16″ at 45 degree and the saw also features a rafter hook and vac port for dust free cutting when paired with a vac.
The new Skilsaw 48V TrueHVL Worm Drive Circular Saw will be available in mid October 2019.
A big thanks to Cody Robertson for spotting!


Free 2 day shipping – Try Amazon Prime 30-Day Free Trial



DISCLOSURE:
Tool Craze does not sell this product or any product on the Tool Craze website. Tool Craze does not handle the sale of any item in any way. If you purchase something through a post on the Tool Craze site, Tool Craze may get a small share of the sale. Please refer to the About section for more info.