Ever cut Hardiebacker cement boards or fiber cement siding with your circular saw and are tired of the mess and dust created from dust flying all over the place? Skilsaw has the solution for that with a new Skilsaw 7-1/4″ sidewinder circular saw for cutting Fiber cement.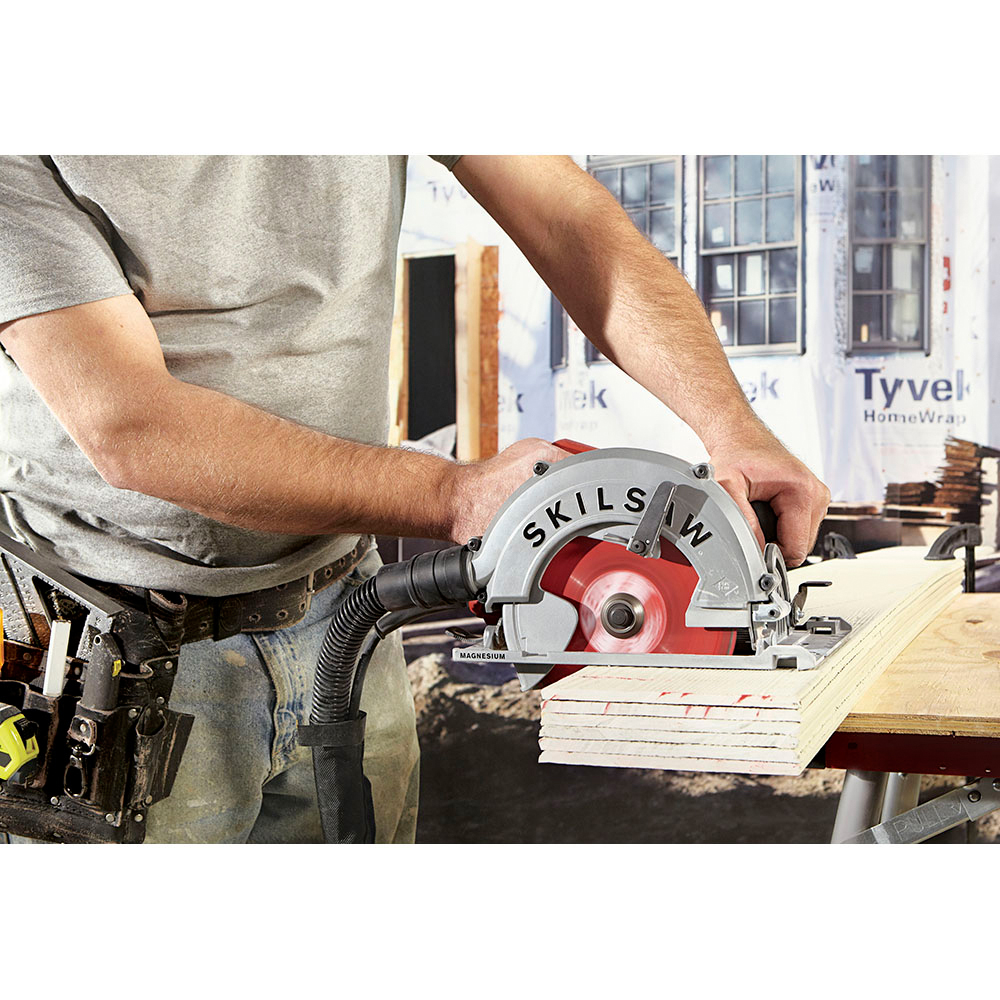 What makes this saw well suited for cutting fiber cement boards is the integrated dust collection system as it uses long 8 foot vacuum hose connected directly to the upper blade guard of the circular saw. When attached to a vacuum, this saw will vastly reduce dust created from cutting fiber cement boards. This will not only cut down on the mess created by all the dust but makes it safer for the user since breathing the silica dust is harmful. I'd still suggest to use dust masks or respirators to be on the safe side.
The saw's no-mar cord and hose sleeve keeps these items protected from the cutting surface and makes handling the tool more convenient so users can focus on the job at hand.
You still get the quality you expect from the Skilsaw brand with strong yet light magnesium construction for a saw that weighs only 9 lbs and 15 amp dual-field motor for performance and durability.
7-1/4″ blades with 5/8″ arbor
10 foot cord
2-7/16″ max depth cut at 90 degrees
1-7/8″ max depth cut at 45 degrees
direct drive motor (sidewinder)

Integrated dust collection system protects the motor from dust

Cord and hose sleeve prevents snagging and marring

Powerful 15-Amp Dual-Field motor that stays cool through continuous cuts

56-degree bevel capacity with bevel stops at 0 and 45 degrees

Magnesium component saw that is lightweight at 9 lbs

Integrated dust collection system to funnel away harmful silica dust
No-mar sleeve to keep cord and hose out of your way
Dual-Field Motor and Diablo HardieBlade ensure best-in-class performance and durability
The SKILSAW 7-1/4 Inch Sidewinder Circular Saw For Fiber Cement includes a Diablo 4-tooth HardieBlade for Fiber Cement, 8 ft. Vacuum hose with nylon sleeve, 1.5 in. Vacuum hose adapter, 2.5 in. Vacuum hose adapter and Multi-function wrench and retails for $199 and is available now.