October 25, 2016
Comments Off

on SKILSAW MeduSAW – Concrete Cutting Worm drive Circular Saw
Skilsaw announces a new worm drive circular saw designed specifically for cutting concrete, the Skilsaw Medusaw .
It's called MEDUSAW, a play on Greek mythology's Medusa, which is a monster that turned onlookers into stone. MEDUSAW is here to revolutionize the way workers cut concrete, and like Medusa, it's a force to be reckoned with.
According to Skilsaw, users would have to purchase all sorts of attachments and accessories to make their Skilsaw worm drive circular saws into concrete cutting machines. These accessories include blade roller feet, water kit with GFCI, and a dust collection attachment. The total price of all attachments plus the price of the saw add up to $754.93 plus tax. Then you have to factor in the time on the job to put everything together before you can even start cutting concrete.
That is the basis for the new Skilsaw Medusa which doesn't require you to purchase the extra accessories to make the worm drive a concrete saw because the accessories are built into the saw. You save money because the new Skilsaw Medusaw is priced at $399 so you save about $354. You also save time because the features of the added accessories are built into the Medusaw and the saw is ready to go out of the box for concrete cutting, meaning there's no downtime having to put together separate accessories.
The Skilsaw Medusaw also has a couple of other features built in including a Cut-Ready adjustable plunge lock and rust resistant brackets and fasteners which are not available as options for the regular Skilsaw Worm Drive circular saws.
The cool thing about the Skilsaw Medusa is that it has both a vacuum port for dust collection for use with dry cutting as we all know dry cutting creates a ton of dust everywhere, and it also includes the ability to connect it to a hose for wet cutting.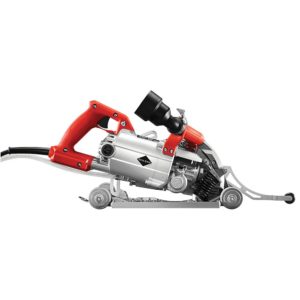 The Skilsaw Medusaw doesn't come with a blade so you will have to pick one up separately. It uses 7 inch blades although max cutting depth isn't yet listed but I would guess it's around 2 inches more or less. The saw has barely been announced and updates will come soon with more details.
MEDUSAW comes equipped with an onboard multi-function wrench, making it easy for users to change their blades, oil, brushes, water feed attachment and wheels.
MEDUSAW will be available at World of Concrete in January 2017 and through industrial distributors nationwide afterwards and has a suggested retail price of $399 (USD).