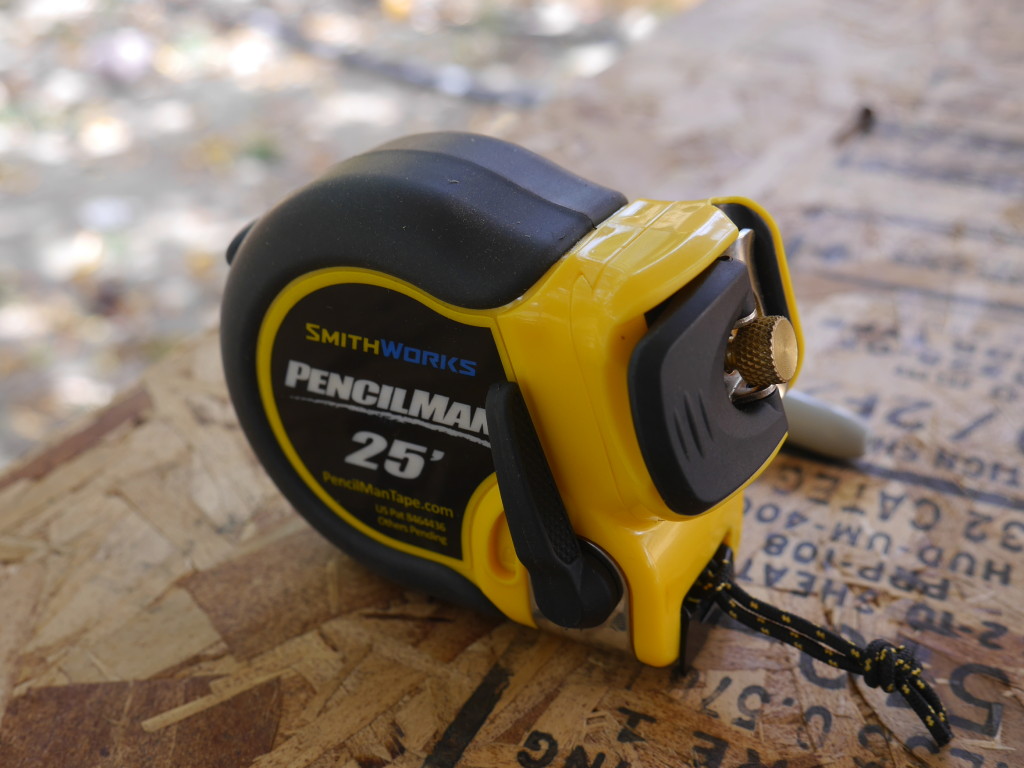 Most tape measures do the same thing which is the ability to extend, lock into place, and retract so you can take measurements on the go. Most of the time a writing utensil is used alongside the tape when marks need to be made – usually for marking where to cut materials down to size or mark where items will be placed such as marking a line on the wall where a bookshelf will be placed. Experienced users have perfected the use of utilizing both a tape measure and a writing utensil such as a pencil but less experienced users could have a bit of a hassle when trying to use both. This is where a company named Smithworks comes in with their solution to the problems and hassles of using a marker or pencil and a tape measure at the same time with their Pencilman tape measure.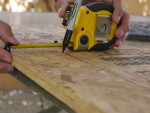 This 25 foot tape measure at a quick glance looks like just about all the other tape measures on the market as it has a nylon coated blade, rubber overmolded ABS plastic, and belt hook. That's where the similarities end. A closer look reveals a few key features that make this tape measure stand out and to solve the hassle associated with using a pencil and tape measure at the same time. The main feature being a built in pencil holder, hence the name "Pencilman". It's basically a built in clamp to hold any sort of writing utensil such as a pencil (standard or carpenter's pencil), pens, and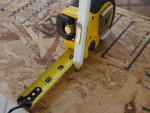 markers. This unique clamp can hold onto various sized utensils and of various shapes- not just round shapes as it can hold flat'ish carpenters pencils. To accommodate various sized pens, pencils, or markers, it uses a simple thumbscrew to adjust the opening of the clamp to fit a pencil in, and once snug, you close a small handle to clamp the pencil into place. When set correctly it maintains a very firm and secure hold onto the pencil.
The great thing about the pencil holder is that now you don't have to worry about fumbling around with a separate pencil as the pencil is now part of the tape measure. The onboard pencil design makes it much easier to take measurements and make marks one handed.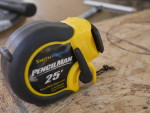 The next feature that makes this tape measure stand out is their tape brake. Instead of the regular slide lock switch which is found on most tape measures to lock the tape into place, this Pencilman uses a lever on the side to lock the tape into place. It holds a very strong lock onto the tape and makes it easy for making repetitive marks of equal length, and perfect for sliding the tape across material to make straight lines.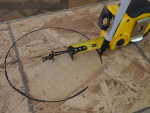 The next feature is a small rope tied to the tape hook which makes this tape measure easy to use for making circles. Just wrap the small rope on a nail or screw and lock the brake and now you're all set to make perfect circles. The included rope isn't necessarily a huge feature as this can be attached to any regular tape at little to no cost, but it is nice to have this feature included as part of the tape measure.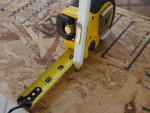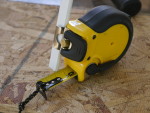 Out of the packaging, this tape measure is set up for use with right handed users as are most tape measures but everything from the belt hook, brake lever and even the pencil clamp can be reversed to the opposite side for use with left handed users. This isn't a feature I'll ever need or use as I'm right handed, but I'm sure plenty of left handed users out there will rejoice.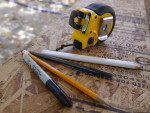 Final thoughts- I can't help but think of the similar QuickDraw tape measure I reviewed a while back as it too can make marks one handed with onboard marking abilities. Although both achieve the same result, they do so in a different manner, with the QuickDraw having built in marking abilities with it's built in lead dispenser, while this Pencilman allows you to use any writing utensil of your choice. The QuickDraw is a great concept but it only marks with lead, most of the time I work with markers so that's not really an option on the QuickDraw. I can choose a pencil, pen, or marker on this Pencilman. When it comes to marking the QuickDraw makes it easy to make precise marks on the spot with a built in guide, there is no such thing on the Pencilman so you must carefully inspect where the pencil or pen or marker will make marks. You can make spot on repetitive marks but that's where you'll need careful examination of where the blade has been locked as to where the pencil will lay a mark.
It's build quality appears to be well made and designed. Smithworks didn't cut any corners in this regard and the large rubber overmold gives it a good look while it makes it easy and comfy to grip while also giving it the added advantage of impact protection. To test out it's toughness, I dropped the Pencilman from 8 feet off the ground – 5 times! And it survived each drop. It walked away with a few scuff marks and scratches but it's integrity was left intact and fully functional.
The blade is read in feet and inches on one side only and doesn't offer metric readings. As common with many measuring tapes, measurement readings are written on one side only and it measures up to 32 fractions of an inch within the first foot of the blade and afterward can measure up to 16 fractions of an inch along with standard markers at every 16 and 24 inches for locating studs. It doesn't offer a large blade standout as the tape snaps easily if extended over 6.5 feet.
Overall I like the tape measure as it feels solid, it can take abuse, and I think the pencil clamp feature is "cool". It's definitely going to make many projects easier and I like that I can use any marking utensil of my choice, which is a permanent marker most of the time, and I can switch over to a pencil or pen when needed. Technically the built in pencil holder isn't necessary as we've all managed without built in marking capabilities when using measuring tapes. Also experienced users might laugh at this concept, but I will admit that it does make life a bit easier. One thing I would like to change on this tape measure would be a wider hook as the blade hook isn't very large and doesn't offer the ability to hook the blade from the sides of the hook, but for most uses this hook will do the job.

Specifications:
25 feet nylon coated blade
Reads in feet & inches up to 32 fractions of an inch (first foot) 16 fractions of an inch thereafter
Pencil holder (can also hold markers and pens)
Blade brake lever
Reversible belt hook, pencil clamp, and blade brake lever for left handed use
Attached string rope on blade hook for aiding in marking circles
6.5 foot tested blade standout
8 foot drop tested: passed 5 drops with only scratches and full functionality