We all know air compressors are loud and obnoxious but luckily for us there are quiet air compressors on the market that make less noise and are more tolerable. A new brand called Stealth offers a line of quiet compressors of various sizes to fit many needs from 1 gallon all the way up to 20 gallon compressors and in the near future will offer power tools. In this article we will review one of their compressors, the STEALTH SAQ-1413 Work Site 4.5 Gal Air Compressor.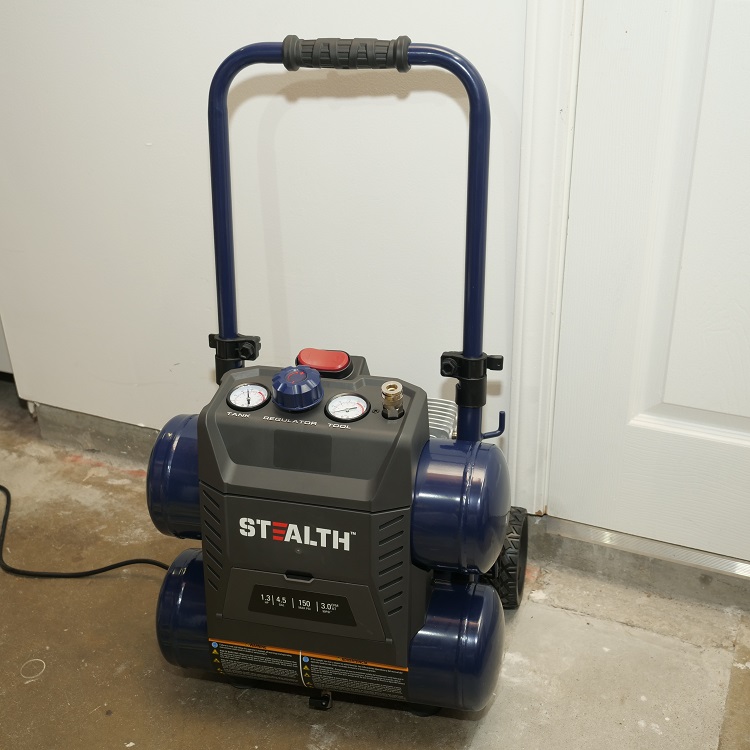 Ethics Disclosure:
Alton Industries was kind enough to provide the STEALTH SAQ-1413 Work Site 4.5 Gal Air Compressor at no cost for review. As with all my reviews, I am not paid, sponsored, or obligated to give a positive review. This review is my opinion of the product based on my usage and knowledge and my review will reflect what I like and dislike about the product. I will do my best to provide you with an unbiased review.
Manufacturer Specs:
Quiet unit < 65 dba

4.5 gallon
1.3 peak horsepower
150 Max PSI
Dual Gauge
6″ rubber wheels and telescoping handle for easy transport

Effortless mobility with collapsible handles

Strong yet quiet

low voltage start
cold weather start down to 15 degrees

Limited lifetime warranty

oil free pump
61.7 lbs

Performance:
Stealth rates the loudness of this compressor at 65 dba or less and I tested their claims with my own decibel meter at a distance of 5 feet and got close to it's rated loudness at 69-70 decibels. 69-70 decibels is a lot quieter for an air compressor and at this loudness means you won't have to worry about damaging your long term hearing or the need to use hearing protection. It also means you're able to converse with others within the same room. You will have to speak louder of course but a conversation is possible while this unit is running. I also tested the Campbell Hausfeld compressor I have which is also a quiet compressor and at the same 5 foot distance, it came in at 67-68 decibels which is about two decibels quieter than the Stealth but is such a small difference that both are indistinguishably just as quiet as each other.
It's 4.5 gallon tank at 150 PSI is plenty enough for running brad and finish nailers with a good amount of work done before the unit has to recycle. Stealth provided me with an 18ga nailer/stapler to test with this unit and was able to shoot lots of nails before the tank would recycle meaning you're not going to hear it's motor running that often which is also helps keep noise down. This compressor is capable of powering something like a framing nailer but not continuously so expect the motor to run constantly if running a framing nailer with this unit.
I noticed that the tank fills up at 150 PSI which is as promised and when the tank pressure drops to 120 PSI it will start to recycle back to full again. It fills up fast enough that it can easily run a brad nailer continuously without ever having to worry about loss of sufficient operating pressure. In fact even if you go fast with a brad nailer, it fills the tank faster than you can deplete it.
It takes 2 minutes and 4 seconds to fill up completely from empty and only takes 31 seconds to recycle from 120 PSI to ful 150 PSI.
My thoughts on compressor features: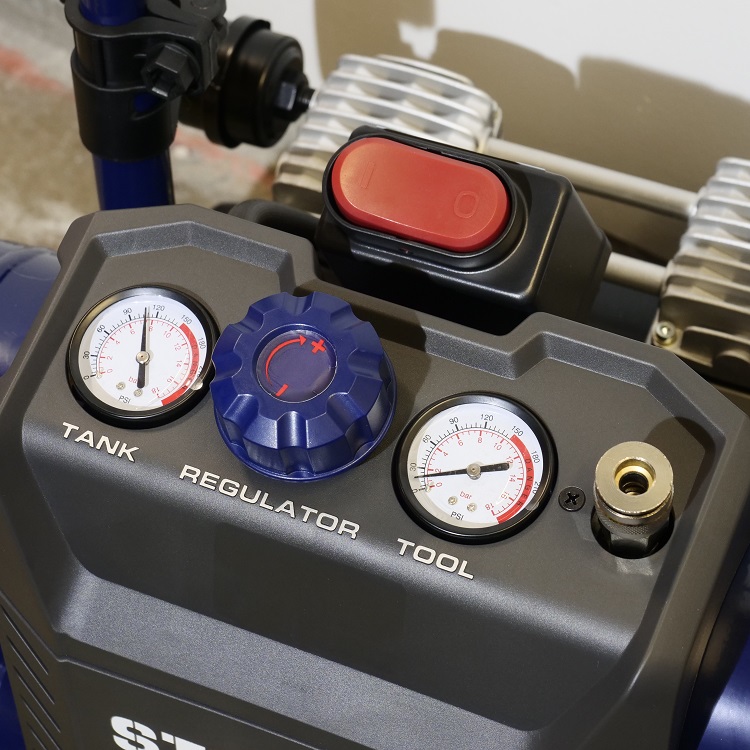 As mentioned in the performance section, the compressor has a 4.5 gallon tank comprised of a twin stack tank design that maxes out at 150 PSI at full and it's motor is rated at 1.3 peak horsepower. It has the usual dual gauge design with a PSI gauge on the left for the tank pressure and gauge on the right for the tool pressure with a regulator knob in the center. It's got a large power toggle switch – it's large and in charge. I like that you can't miss it and it's pretty obvious what it is – something I can't say about my Campbell Hausfeld compressor. I rarely ever use compressors since I have cordless battery powered versions of all the air tools most people use compressors for and since it was a while since I last used the Campbell Hausfeld model, I had forgotten how to turn it on. This was because the CH unit uses a thin lever that doesn't look anything like what I would expect for a power switch. It took a few seconds for muscle memory to kick in and remind me that was the power switch but it was pretty obvious on the Stealth model.
According to Stealth, this compressor has cold weather start and can start down to 15 degrees which is great if you live and work in places where the temps go down to freezing or below. It also features low voltage start which means less worrying about tripping breakers especially if running other tools on the same circuit.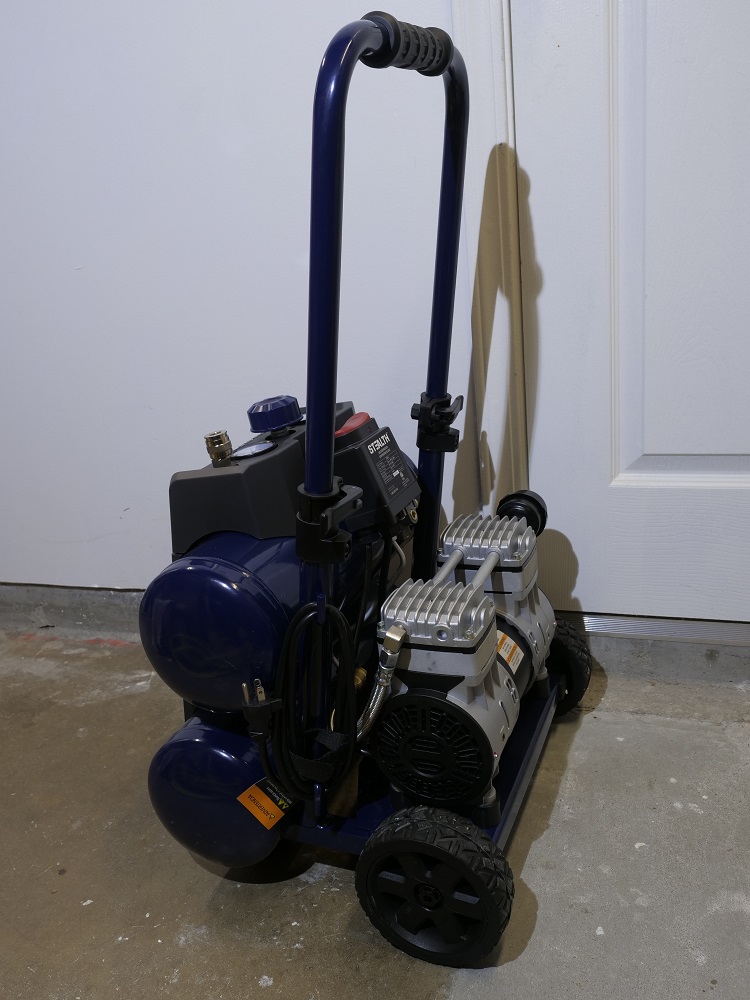 The Stealth unit comes with a single quick connect coupler and what's interesting about this one is that the sleeve is always in the back position when not connected meaning you don't need to manually pull the sleeve back to connect your hose. You simply pop the hose into place and it snaps into place. A nice touch in simplicity and ease of use. While we're on the topic of ease of use, this Stealth compressor comes with two 6 inch wheels on the back and a large telescoping handle for easy transport. The twin stack tank desin is upright meaning there's very little footprint space that the unit takes up which is great for storage. It's got all the other usual features like an air release valve on the top left of the unit and your drain valve on the bottom to release that pesky liquid buildup to extend the life of the tanks from internal corrosion.
A unique feature I noticed on this unit that's not advertised in it's features and spec list was that it has on board storage for a blow gun, two needle inflator tips and a couple of accessories. This storage compartment is located on the front face of the compressor and has a door that opens to expose the storage. A pretty good idea if you need to inflate balls or dust off your workbench. I also like that the compressor has two cordwrap hooks to store it's power cord. This seems like a no brainer on any product with a power cord but many compressors don't have built in cord wraps so it's nice to see Stealth include it for ease of use. The cord length is only 6 feet which means you'll wan't to use an extension cord or a long hose when operating.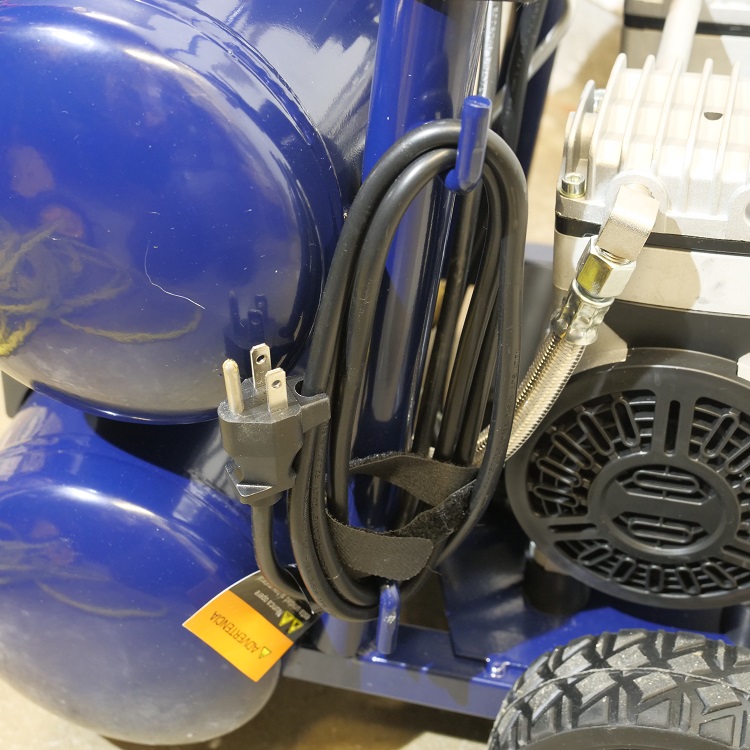 I also liked that the unit comes fully assembled and ready to go out of the box. That's something I can't say about the Campbell Hausfeld unit I reviewed since it did require assembly and had to install it's wheels and handle before use. Not that it's too big of a deal but many times when you buy a tool, it's needed right away and putting it together means less time working on the project and we know time is money on the job. I will say that the only thing that needed adjusting out of the box on the Stealth compressor was the clamps that held the telescoping handle in place. Out of the box, the clamps weren't very tight which allowed the handle to retract or collapse if the user pushed or pulled the handle. Not that big of a deal though since all I had to do was tighten them and this was simple since you could tighten their screws by hand.
Pricing for the Stealth 4.5 gallon compressor comes in at $299.99 as a bare tool. Hose and tools have to be bought separately of course. The price is high for a 4.5 gallon compressor and at this price or even less you can get a better featured compressor with a larger tank, higher PSI and even double quick connect couplers for use with two air tools at a time however the reason the price is high is due to the fact that it's a quiet compressor. Even the Campbell Hausfeld unit I reviewed was more expensive than similarly spec'd compressors with the main difference being that it was a quiet model which means that you still have to pay a premium for a quiet compressor.
Pro's:
quiet at 69-70 decibles tested at 5 ft
cold weather start down to 15 degrees
low voltage start
twin stack design for compact footprint
wheels and telescoping handle for easy transport
cord wrap
built in storage for blowgun and needle inflator tips
Cons:
you have to pay a premium for a quiet compressor


Free 2 day shipping – Try Amazon Prime 30-Day Free Trial

DISCLOSURE:
Tool Craze does not sell this product or any product on the Tool Craze website. Tool Craze does not handle the sale of any item in any way. If you purchase something through a post on the Tool Craze site, Tool Craze may get a small share of the sale. Please refer to the About section for more info.