Snow Joe known for their electric outdoor power tools also offers an alternative to plug in electric, battery powered, and gasoline powered lawn mowers with several manual reel mowers. While they vary in size, the one in the above video is the 20 inch manual mower model.
These manual powered mowers are good alternatives to traditional powered mowers because unlike gas mowers, you don't have to purchase gasoline and oil, don't have mix them, don't have to maintain gasoline engines and don't have to hassle with pull starting the machine. A manual mower also has benefits compared to electric mowers as you don't have to plug them in and compared to battery powered mowers you don't have to deal with recharging batteries and the downtime they cause when they are being recharged. The down side of manual mowers are that since the pushing motion is what causes the blades to spin and cut, they do require a bit more force than powered mowers. But you don't have to worry about gasoline, cords, or batteries, and are eco friendly since human power is all they require to operate.
With manual push mowers, you simply push the mower over the grass just as you would with a powered push mower and the manual mower takes care of the grass. This particular Sun Joe manual reel mower comes with a bag attachment to capture grass clippings as you go so you don't have to rake them up when your done.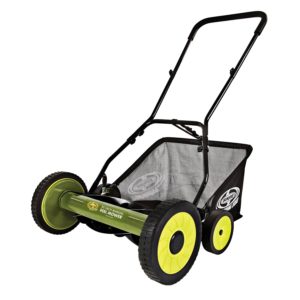 Easy to push and maneuver on small lawns

9 position manual height adjustment

Maintenance free

Grass catcher holds up to 6.6-gallon and detaches easily

Two large 10-inch wheels and two small 6-inch wheels