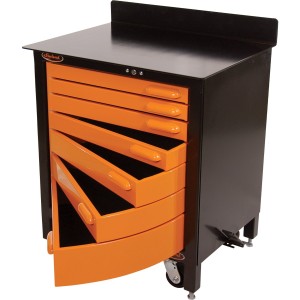 Swivel storage solutions offers a unique 30″ workbench that takes the design from a regular rolling tool chest, adds a workbench top and utilizes their unique swivel drawer system instead of regular slide drawers. All the drawers are attached to a single hinge on the left side of the workbench and swivel outwards as they pivot on the hinge. The best way to describe it would be like that of a lazy susan cabinet, not the typical ones that rotate on center but the ones where the hinge is off to the side and the shelves slide outwards of the cabinet. This workbench/rolling tool chest uses the same concept.
According to manufacturer, the swivel hinge is said to be better compared to regular slide out drawers that can sag and fail over time. The rest of the features are it includes anti skid mats for the drawers, has a locking system with key, and it has a dual castor/fixed leg system. It has 4 legs that can be individually adjusted for height to level the workbench and also utilizes 4 castors that extend downwards to make full contact with the floor to roll the workbench around. There's a neat foot activated lever to move the castors up and down to use them to move the workbench around or to raise them so the built in legs make contact with the floor so the bench stays put.
I like the design of the drawers and it seems interesting that they swivel out instead of slide out. Other than the claimed stronger hinge compared to slides, I don't see any added advantage to the drawer design. If anything the rounded corner design that makes the drawers slide out on a hinge actually reduces useable drawer space. Luckily not much as only a bit of the right inside corner is shaved off. This storage chest workbench also doesn't come cheap at just over $2k.

Check out the video below for more info from the manufacturer.
30″ Wide Moveable Workbench Features:
Heavy Duty 14 gauge drawers & frame
Tamper Proof Central Locking System
Extra heavy duty 1/4 inch table top
Adjustable legs for uneven floors
Foot Pedal to lift work bench in to moveable mode
Coated with durable powder paint
Greaseable drawer hinges & casters
Anti skid drawer mats
32″ W x 24.25″ D x 39.25″ H • 415 lbs