December 31, 2015
Comments Off

on The Road Printer – Check out this road building machine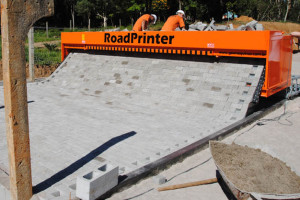 I just found out that our roads may soon be built by machines! Actually there's already a machine that can build them today – the road printer. Before you guys drop your jaws in amazement or in dread of losing your job by robots, this huge machine builds brick roads and it still requires most of the work be done using good old manual labor.
The machine carries a large stash of bricks and carries several brick layers while being elevated a few feet from the ground. The brick layers serve the most important role of sorting and arranging the bricks while the machine's sole job is to move along while at the same time laying down the bricks. The brick layers arrange the bricks into place and the machine lays them down.
Key features is that the road printer can lay 500 square meters of bricks a day and is electric power and to make things more interesting, it is said to able to run for up to a week.
Facebook follower Joshua B. brought this to my attention so a big thanks!
For more info check out http://www.rpsystems.be/