May 5, 2016
Comments Off

on Tiny rechargeable Keychain light – Nitecore Tube Review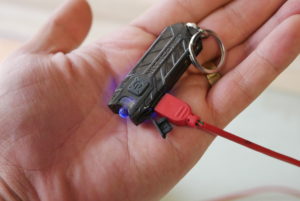 I will start off this review by saying that I have a fascination for tiny keychain tools. One of the most useful keychain tools (at least for me anyway) has been a keychain light. I often find myself in situations in or out of my home where I need light on the spot and usually a keychain light fills this need most of the time when I'm in a quick hurry and isn't convenient for me to go search for a full size flashlight. Of course keychain lights in general don't offer light output similar to good quality flashlights but keychain lights do good enough for me in a pinch most of the time.
I currently use a Innova microlight keychain light which works well enough for my uses and the folks from Nitecore were kind enough to send me over their similar keychain light for review, the Nitecore Tube. Just like the Innova keychain light, the Nitecore Tube is a tiny light that attaches to your keychain and is priced under $10 making it very affordable in my opinion. A couple of features the Nitecore Tube has up it's sleeve are that it's rechargeable and it's considerably bright for a keychain light with a max 45 lumens output. I don't know which feature is more appealing, the fact that it's rechargeable or that it has a bright 45 lumens output, but either way if you are considering one feature over the other, it's nice to see that the Tube features both.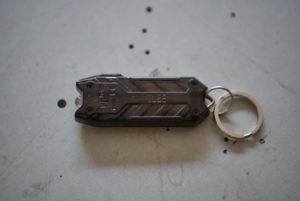 Build quality is appears to be good with a plastic shell and according to Nitecore, the Tube is said to be impact resistant to withstand 1.5 meter drops and is also said to be water resistant (although the packaging doesn't state how deep it can be safely submersed underwater). It features a rubber button on the top face of the tool to power on and cycle through it's light settings (which I will explain later) and features a weather sealed micro USB port on the side. It is covered with a rubber flap that keeps the USB port sealed from dust and moisture and can easily be opened to reveal the port for charging. The plastic shell comes in several clear colors, mine came in black but you can also choose from white, blue, green, and pink. The plastic shell is a bit see through and I can barely make out the internals. Although the shell is said to be robust and can withstand impact's up to 1.5 meters, there is a bit of flex to the case if pressed hard. I wouldn't call it flimsy and I wouldn't worry about it but it's not as solid feeling as my Innova microlight.
A blue light inside the unit at the bottom lights up to let you know it is charging. A micro USB cable is not included and I'm not surprised considering it's low price so keep this in mind. It's not a problem for me as I have plenty of micro USB ports here at my household. I'm not sure about how long it takes to charge from empty but I do appreciate it having a built in rechargeable battery so I don't have to worry about replacing batteries in the short term if I run out of juice.
Light output on max is a rated at 45 lumens. I have no way of measuring it's light output to confirm their claims but I will admit it's quite bright for a keychain light. It is far brighter than my current Innova microlight at max output. The max light output on the Nitecore Tube can even be seen indoors even when there is a good light source from indoor lights. Light output is very good from the Tube in dark environments with considerable light output from such a tiny pocket keychain light. Obviously it wont replace a good high powered flashlight but for a keychain light it works very well.
The Nitecore Tube has 3 light settings, a low mode with 1 lumens of light output, a high mode of 45 lumens, and the third light mode is what Nitecore calls "infinitely variable" brightness mode, which will cycle through 1 lumens all the way through 45 lumens. This mode allows you to cycle light output anywhere between 1-45 lumens. When in the infinitely variable brightness mode, the pocket light will start in 1 lumens then gradually get brighter until it reaches 45 lumens and then go back to 1 lumens and move up towards 45 lumens again over and over. It will continue doing this until you let go and will stay at whatever brightness when you let go. Although it is called infinitely variable, in my experience it is not infinitely variable as I can clearly see different hard stops of light as the light increases, meaning the variable amount of light can be counted if one had the patience to do this. I don't take away any points because of this but I feel the word "infinite" is misleading. Either way it is a variable speed light with a great variety of light output levels to choose from.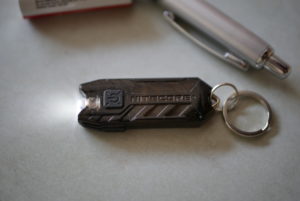 The power button is used to power on the light and to cycle through its light settings. A single press will turn it on and will be in low light mode with 1 lumen of light output. In this mode if you let go of the power button the light will stay on until pressed again to shut off. This is good to keep the light on so that you don't have to keep the button pressed so you can set the light down if you need to use both hands. If you do want the light to stay on only when pressed, the Tube can do that and simply press and hold the light to enter this mode. As soon as you let go from holding the power button it will shut off.
In the low 1 lumens mode, it puts out a tiny bit of light. It's not as practical as the high mode and not very bright as expected but this mode is good for if you need to conserve battery power. It's bright enough for very close up illumination of only inches away and works best when it is completely dark, otherwise you'd want to stick with the high mode. In low brightness mode you can expect up to 48 hours of runtime which is pretty impressive that you can get 2 full days of light on low on a charge. These runtime claims are according to the manufacturer, I did not test runtime in either mode.
To enter the high mode with 45 lumens, you press the power button twice and this will cycle to the high mode. This is very similar to the Innova microlight in which you can cycle through low and high mode, although I found it strange that the Nitecore Tube starts in the low power mode. Not a negative but I was used to starting on high mode on my current light. I would have preferred to for the Tube to start on high upon initial press but I suppose this is simply a matter of personal preference. I find the high power mode to be quite bright for a puny keychain light and unlike the low brightness mode, you're limited to up to 1 hour of runtime on high mode. These runtime claims are according to the manufacturer, I did not test runtime in either mode. I find this also to be a good runtime because I only use these keychain lights for a few seconds at a time. Hardly ever do I use them over a minute, so with my uses I will hardly need to recharge the internal battery.
If you want to go into infinitely variable brightness mode, when turned off, you have to press the Tube once to turn it on, then press and hold the button again to go into the variable brightness mode. Keep holding to cycle between light outputs and release the power button when you have reached the desired brightness.
One mode I didn't find on the Tube was an emergency strobe light mode. It's not a feature I need or care for, but it is on the Innova light and might be worth noting for those of you considering a keychain light with a strobe light mode. Again, this feature is totally useless for me so it doesn't matter to me that this mode is missing on the Nitecore Tube.
Overall, I find the Nitecore Tube to be a good contender in the pocket kechain light category. It's quite bright for a keychain light and it's also rechargeable meaning you wont have to worry about replacing batteries anytime soon when the power runs out. Build quality is good although not as solid feeling as my current keychain light but it is impact rated for drops up to 1.5 meters and is rated IP56 for dust and water resistance. Rated runtime is pretty good at up to 1 hour on high mode, and up to 48 hours (2 days) on low mode. It recharges on a micro USB cable although the cable itself is not included meaning you'll either have to buy one, or share the one your cell phone uses. For just under $10 USD I feel it offers a good value with nice 45 lumens max brightness, the ability to recharge the included internal battery, and impact, dust, and water resistance.
Specifications
Max Output: 45 lumens
Max Beam Distance: 24 m
Max Beam Intensity: 150 cd
Max Run time: 48 h 0 m / 2 d
Battery: Rechargeable Li-ion
Beam color: White light
Beam angle: Up to 100°
Length: 56.5 mm / 2.22 in
Head Size: 21 mm / 0.83 in
Weight: 9.6 g / 0.34 oz
Features
One click: Low mode. 1 lumen, for 48 hours.
Double click: High mode. 45 lumens for 1 hour.
Double click, holding down the second click: Infinitely Variable Brightness. Hold to reach your desired light output.
USB rechargeable, rubber cover for Micro USB slot, rubber button, 11mm and 20mm split rings.
Take a minute to browse through the pictures below showing off the light output of the Nitecore Tube.