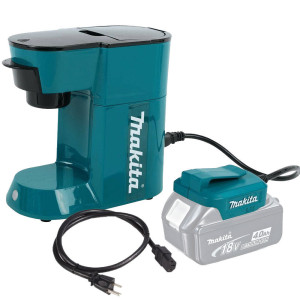 Coffee lovers rejoice! Now you can brew your own cup fresh on the jobsite with the Makita LXT 18V coffee maker. It takes Makita's 18V batteries which are littered on most jobsites or you can wire it up directly to an extension cord or outlet.
I found it for you guys at a very low price of only $34.99 baretool only.
 
Get fresh brewed coffee wherever the job takes you with the 18V LXT Lithium-Ion Cordless Coffee Maker (DCM500Z, Tool Only). No paper filters are needed, just your favorite ground coffee, water, and a Makita 18V Lithium-Ion battery. It will brew up to three 5 ounce cups of coffee on a single charge of an 18V LXT 5.0Ah battery (sold separately). It is also compatible with Makita 18V 4.0Ah, 3.0Ah, and 2.0Ah batteries. For added convenience, the battery adapter can be removed for use with AC power. It's part of Makita's expanding 18V Lithium-Ion series, the world's largest cordless tool line-up powered by an 18V Lithium-Ion slide-style battery. Makita 18V Lithium-Ion batteries have the fastest charge times in their categories, so they spend more time working and less time sitting on the charger. For improved tool performance and extended battery life, Makita created Star Protection Computer Controls. Star Protection is communication technology that allows the Star Protection-equipped tool and battery to exchange data in real time and monitor conditions during use to protect against overloading, over-discharging and overheating. For increased versatility, the tool can also be powered by Makita 18V LXT and Compact Lithium-Ion batteries with the star symbol on the battery indicating Star Protection inside.
Highlights:
Convenient coffee brewing on the jobsite
No paper filters needed; permanent drip filter allows grounds to be poured directly into coffee maker
Boil dry protection features automatic shut-off when the internal temperature reaches 90 degrees celcius with no water in the tank to prevent burnout
Battery protection system provides over-discharge, temperature and circuit protection for enhanced performance, battery cycle life and overall battery life
Compact design at only 8-3/8″ tall with a 3-1/2″ cup clearance
Please note: Battery and Charger are not included (Bare Tool Only)
Tech Specs:
Brand: Makita
Model: DCM500Z
MPN: DCM500Z
UPC: 088381677226
Voltage: 18V
Battery Type (not included): 18V LXT® Lithium-Ion
Heater Output: 200 W (DC) / 500 W (AC)
Tank Capacity: 250 ml
Length: 8-3/4″
Weight: 4lbs