Dave Greer wrote in about the new Ryobi 18V brushless impact driver P238 and 18V brushless reciprocating saw P517. At the time the only info available was from the instruction manual which had diagram drawings of the tools but no actual pics. Dave did some further digging and found the new brushless impact over in the Ryobi Canada website with actual pictures and specs.
Torque: Up to 2,200 in.-lbs
No Load Speeds: High: 0-3,200 RPM
Medium: 0-2,200 RPM
Low: 0-1,050 RPM
Impacts Per Minute: 4,000 IPM
Tool Weight: 2.7 lbs.
The above specs are what's listed in the specs section of the page but on the main page that discusses it's features, they say it has 2,000 in-lbs torque not once but twice. Weird! Also all the other stats are different as well such as max 3100 RPM and 4350 IPM. So it's hard to tell whether the brushless model will have 2,000 or 2,200 in-lbs torque. My guess is that 2,200 they list will be the actual number since that's what I pulled from the instruction manual.
We can also see from the above pictures for the brushless impact are that the 3 speeds are selected through a mechanical slide switch on the back of the tool similar to those found on drills (drills have them on top), however the Ryobi switch is all electronic.
Moving on to the Ryobi P517 brushless reciprocating saw, we have a picture that was submitted by Facebook follower Jeremy Jamerson. His picture below is actually a Ryobi 18V brushless recip saw model number P1912N but it appears to be the same one as the USA variant P517.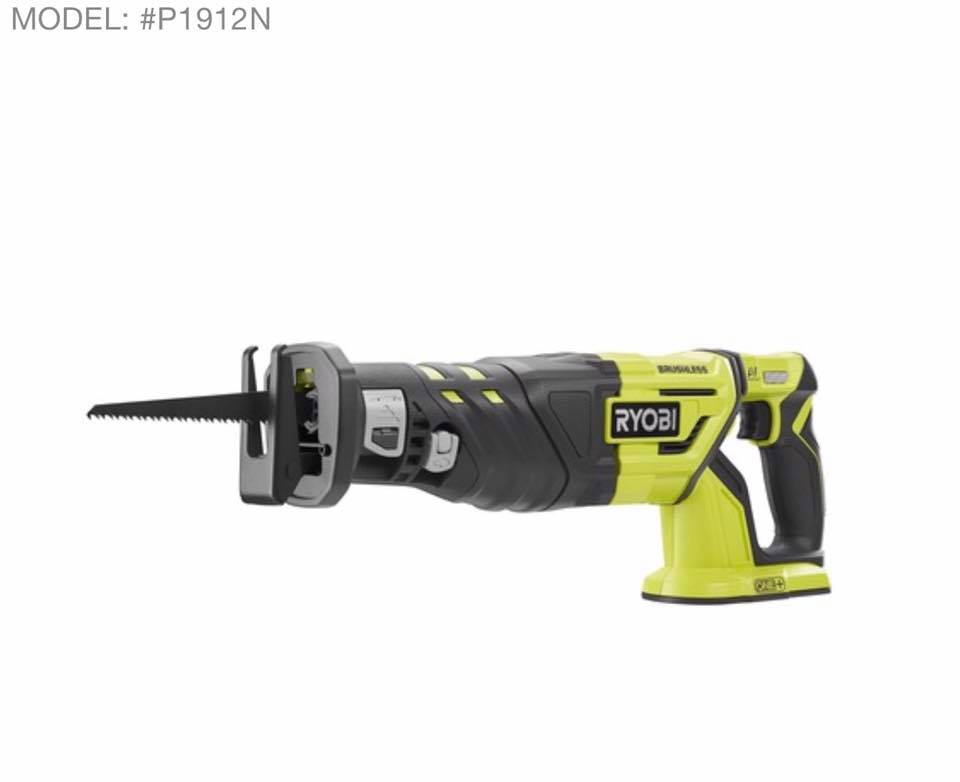 The picture looks identical to the diagram drawing from the manual for the P517 so it's got to be the same thing just with a model number. Since it has a different model number with a letter and 4 numbers, I would have to guess this is the UK and or Australian model. The last letter "N" probably has to do with it being a baretool or "naked" as they call them overseas. I tried looking at both Ryobi UK and Australia to see if I could find anything else but my attempts came up empty so all we have is a picture for now.
DISCLOSURE:
Tool Craze does not sell this product or any product on the Tool Craze website. Tool Craze does not handle the sale of any item in any way. If you purchase something through a post on the Tool Craze site, Tool Craze may get a small share of the sale. Please refer to the About section for more info.