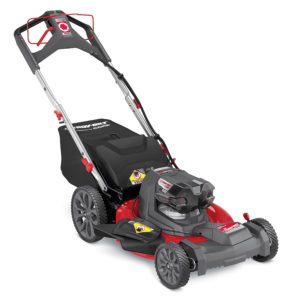 Another day and here we have another battery powered self propelled mower, this time from Troy Bilt. The new self propelled mower runs on their 40V batteries and the new model is also brushless like most cordless battery powered tools are today.
As with all battery powered outdoor power equipment, they feature easy push button starting, they start everytime, less noise than gasoline engines, less maintenance, and no gas fumes. Yardmasterz.com picked the best electric mowers for 2018/2019 for you all to go over and have a look at if you're wanting to invest in electric power!
This new 40V brushless self propelled mower looks very similar to their gasoline 159cc engine powered self propelled mower except for the electric battery powered motor and handle.
What's great about the self propelled feature is that a mower with this feature pushes itself meaning all you have to do is guide the mower and there's less strain and effort involved from the user as you no longer have to push the full weight of the mower.
Unique to Troy Bilt is their specially designed "Core" brushless motors which are very flat. In fact the only thing that sticks out of the deck is the battery holder and battery. Luckily for us the deck is steel so it'll be every bit as durable as gas mower decks.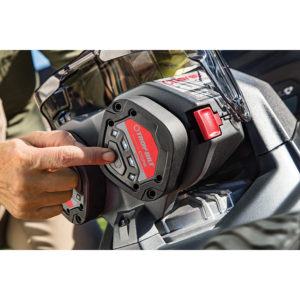 What's strange about this mower is that it comes with two separate batteries which are cylinder shaped, and both can be inserted at a time on the mower. Although the manual doesn't say if you must use both at the same time to run the mower. It comes with a 60 minute charger to charge each battery in an hour.
Unlike yesterdays post on the Greenworks mower, Troy Bilt does not disclose the amp hour rating of each included battery and neither do they provide any runtime info which is strange as both the Ego 56V and Greenworks 80Vself propelled mowers state the size of batteries and runtime capacities. They are leaving out critical information that a potential buyer may use to compare which model to buy.
Troy Bilt's 40V self propelled mower will retail for $599 which is equal to Ego's 56V self propelled mower and $50 less than Greenworks model.
FEATURES
21″ Steel Mulching Deck
Power Output Display
3-in-1 convertible – side discharge, mulch or rear bag
Side Chute Clip
5-Year Limited Warranty
*as rated by engine manufacturer
SPECIFICATIONS
Electric Mower
CORE
Walk Behind
CORE™ 700 Series
40V Lithium-Ion (2 Included)
6A Fast Charger (Included)
Push-button electric start
21″ Deep Domed Steel
3-in-1 convertible – side discharge, mulch or rear bag
1.9 bushel (Included)
FWD
Adjustable 3-position Ergo w/ Comfort Grip and Vertical Storage Capability
Dual-lever deck height adjustment
6 settings from 1.25″ – 3.75″
8″ front, 11″ rear
5-Year Limited (Mower) / 3-Year (Battery) + Limited Lifetime Motor