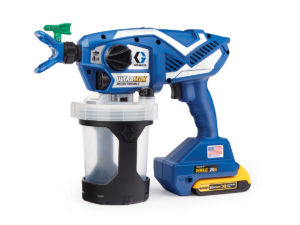 I already knew that Graco has a few cordless sprayers that use they're own branded 18V and 20V batteries but recently I was told that their new Ultra line of cordless sprayers use a more common battery platform from Dewalt with the Dewalt 20V Max batteries.
Their Ultra sprayer line includes 2 cordless sprayers that both utilize the Dewalt 20V Max batteries with the Ultra and Ultra Max Cordless Airless sprayers. Part of the Graco Ultra line of sprayers is a corded model as well called the Ultra corded model.
Basically the Ultra Corded and Cordless model similarly featured and can both spray water and mineral spirit based materials with the difference being corded or battery powered, while the Ultra Max cordless sprayer can also spray water, solvent, and flammable based materials.
The Graco Ultra sprayers can spray straight out, at an up and down angle, and even straight up to get underneath.

Triax Triple Piston Pump
Unmatched Performance
Durable stainless steel and carbide components bonded with a high strength polymer
Incredible durability in a light weight design
500-2,000 PSI
.008-.016 Tip Support
Reliable Startup
No inlet check valve to get stuck
Automatic Outlet Ball Knocker
Perfect Airless Finish
Smooth and even at any hand speed
No Thinning
Single Coat Coverage
Just Add Paint
The sprayers comes ready to use with everything you need to get spraying
RAC X FF LP 210 Tip
RAC X FF LP 514 Tip
2 – DEWALT 20V-Max Compact Lithium Ion Batteries
DEWALT 20V-Max Lithium Ion Battery Charger
6 – 32 oz FlexLiner Bags
Durable Storage Bag
4 oz Bottle of Pump Armor Storage Fluid