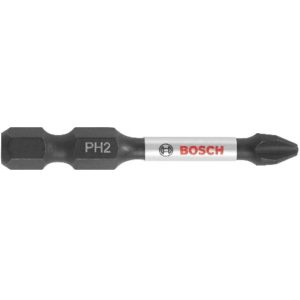 As impact drivers are getting stronger over the years, it's only natural that manufacturers step up their impact rated screw driving bits. Bosch did just that by making their already great Impact Tough impact rated bits even better.
The new Bosch Impact Tough impact rated screw driving bits now offer a new Xtended Torsion Zone, a feature that absorbs torque peaks to reduce breakage. Basically this is what other manufacturers have been doing for years where they slim down the mid section of the bits so that the bits can flex a bit and absorb the extra torque and last longer before the bits fail.
Bosch claims the new Impact Tough bits with the new Xtended Torsion Zone will have up to 10X more life than standard impact bits.
In addition, the tips themselves are precision designed and machined for a better integrated fit. This delivers more torque to the screw, lessens slippage and reduces cam-out damage for a longer-lasting bit. And Bosch designed an exclusive manufacturing process, incorporating heat-treated materials to improve each bit's strength and overall life.

All the bits in the upgraded Impact Tough series come with a silver, high-visibility sleeve so pros on the jobsite can easily find them in a toolbox or on the ground. The easily recognizable coating also has laser markings to clearly identify each bit. The laser inscriptions are easier to read than traditional stamped scripts.
The new upgraded Impact Tough bits with Xtended Torsion Zone include an impact-rated line of screw driving bits, double-ended bits, nut setters, sockets and bit holders, each enhanced to handle next-generation high torque impact drivers.