I've stumbled across the Wen name many times when searching for tools on various sites, Amazon in particular and most of their tools appear to be budget low priced products. Nothing even remotely midrange or higher but at a value price point. I've also only seen corded tools by them until now when I spotted new Wen 20V cordless power tools on the HD and Amazon websites. So far they have an entry level 2 speed cordless drill/driver and an impact driver.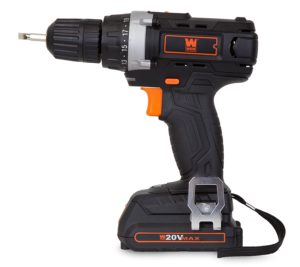 The drill has 3/8″ plastic chuck that appears to be a two piece chuck. If my observation is true, it means it will require both hands to tighten and loosen. It comes with a 2 speed transmission with 0-400/0-1100 RPM, 19 + 1 torque settings collar and has 310 in-lbs of torque which is pretty respectable for a budget drill. Also has an LED light and belt clip.
Features a 19 + 1 position reversible clutch with pressure-sensitive variable speed trigger

Powerful motor provides up to 310 inch-pounds worth of torque in either direction

Keyless chuck accepts bits up to 3/8 of an inch in size

Lightweight design weighs in at a mere 3 pounds for both the drill and the battery combined

Includes a 20V max cordless drill, onboard LED light, belt clip, lithium-ion battery, charger, two bits, and contractor bag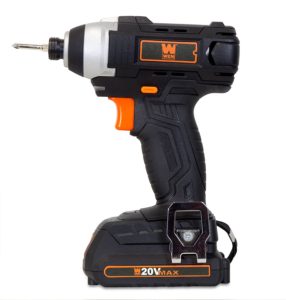 The impact driver has 950 in-lbs of torque which is decent for a budget tool and in pro 12V impact driver torque territory. Like the Wen 20V drill, it has a built in LED light and belt clip.
Pressure sensitive trigger allows for variable speed anywhere from 0 to 2, 600 RPM

Powerful motor provides up to 950 inch-pounds worth of torque and up to 3, 400 taps per minute

Quick-release keyless hex chuck accepts hex bits 1/4 of an inch in diameter

Lightweight design weighs in at a mere 2.7 pounds for both the drill and the battery combined

Includes a 20V max cordless impact driver, onboard LED light, belt clip, Lithium-Ion battery, charger, two bits, and contractor bag
The new 20V tools offer lithium ion batteries of 1.5 ah capacity and sell as a kit with charger for $50 for the drill and $63.91 for the impact driver (prices at the time of writing). The batteries can be bought separately for $18 and the same goes with the charger at $16.82.
These new Wen 20V tools are nicely spec'd for their price range and offer more than you'd expect from a Black + Decker 20V tool for more and would compete well with some of Porter Cable's 20V entry level models but for far less. Actually they seem like they are pinned to compete directly against Harbor Freight's Bauer 20V tools that are well equipped for a low price.
A direct comparison between Wen's 20V tools mentioned in this article compared to Bauers 20V models show that Wen's cordless tools in kit form are lower in price than Bauer's at about $20 give or take when the Bauer models go for the full retail price of $75-80. Bauer's models offer better spec'd tools as their drill and impact driver have 450 & 1300 in-lbs of torque respectively which are a big bump from Wen's offerings.
Which ones are better? No doubt the Bauer models are better spec'd but they are also more expensive so the value proposition may be about the same as Wen's tools when you take price per performance. However Harbor Freight often has coupons for their 20V Bauer tools and they often dip into the $60 price point which would be the better bang for your buck in my opinion.
Other factors to consider are that I only know of the two Wen 20V tools mentioned. Bauer's 20V line has since expanded with a hammer drill, impact wrench, angle grinder, circular saw and LED light and an even larger 3.0 ah battery. All of which add more options to expand upon and there are still more tools to come out later like a jigsaw and reciprocating saw.
I'm not trying to push Bauer's 20V tools over Wen however I am simply stating points that both brands offer for their cordless tools and so far Bauer has more things going for it. I believe Wen should have made their first 20V cordless tools with more torque at the same introductory price, especially the impact driver, or keep the same specs but lower the price further so that they can compete better with other brands and still have an edge on price and value. But that's just my opinion, what do you guys think?


Free 2 day shipping – Try Amazon Prime 30-Day Free Trial

DISCLOSURE:
Tool Craze does not sell this product or any product on the Tool Craze website. Tool Craze does not handle the sale of any item in any way. If you purchase something through a post on the Tool Craze site, Tool Craze may get a small share of the sale. Please refer to the About section for more info.