Worx has announced a new brushless circular saw part of their cordless 20V line with the new Worx 20V Nitro Pro Brushless 7-1/4″ Circular Saw WX520L .
Full disclosure: This is not a review, this is tool news. Tool Craze cannot guarantee the accuracy of the information/specifications/features of any tool listed in this article. Manufacturer marketing claims may not always meet expectations. Tool Craze is not responsible if products do not live up to claimed expectations. Please do your full research before buying any products. Tool Craze is an Amazon Associate, and also an affiliate with the Home Depot, Acme Tools, Ohio Power Tool, Tool Nut, Lowe's, Ebay, and Walmart and places paid links to these retailers. If you purchase something through a link on the Tool Craze site, Tool Craze may get a small share of the sale.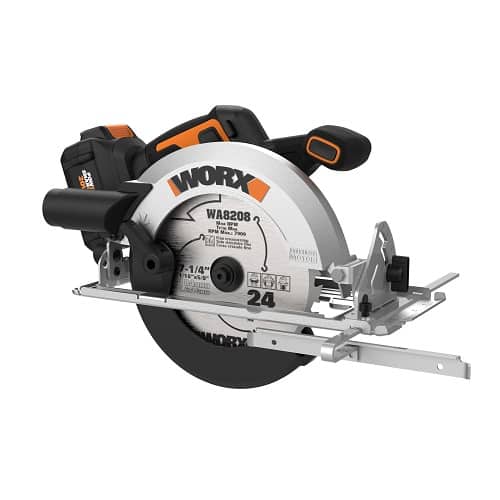 Worx has always been a DIY brand with entry level to mid range products however they are now trying to break into "Pro" territory with new products under the Nitro name. This isn't their first power tool to wield the Nitro name, we covered their new brushless 1/2″ drill back in February 2021 and it too was part of the new "Pro" Nitro set of power tools. These new Nitro tools offer brushless motors but a brushless motor alone does not make a power tool a pro power tool as we know brands like Ryobi which is not a pro brand by any means offers a wide assortment of brushless power tools. Worx pairs a brushless motor with better features and performance than their typical range offers. For example this Nitro cordless circular saw offers a full size 7-1/4″ blade rather than a 6-1/2″ or smaller blade. It also offers an impressive 2-9/16″ cut capacity at 90 degrees which is more than most circular saws offer. It also comes equipped with a dust chute on the rear of the upper blade guard that also doubles as a vac port. The upper blade guard also appears to be made of metal although they do not disclose what type of metals used. This is a step up from entry level circular saws that use plastic blade guards however the lower blade guard appears to be plastic which far from a pro feature. Pro brands like Dewalt, Makita, and Milwaukee have metal upper AND lower blade guards and they usually use light and strong metals like aluminum and sometimes exotic metals such as magnesium. However you won't find a plastic blade guard on those established pro brands so I'm not sure why Worx would call theirs a pro circular saw and opt for a plastic lower blade guard. Pro brands use solid beefy shoes on their circ saws, usually a cast metal shoe but sometimes they might use a stamped base using thick gauge metal. This Worx circular saw uses what appears to be a stamped metal shoe with a rather thin metal which wouldn't look out of place in an entry level to mid range model.
As far as other features and specs are concerned, it has an impressive 6,100 RPM no load speed, can bevel up to 57 degrees, comes with a rip fence as shown in the above picture, and has an LED light to help in low light. From what I can see read on paper, it has an impressive cut capacity of 2-9/16″ inches and high no load RPM speed which I would expect on a pro circular saw and features like an LED light and vac port round out the package features list. However the plastic lower blade guard and thin metal stamped base scream entry level so it appears to be a mash of upper and lower range features making this a good mid range option. I wouldn't consider it a pro saw but a nice addition to their range for those that want more.
It is priced at $129 as a baretool with a 24 tooth carbide blade and also comes in a kit for $199.99 with a Pro 4ah battery and 2 amp charger.
I have reached out to Worx asking them what type of materials are used on the upper and lower blade guards and shoe and will update this article when they respond. Who knows, it might be a metal lower blade guard painted black but the lack of info since manufactures want to you to know what their blade guards and shoes are made of if they really good, makes me believe it could be a plastic lower blade guard.
Edit 5/19/21
I did get a response from Worx regarding the materials used on the saw and this is what they said:
The lower blade guard is PA6-GF30 (30% glass fiber reinforced polyamide); the upper, fixed blade guard is polycarbonate; and the base plate is iron composite.

The 7-1/4 circular saw is directly focused on meeting the needs of advanced DIYers/homeowners who need more from their tools and to some professionals looking for a quality tool at a value.  It is not primarily targeted at the professional.
So according to Worx, this "Pro" saw uses a combination of plastic blade guards and a metal shoe (iron composite). I thought that based on the image the upper blade guard was metal however it appears that it is painted to appear that way. In no way are these materials for the blade guards that you would find on a "pro" level circular saw however Worx in their response is making it clear that this circular saw is not intended for the pro user. Although I will say that by adding the word "Pro" in the name might give off the wrong impression to some users. But then again we have to remember that this is a Worx power tool, a brand known for entry level power tools for DIY'ers and Homeowners. These new Nitro tools are showing us that Worx can make products that step away from basic and entry level in terms of features and performance. Which I believe is a great direction.


Free 2 day shipping – Try Amazon Prime 30-Day Free Trial

DISCLOSURE:
Tool Craze does not sell this product or any product on the Tool Craze website. Tool Craze does not handle the sale of any item in any way. If you purchase something through a link on the Tool Craze site, Tool Craze may get a small share of the sale. Please refer to the About section for more info. Tool Craze cannot guarantee the accuracy of the information/specifications/features of any tool listed in this article. Please do your full research before buying any products.