I recently got my hands on a new string trimmer which is one of the tools from the new 56V Power Share Program cordless line of outdoor power equipment from Worx. This is just in time as it's now spring and summer is right around the corner and we all know what that means, increased lawn care maintenance due to faster growing grass.
Worx is known for their electric and cordless outdoor power equipment so they're no stranger when it comes to helping you take care of your lawn. Over the years they've been working hard at providing green solutions while increasing productivity and it shows with their recently introduced 56 volt line. This gives you more power than what has been accomplished from lower voltage equipment. The goal seems to be to ween ourselves completely from the pain and hassle from using gasoline powered equipment with power as close to gas equipment as possible without all the maintenance and hassle of a gasoline engine such as obnoxious fumes, consumables such as gasoline and oil, mixing oil and gasoline, and having to fuss with yanking on a pull string to start the motor.
They brought over some interesting features from their previous string trimmers such as the 90 degree pivoting head so you can position the trimmer to help you getting under obstructions such as bushes or low hanging trees or to better position the trimmer if you are unusually short or tall. Also carried over are a set of removable wheels you can attach to the cutting head to make it easy for beginners to use the string trimmer as an edger so you can easily achieve pro results with little effort. The wheels store on the shaft or can be left on the cutting head if you like, or can be removed altogether and stored elsewhere. Another neat feature is the rotating main handle that rotates 90 degrees to the right to better position the handle while using the trimmer as an edger. The cutting guard is removable for easy cleaning and provides a max 13″ cutting diameter.
The cutting head utilizes one line to cut and includes one spool loaded with 20 feet oft twisted 0.08″ line. It doesn't use the old bump feed method but you do have 3 options to feed more line when needed. You can manually extend the line by pulling the string while you press a button near the line. With each press it feeds a small section of line. The next method is by starting up the motor and shutting it off. Line is loaded automatically each time there is a sharp increase or decrease in speed. The last and best method is by utilizing the "command feed" button located near the trigger when running the motor and it stops the motor in an instant. This in turn feeds the line by one step and continue with button presses until you reach the desired length.
I was able to try it out on my yard and the neighbors yard for testing. Our yard gets cared for weekly so the grass wasn't long when I tried it out. It also had spotty coverage where the grass didn't really grow much here and there while there were a few thick patches. The 56V trimmer had an easy job on our yard for the most part but it did get a slight work out where the grass was thicker. The motor would slow down where it was very thick but it didn't bog down to a halt which I can honestly say I was impressed since it is a cordless battery powered string trimmer. Our neighbors yard didn't seem to get regular maintenance and had longish weeds taking over the front yard. This was a good exercise for the trimmer and it powered through with ease. Check out the video to see this string trimmer flex its muscle.
It had good cordless power but what good is power if it only last a couple of minutes before the battery drains? Luckily the included 2.0 amp hour battery lasts almost a half hour. I clocked in a little over 24 minutes of nonstop use. This was at full throttle the entire time and I didn't include any breaks in which the motor wasn't powered on. So actual use including regular breaks would make it seem as if it ran much longer. And like I said, that was with full throttle – so you can get even longer runtime if you don't run the trimmer at full speed to conserve power such as when cutting thinner areas.
The battery charges in about an hour and a half (90 minutes) with the included charger. This is much better than what it was like years ago when it could take up to 6 hours to charger batteries so it was better to charge them overnight. 90 minute charge time isn't extremely fast as 30 minutes to an hour on other systems but still relatively quick.
Overall I thought this was a good performing cordless string trimmer and worth looking into for a homeowner. It has plenty of features that would appeal to beginners and homeowners to facilitate use such as the handle that can turn 90 degrees to the right to make it easier when edging, the command feed line feeding system, the 90 degree pivoting cutting head, and removable wheels for easy edging.
The Worx 56V Cordless String Trimmer and Edger WG191 is out now with a MSRP of $199.99 and it includes the string trimmer, one 2.0 ah lithium ion battery, charger, and one spool with 20FT of 0.08″ twisted line.
Also part of the Worx Cordless Power Share Program 56V Maxlithium line that share the 56V battery are two 19″ lawn mowers, and hedge trimmer which are out now, and also a blower which is expected to arrive in August 2015.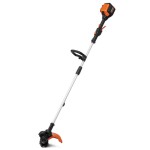 Specifications
No-Load Speed: 8300/min
Cutting Diameter: 13″ (330 mm)
Line Diameter: .080″ (2 mm)
Cutting Line Length: 1 x 20ft
Battery Type: 1 x 56V/Li-Ion
Charging Time: 90 min. (approx.)
Machine Weight: 8.8 lbs (4.0 kg)
Innovative Command Feed line length advancement control provides line when needed with the touch of a button
In-line wheeled edging provides a clean, professional finish
High-capacity battery provides gas-like performance & extended run time
Variable speed throttle control extends run time and provides power for various grass conditions
90° pivoting cutting head to easily tackle any terrain