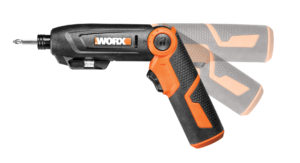 Worx recently announced a new cordless tool called the Worx Forcedriver which is an 8V impact driver.
Here's a small power tool that is designed for on the go portability, so much in fact that Worx suggests this as a glove box tool that is ready for use when you're out and about. It makes sense since the similar Porter Cable Impact Screwdriver that I reviewed several years ago sits happily at home in one of our kitchen cabinet drawer making it ready at hand for small tasks.
It's very similar to Porter Cables small 8V impact screwdriver as the Worx Forcedriver is also an 8V Max impact screwdriver. Technically both are impact drivers and work similarly since they have impact mechanisms inside but the limited torque makes them suited for screwdriver applications. Unlike the Porter cable model, the Worx Forcedriver has more power with nearly twice the torque at 225 in-lbs. For an impact driver though 225 in-lbs is very low torque but for small fasteners it should be ok just slowly. The Forcedriver also has something the Porter Cable doesn't which is the ability to have a straight in-line configuration and can pivot for traditional pistol grip style handling.
Similarities include a built in non removable battery and require an included power cord to be plugged directly to the impact. A built in battery in a cordless power tool is very undesirable because once the battery runs out the tool is down for the count until the battery is charged, as opposed to removable battery tools can swap out batteries for a fresh one and continue going. Also once a built in battery dies, the tool is dead. But since the tool is only $39 it's hard to complain. Also the Forcedriver includes a built in bit holder for carrying around a spare bit.
Specs:
8V Max
225 in-lbs torque
pivoting handle
1.3 lbs weight
0-1800 RPM
0-3000 IPM
runtime: can drive 85 1-1/4 in. deck screws
1/4″ hex chuck
3 handle positions (inline, 30° and pistol grip)


Free 2 day shipping – Try Amazon Prime 30-Day Free Trial

DISCLOSURE:
Tool Craze does not sell this product or any product on the Tool Craze website. Tool Craze does not handle the sale of any item in any way. If you purchase something through a post on the Tool Craze site, Tool Craze may get a small share of the sale. Please refer to the About section for more info.