I recently wrote about the Worx Pegasus work table / saw horse hybrid and Worx was kind enough to send me one for review.
The Worx Pegasus in it's purest form is essentially a supped up sawhorse. It looks, works, and functions just like any other saw horse but with a few extras built in such as two flip out wings that form a table surface. As a sawhorse it can hold up to 1000 pounds of weight and the table top can hold up to 300 pounds.  The worktable stands at a comfortable working height of 32 in. Its maximum clamping width is 18- 1/4 in. When folded for storage, it measures 35-1/2 x 15-3/4 in x 6 in.
It also includes two quick clamps that can be used directly with the Pegasus and has built in aluminum tracks in which you can attach the quick clamps so that they become part of the table and can be used as a vice to hold materials.
The Worx Pegasus saw horse also includes a set of 4 clamp dogs for use with the table top. They come stored on the bottom folding part of the sawhorse and can be placed on several positions on the table top. There are 8 places to place the clamp dogs for a variety of mounting positions. The 8 clamp dog mounting positions are great to use in conjunction with the quick clamps although there are not enough clamp dog positions to be able to use the clamp dogs alone. I was able to get by with using 3 to hold a piece of 3/4 inch plywood for sanding without the need for the clamps although with only 3 holding 3 sides it wasn't extremely secure but good enough for what I was trying to do. If I needed to hold it down securely, I would have used the quick clamps.
The clamp dogs are just shy of 3/4″ tall making them perfect for holding down 3/4″ plywood without standing proud. This makes it easy for sanding applications where you'd be able to sand all the way up to the edge of the material. I do wish they came with shorter clamp dogs so I'd be able to do the same with thinner materials such as 1/4″ or 1/2″ thick. I have a couple of woodworking projects that I had a hard time sanding because they were so small, clamping them down on a real vice would have cracked them if I applied enough pressure to hold them in place. A clamp dog would have done the job perfectly but if they were shorter – so I wasn't able to use them with the Worx Pegasus table.
The quick clamps can be used alone and don't need to be placed on the table top to function. Although they are not a regular set of clamps, they work just like regular quick clamps but they also have a quick release lever for the front end that's opposite of the handle end. This makes them more customizable than regular quick clamps and better suited for the table top as well. When set to the table top, they make the Pegasus very useful and great for holding down material for cutting with a circular saw.
The quick clamps have decent clamping pressure. If you've ever used quick clamps before, you know what I'm talking about. For light duty holding, they get the job done. One thing about using them on the table top tracks, is that there's a bit of wiggle room. So don't expect to use them for cutting with precision as they may move side to side slightly if you use them to cut material with a saw. If you need better holding power that stays in place more securely with no budging, I'd suggest going with the Rockwell Jawhorse.
Each table top has 2 small cavities and one long one for holding small parts like screws, nails, pencils, etc.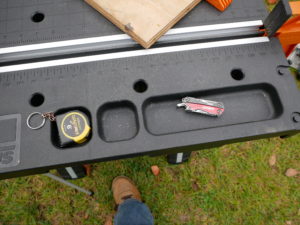 The Pegasus also works just like any other sawhorse to support just about anything and also has two slits on top to hold a couple of 2×4's. It also plays well with other sawhorses as it's roughly the same height, or very similar to the one's I already own.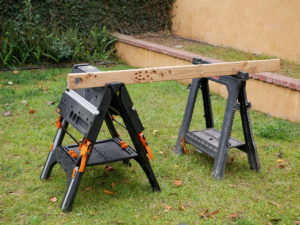 At the bottom of the saw horse, Worx markets the Pegasus with the ability to attach power strips for power on hand for your plug in tools. I didn't try this out since all my portable power tools are cordless but they leave you a few slits nearby to attach a power strip with zip ties if you use corded tools.
I also wanted to mention that the Worx Pegasus is only one sawhorse. This means that you need to purchase another if you plan on doing a two sawhorse set up. But as I was saying earlier, the Worx Pegasus plays well with other sawhorses and also includes the ability to attach itself to another Pegasus with orange rubbery clips that are found on the top of the table surface. This allows you to connect two Pegasus tables together to make a larger work table for more surface area.
The Worx Pegasus is priced at around $119 which is an important aspect for those considering this sawhorse work table combo. If you're looking for only a sawhorse, I'd say look elsewhere as you can find others for much less. But when you consider the Pegasus is also a work table, it brings up the value considerably, and even more so when you factor in all it can do such as the many clamping abilities built in such as the quick clamps and clamp dogs.
I also want to mention that the Pegasus is well built and you can tell lots of thought went into designing it. I'd say it's a good consideration for those looking at a portable folding work table and are DIY'ers and weekend warriors. For me personally and my uses, I will continue using my Rockwell Jawhorse for most of my projects but I will say that I would have loved having one of these Worx Pegasus work tables several years ago when I started getting into DIY. Back then I used a couple of sawhorses and a small sheet of OSB as a table top and that was my portable work table. It wasn't fancy and the Worx Pegasus would have been leaps and bounds better than my set up back in the day, that plus all the extras such as the clamps, clamp dogs, and even the small cavities to hold small items.

Easily converts from a work table to a saw horse in seconds

Saw horse mode supports work Loads of up to 1,000 pounds and table mode, 300 pounds

Pegasus has a 31 in. X 25 in. Tabletop and in the worktable position

Included 2 quick Clamps and 4 clamp dogs provide a multitude of work holding options

The pegasus folds up flat and can be stored easily out of the way.