Worx has come out with a new electric pressure washer with the Worx WG604 1600 PSI Electric Pressure Washer.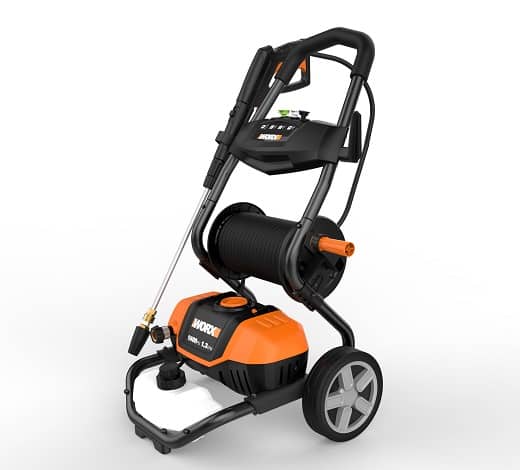 The Worx WG604 1600 PSI Electric Pressure Washer incorporates a large roll cage frame with a handle and all terrain wheels and storage for all it's accessories to make it easy to carry around the yard with little effort. While a large roll cage might be considered overkill for such a small unit of 1600 PSI, especially when considering how small and lightweight entry level pressure electric washers are, I do like what they've done with the Worx model. Mainly since it incorporates a hose reel for easy storage and dispensing of the included hose. Of course it also has onboard storage for all the other accessories such as the spray gun and the four nozzle tips that are included. The nozzles include a turbo nozzle, 25 and 40 degree nozzles and a soap nozzle. Like many other pressure washer units, it also includes a soap tank for dispensing detergent as you pressure wash.
It's priced at $169.99 and available now.
High-pressure rating for tough cleaning jobs like concrete, brick, and masonry.
Multiple nozzles make it suitable for cleaning a wide variety of things like vehicles and windows.
The wheeled cart makes it easy to move around the yard.
Onboard hose reel to quickly wrap-up when you're done.
Onboard soap tank for simple soap application.
Accessory slots and integrated cord-wrap for organized storage.


Free 2 day shipping – Try Amazon Prime 30-Day Free Trial

DISCLOSURE:
Tool Craze does not sell this product or any product on the Tool Craze website. Tool Craze does not handle the sale of any item in any way. If you purchase something through a link on the Tool Craze site, Tool Craze may get a small share of the sale. Please refer to the About section for more info.