Over on the Worx International Youtube channel, a new cordless miter saw was spotted with the WORX WX845 20V Cordless Sliding Miter Saw.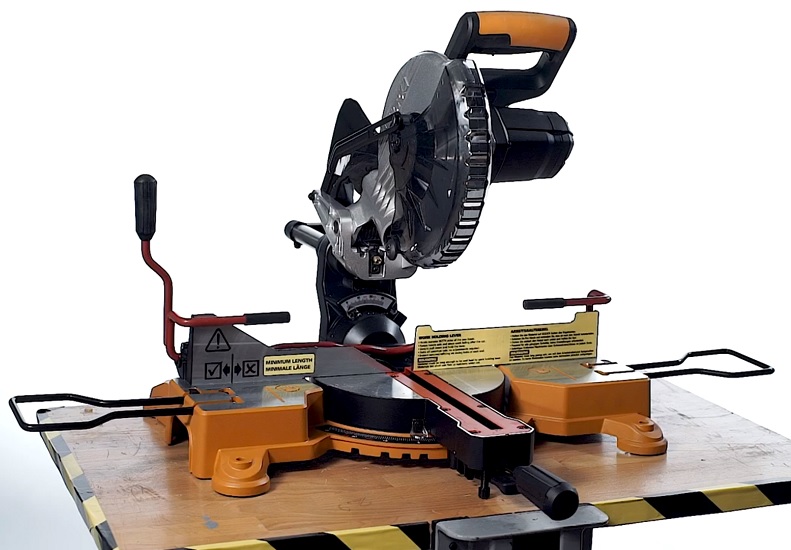 The new Worx cordless miter saw runs on their 20V lithium ion battery packs for cordless operation and has some interesting features as it's a sliding miter saw for cutting wider materials, a built in laser sight, and instead of clamps offers a quicker easier solution with hand operated lever that grips the material. I like that the lever handle is on the left side so your left hand can operate while your right hand is used to plunge the saw. Don't worry about clamping work pieces on the right side of the blade as the grip lever grips both sides including the right side. It also includes built in extensions on both sides for a little bit of added material support. You'll still need a proper miter saw stand if working with long pieces but for short pieces these might suffice.
I didn't see any mention of blade size but it appears to be using something like a 7-1/4″ blade. Which is what we can expect on entry level miter saws.
Worx isn't known for being a high end brand so don't expect all the bells in whistles in top miter saws. For example, you're still stuck with a knob for locking down miter angles instead of an easy to use cam lock. Then there's the fact that this saw is a single bevel saw instead of a double bevel meaning you'll have to flip boards. Also as mentioned earlier, it uses a laser to mark cut lines instead of LED's that cast shadow lines and never need calibration unlike lasers. I also didn't see any mention of it being brushless.
Considering all the cutting dimensions are in metric, we know for sure it will hit the European markets sometime soon. Most likely with a North American release not soon after however that is unknown at this time.
A big thanks to Cody Robertson for spotting!
Mitre 0°/Bevel 0° 220x70mm
Mitre 0°/Bevel 45° 220x41mm
Mitre 45°/Bevel 0° 155x70mm
Mitre45°/Bevel 45° 155x41mm
FOLDING WORK SUPPORT
MITER LOCKING HANDLE
BEVEL LOCK KNOB
SLIDER LOCK KNOB
LASER LIGHT WORK
HOLDING LEVER
NO LOAD SPEED 3200/min


Free 2 day shipping – Try Amazon Prime 30-Day Free Trial

DISCLOSURE:
Tool Craze does not sell this product or any product on the Tool Craze website. Tool Craze does not handle the sale of any item in any way. If you purchase something through a post on the Tool Craze site, Tool Craze may get a small share of the sale. Please refer to the About section for more info.