September 22, 2020
Comments Off

on Worx WX845L 20V Cordless 7-1/4″ Sliding Miter Saw Comes To USA
Back in January 2020 we learned that in the UK, Worx had a new 20V cordless 7-1/4″ sliding miter saw. It was an interesting addition to their cordless system and now we have confirmation that it is indeed coming to the USA as model WX845L.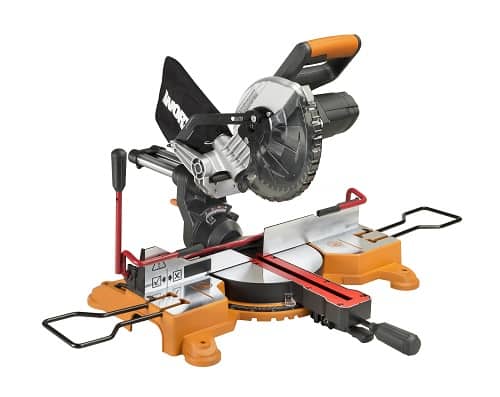 Back then we didn't know all the details about the new cordless miter saw, we knew it used a smaller sized blade but didn't know exactly how big it was. I guesstimated it to be around 7-1/4″ and I was right as that's the size blade the USA model is using. This saw's biggest standout feature is it's unique hold down clamp. It doesn't use a traditional clamp but instead uses a lever that you pull down and it has two arms, one on each fence that presses down on the board as you cut. Unlike traditional clamps that only hold whatever side they are on, this system holds the board on both sides of the blade. Also pulling on a lever is much easier and faster than twisting and tightening a traditional clamp. The only downside to this pull down lever design is that it looks as if it won't hold as strongly as a traditional clamp however you only need a little bit of pressure when cutting things so it should be more than plenty holding power.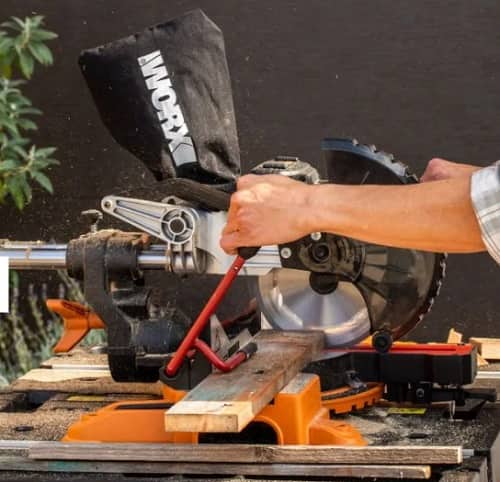 It's also a single bevel miter saw instead of a double bevel meaning you'll have to flip boards. It uses LED's that cast shadow lines and never need calibration unlike lasers, this is an upgrade over the UK model that uses lasers as the cut line. I also didn't see any mention of it being brushless. Cut capacities include it being able to cut a 2×8 horizontally and vertically can cut up to 2-1/4″. It uses a miter lock knob instead of an easy to use cam lock.
It's going to be priced at $299.99 and includes the saw; a 20V 4.0 Ah battery; 2-hr. charger; 40-tooth, carbide-tipped blade; dust bag and blade key.
Retail $299.99
Blade Size 7-1/4"
Blade Type 40-tooth carbide-tipped
Blade Speed (rpm) 3600
Bevel Type Single
Bevel Range 0-45º L
Miter Capacity 0-47º L/R
Cut Capacity @ 90º 2-1/4"
Cut Capacity @ 45º Miter 2-1/4" x 5-3/4" L/R
Cut Capacity @ 45º Bevel 1-5/8" x 8-1/4" L
Cutline Indicator Shadow cut line
Battery 20V 4.0Ah Max Lithium
Overall Dimensions 29" x 20" x 19"
Weight 21 lbs. (with battery)


Free 2 day shipping – Try Amazon Prime 30-Day Free Trial

DISCLOSURE:
Tool Craze does not sell this product or any product on the Tool Craze website. Tool Craze does not handle the sale of any item in any way. If you purchase something through a link on the Tool Craze site, Tool Craze may get a small share of the sale. Please refer to the About section for more info. Tool Craze cannot guarantee the accuracy of the information/specifications/features of any tool listed in this article. Please do your full research before buying any products.