A new pry bar has emerged from Zenith and according to them it is said to not only remove trim, baseboards, and crown molding effectively, but it can do so safely without damaging walls or the trim itself. Lord knows I've damaged a wall or two in my day using standard pry bars so I know the usefulness of using some sort of pry bar without damaging the trim or the wall. It appears that this pry bar's wide face is what helps aid in not damaging walls by giving you a large contact area when using the wall for leverage to remove trim. The trim pull also incorporates a neat wedge underneath and is there to pull the baseboards away from the wall as you hammer this pry bar in.
From the Manufacturer: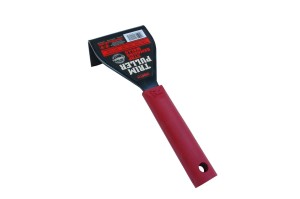 A revolutionary, patented tool that does all the work of a pry bar and claw but without the damage. The Trim Puller is designed specifically for repair or remodel projects where you arent destroying but rather reusing your trim, cabinets, flooring and other materials. What sets the Trim Puller apart from other tools is the contact area combined with the 15 degree wedged center for easy extraction. The Trim Puller has the largest and flattest contact area versus the single contact areas found on a pry bar or a claw. No shim or small board spacer is needed. So stop damaging walls and get yours today.
Large contact area distributes force and will not put a hole in your drywall

15 degree wedged center for easy extraction of trim and baseboards

Does not damage walls or the trim, baseboards, crown molding

Saves time from having to repair holes in drywall you normally get when you use a crowbar

No other tools needed (only a hammer) such as a shim or board spacer