Just announced today were 12 new Ridgid 18V products. In this article we will take a look at 4 new Ridgid 18V brushless power tools. They include a track saw, compact router, jigsaw, and stapler. Let's check them out below. You can check out 4 new Ridgid 18V subcompact brushless tools here, and the last 4 Ridgid 18V tools by clicking here. One big thing to note is that Ridgid hasn't given an exact release date. All they are saying is that they will be available in 2023.
Disclosure: This is tool news. Tool Craze cannot guarantee the accuracy of the information of any tool listed in this article. Manufacturer marketing claims may not always meet expectations. Tool Craze is not responsible if products do not live up to claimed expectations. Please do your full research before buying any products. Tool Craze is an Amazon Associate. Also an affiliate with the Home Depot, Acme Tools, Ohio Power Tool, Tool Nut. As well as an affiliate with Lowe's, Ebay, and Walmart and places affiliate links to these retailers. If you purchase through a link on this site, we may get a share of the sale.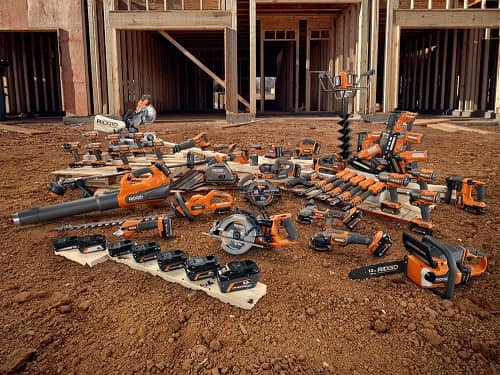 Ridgid 18V Track Saw R48630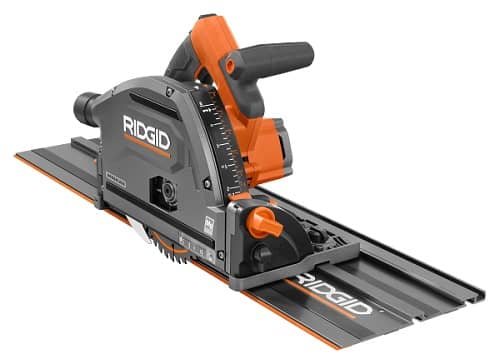 Ridgid has been coming out with lots of new 18V tools recently. Most of whom are updates and refreshes of existing tools. But the good news is that completely new to Ridgid tools are coming out. A new 18V brushless track saw is one of them as shown above.
They don't mention too much in this announcement. They say it can cut up to 370 ft per charge with a Max output 6ah battery. It has corded-like cutting performance. And it includes a 55″ track which offers "professional accuracy".
Blade size isn't mentioned but I assume it will be 6-1/2″ which is pretty common on track saws. It has a fully enclosed upper blade guard with rear dust chute that doubles as a vac port.
Additional track lengths or pieces are not mentioned but it would make sense they come out with extras and as well as a track length long enough to cut a 4×8 sheet longwise. I also wonder if they'll come out with their own Ridgid branded clamps to clamp the track down to your material. So many questions and so little answers.
No specific release date or price has been confirmed at the time of writing. Ridgid says it will be available in 2023.
Cuts 370 ft. per charge (Using a 6.0Ah MAX Output battery)
Corded cutting performance
Professional accuracy with included 55 in. track

Ridgid 18V Brushless Jig Saw R86344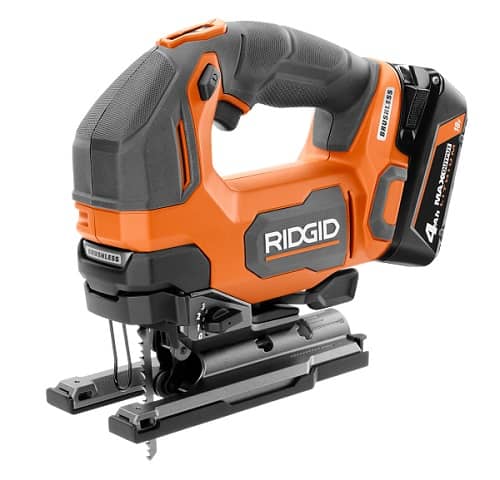 Here is a new Ridgid 18V brushless jigsaw. Like all their new tools moving forward, they are stepping away from the Octane branding. This one appears to have a nice set of features. It has tool-less blade change and shoe bevel levers. Has three selectable orbit modes plus off. I can't tell based on the image if it has a variable speed dial on top. It looks like that might be what they groove is on top but not sure. There is a lock switch next to the trigger. The shoe has a non-marring cover.
Ridgid says it cuts up to 200 feet per charge with a max output 6ah battery. It has 20% lower vibration but don't say compared to what? It has 3,200 SPM with 1 inch stroke length.
No specific release date or price has been confirmed at the time of writing. Ridgid says it will be available in 2023.
Cuts 200 ft. per charge (using an 18V 6.0Ah MAX Output battery)
20% lower vibration
3,200 SPM and 1 in. stroke length

Ridgid 18V Brushless Compact Router R860444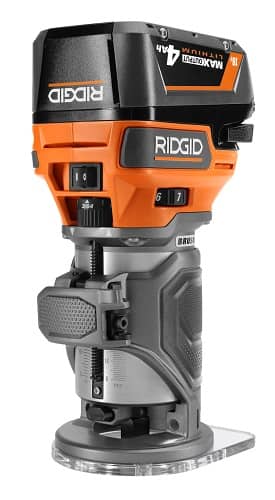 Back in December of last year, Joshua B. had spotted a new mystery Ridgid 18V trim router. At the time it had a model number to the then current Octane router but the image though blurry, was different. We knew that Ridgid would soon shed light on this new model and today is the day. This is indeed a brand new model with slightly different model number R860444. It replaces the B with a 4 at the end.
So what's new you ask? Besides a new cosmetic design, it uses an oldschool style rocker switch and adds a variable speed dial. The variable speed dial is big news because now you can crank the speed of cut up or down to suite the bit and cut.
The base is half circle in front and square in back unlike the all square design on the Octane. Another huge difference is that the motor housing appears to a metal exterior. Whereas was molded plastic on the previous. Now I can't confirm the new model has a metal exterior motor housing, I am saying it appears that way.
New official info so far is that Ridgid says it will have more power than a corded router. It has up to 40% less vibration although they don't say compared to what? And that it can get up to 250 ft of runtime with a Max Output 2.0ah battery.
No specific release date or price has been confirmed at the time of writing. Ridgid says it will be available in 2023.
More power than corded
Up to 40% vibration reduction
250 ft. of runtime per charge (using an 18V 2.0Ah MAX Output battery)

Ridgid 18V Brushless 18GA Narrow Crown Stapler R09850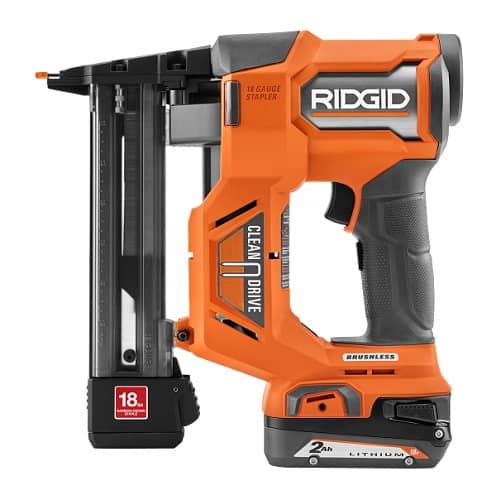 This here is a new Ridgid 18V brushless 18 gauge stapler. It appears to be based on their 18 gauge nailer that appeared in 2021. Just with a different magazine to accomodate 18 gauge staples. It looks like one of the few remaining tools with Ridgid grip lights
Ridgid says it can consistently and quickly drive staples into hardwoods. It uses clean drive tech for less jams and increased productivity. They also say it has zero ramp up time. This is a big deal and means there shouldn't be a delay on firing after the trigger is pressed.
No specific release date or price has been confirmed at the time of writing. Ridgid says it will be available in 2023.
Consistently & quickly drives staples into hardwoods
CLEAN DRIVE™ technology: less jams, increased productivity
Zero ramp up time


DISCLOSURE:
We are a participant in The Home Depot Affiliate Program. It is an affiliate advertising program designed to provide a means for us to earn fees by linking to homedepot.com. Tool Craze does not sell this product or any product on the Tool Craze website. We do not handle the sale of any item in any way. Please refer to the About section for more info.
Check out these other articles:
Long Awaited Ridgid 18V Brushless 14″ String Trimmer Finally Announced!
Ridgid 6 Quart NXT Backpack Vacuum Cleaner – A Vac You Can Wear