Ridgid's outside of the USA rebrand AEG has come out with a new 18V 1/2" Fusion 6 Mode High Torque Impact Wrench model BSS18HTF12B6-0 .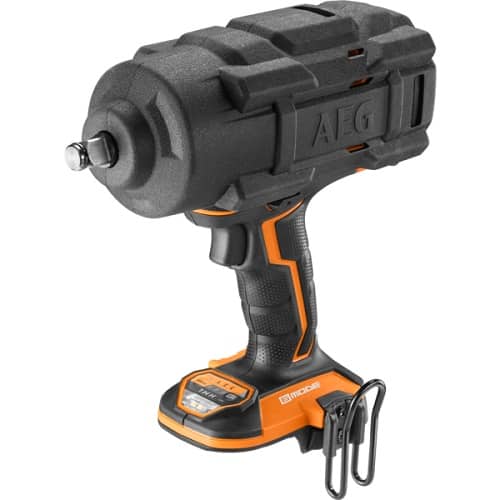 This new 18V 1/2″ high toque impact wrench has impressive torque stats with a claimed torque up to 1550Nm for fastening and up to 2100Nm for nut busting which translates to 1143.22 ft-lbs fastening torque and 1548.88 ft-lbs nut busting torque. On paper it seems more powerful than Milwaukee's M18 Fuel 1/2″ high torque impact wrench and more like Milwaukee's M18 Fuel 3/4″ high torque impact wrench. Although paper stats are one thing and actual performance is another thing so I'm curious as to how powerful this new AEG high torque impact wrench performs, but if it performs as good as it's stats, man will this thing be a beast!
It's also a Fusion model which means a brushless motor which is needed to get performance this high. It's also sporting the new 6 mode design we originally saw on the Ridgid Octane 18v Brushless ⅜" Drive 6 Mode Compact Impact Wrench. So it's good to see it on a new model, even if it is on an AEG.
And as we can see from the image, AEG didn't go nuts with black on the top section, what you are actually seeing is the protective boot that's included with the impact wrench for added protection. Good to see it included rather than an optional accessory for more cash.
Keep in mind this was spotted in the New Zealand AEG site so no word on if this will make it to the USA.
A big thanks to Sashko for spotting!
Intuitive 6-mode selection panel covers various applications from precision tightening to heavy-duty tightening
Small and large belt clips included for safe on-person storage and storage at heights
Protective rubber boot included to protect the tool from fall damage, scrapes and corrosive solvents
FUSION brushless motor delivers class-leading power and performance
High-performance torque capable of tightening and loosening heavy construction and automotive nuts (up to 1550Nm fastening/2100Nm nut busting)


Free 2 day shipping – Try Amazon Prime 30-Day Free Trial

DISCLOSURE:
Tool Craze does not sell this product or any product on the Tool Craze website. Tool Craze does not handle the sale of any item in any way. If you purchase something through a link on the Tool Craze site, Tool Craze may get a small share of the sale. Please refer to the About section for more info.