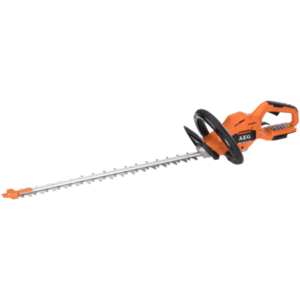 Another AEG Fusion branded cordless power tool has popped up on the AEG website and it's an 18V Fusion 550mm hedge trimmer. The new Fusion branded AEG tools were designed to work best with the new Force batteries but are backwards compatible with other AEG 18V lithium batteries.
This new AEG Fusion hedge trimmer features a brushless motor and can handle it's 550mm blades which translate to 21.6 inches in length. This is a good capacity for 18V hedge trimmers and nothing out of the ordinary but what's not ordinary for the 18V category is it's 26mm cut capacity which translates to 1 inch capacity. This is pretty impressive in a sea of competitors with a 3/4″ cutting capacity.
No word on whether this hedge trimmer might make it's way to the USA as a Ridgid branded tool.
Big thanks to Joshua B. for spotting this!
The AEG 18V FUSION Hedge Trimmer skin is an excellent combination of ergonomics & power. The outer rotor Advanced Brushless Motor provides smooth cutting performance in a well-balanced package. The 550mm steel blades with a 26mm cut capacity, enables the unit to clear a large amount of material. The rear-rotating handle features positive stops in three positions, to ensure the optimal grip angle. Exposed magnesium casting helps to reduce weight, and also provides quick access for blade changes. Pair up the 18V FUSION Hedge Trimmer skin with a FORCE battery, and you'll experience a trade tool you can push harder and longer than ever before.
Powerful Advanced Brushless Motor technology
550mm blade length, 26mm cut capacity
Rear rotating handle
Blade tip guard for protection
Magnesium-exposed casting creates a lightweight design
Accessible blades for faster replacements
Includes sheath and hanging hole for storage
DISCLOSURE:
Tool Craze does not sell this product or any product on the Tool Craze website. Tool Craze does not handle the sale of any item in any way. If you purchase something through a post on the Tool Craze site, Tool Craze may get a small share of the sale. Please refer to the About section for more info.