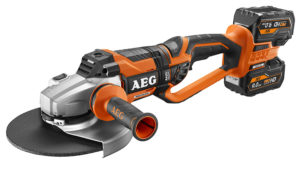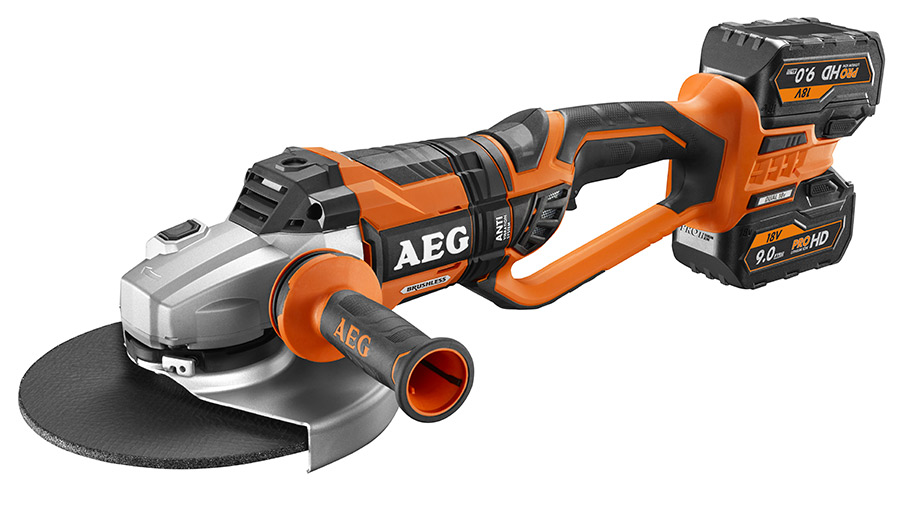 Here's some more AEG news for you guys, a new cordless brushless 9 inch grinder (230mm) has been spotted from them.
It's crazy to believe we know have 9 inch cordless grinders but you better believe it. AEG (Ridgid) managed to do this by utilizing two 18V batteries together to put out more power at 36V. This is nothing new as brands like Makita, Dewalt, and Ryobi have done this before to double voltage using current batteries.
This isn't the first time AEG has made a cordless tool that uses two 18V batteries as they did this with their 10 inch AEG miter saw although the 10 inch miter saw has two battery slots, you can choose to operate the saw with one or two batteries. I am not sure yet if the new AEG 9 inch cordless grinder will offer the same 1 or 2 battery flexibility but seeing as all other 9 inch grinders on the market are higher than 18V I believe the new AEG model will most likely need both to get the required power and voltage to run such a large wheel.
Other interesting features on the AEG 9 inch grinder include a paddle switch with safety, a brake that stops the blade at will to reduce risk of injury or damage when ending use, a vibration reduction handle, and the ability to use the handle in 3 different positions, right, left and top of gearbox.
Keep in mind that this was spotted in France and we can thank Thomas Pouliquen and Chris Gkikas for spotting this new grinder and sharing with us! Most likely it will make it's way to other countries if not already and might make it's way to the USA as a Ridgid branded model soon. We'll have to wait for official announcements as they come in.
DISCLOSURE:
Tool Craze does not sell this product or any product on the Tool Craze website. Tool Craze does not handle the sale of any item in any way. If you purchase something through a post on the Tool Craze site, Tool Craze may get a small share of the sale. Please refer to the About section for more info.