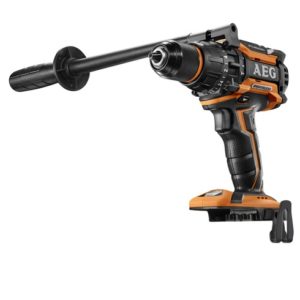 Today we have some very interesting news as AEG which is what Ridgid is called outside the USA, has come out with a new high torque brushless hammer drill under the Fusion name just like their Reciprocating saw that was recently spotted.
I haven't been following AEG closely since I live in the USA but Ridgid has always been a step behind top pro brands when it comes to torque numbers for their high torque drills but with the new Fusion model, they not only compete with the pro brands in terms of torque but even surpass it with 140 Nm of torque which translates to 1239 in-lbs of torque. That's 39 more in-lbs of torque than Ridgid's sister brand Milwaukee Gen 2 M18 Fuel hammer drill which has 1200 in-lbs torque.
Looking at it's feature set, it looks to be packing lots of features with a 24 torque settings clutch collar with premium separate mode collar, multi position side handle which is now longer because of the added torque, LED light, belt clip, and metal 1/2″ chuck which I would assume ratchets. I also see that the grip light button is missing which further convinces me that AEG/Ridgid is ditching that feature on newer cordless tools. It also doesn't have the LED ring on the chuck itself like the original brushed GEN5X hammer drill.
This AEG Fusion hammer drill was spotted in the AEG Australia website by Joshua B. and Glenn. Big thanks to you guys for spotting this!
Powerful Advanced Brushless Motor delivering a huge 140Nm of torque.
0-32,000 bpm
0-550 / 0-2,000 RPM
All Metal keyless chuck with carbide inserts for superior grip and performance.
24-stage torque adjustment with independent mode selector allows for easy switching between drill, hammer and screwdriver modes.
2-speed all metal transmission for use in wider range of applications.
Extra long robust side handle protects user from kickback.
On board belt clips for easy storage .
LED sight light for better illumination of work areas.
DISCLOSURE:
Tool Craze does not sell this product or any product on the Tool Craze website. Tool Craze does not handle the sale of any item in any way. If you purchase something through a post on the Tool Craze site, Tool Craze may get a small share of the sale. Please refer to the About section for more info.