Usually we learn about new Ridgid tools when they are announced over seas as AEG branded tools and then they eventually come over to the USA as Ridgid branded tools, but it seems that this time around us here in the USA have gotten the Ridgid tools first and then you guys overseas have received your AEG varients afterwards. This is exactly the case with the AEG 18V Fusion Brushless Reciprocating Saw which was spotted first in Canada and now available in the USA as a Ridgid model, and the same goes with the AEG 18V bluetooth speaker.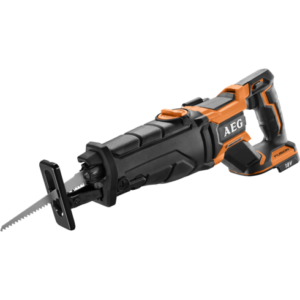 What's strange about these offerings is that at first glance they appear to be identical models aside from the difference in color scheme but upon closer inspection one of the AEG models offers an additional feature while the other AEG model lacks a feature found on the Ridgid equivalents. We'll start off with the AEG 18V Fusion Brushless Reciprocating Saw which has a rafter hook that is not there on the similar Ridgid model. Other than that the specs and features are similar to the Ridgid Canadian model. Learn about the Canadian Ridgid model by clicking here, and learn about the Ridgid USA model by clicking here.
Brushless motor for increased power and longer runtimes
Large 28.5mm Stroke length for better cutting performance with different materials
0-3,100 SPM
Orbital Cutting action provides aggressive cutting action for fast cutting
Tool Free Blade change, safely and quickly allows for faster blade changes
Tool free foot adjustment allows for more flexibility when cutting in different positions
On Board Rafter/ Ladder Hook rugged design for site conditions and allows temporary storage when on site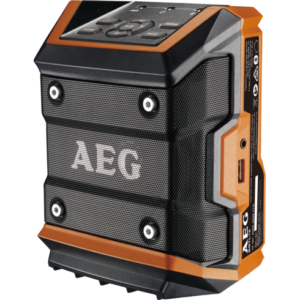 Looking at the AEG bluetooth speaker, compared to the Ridgid model, it's only a bluetooth speaker as it's missing the radio function found on the Ridgid equivalent. Learn more about the USA Ridgid model by clicking here.
Up to 25m Bluetooth Range
Built in USB port for portable device charging
5 stage equaliser allows for sound customisation
User-friendly interface with LED indicators
We can thank Joshua B. and Glenn for spotting these new AEG 18V cordless tools.
DISCLOSURE:
Tool Craze does not sell this product or any product on the Tool Craze website. Tool Craze does not handle the sale of any item in any way. If you purchase something through a post on the Tool Craze site, Tool Craze may get a small share of the sale. Please refer to the About section for more info.