Woodworking tool company Bora has a new metal sawhorse built for speed and ease of use with extremely quick leg deployment. Their metal sawhorse is called the Bora Portamate PM-4500 Speedhorse that you can find at https://boratool.com/speedhorse and in this article we'll be reviewing it. Bora was kind enough to send me two product samples of the Portamate PM-4500 Speedhorse at no cost and as always I will provide my honest unbiased feedback. I am not paid or swayed in any way to give a positive review.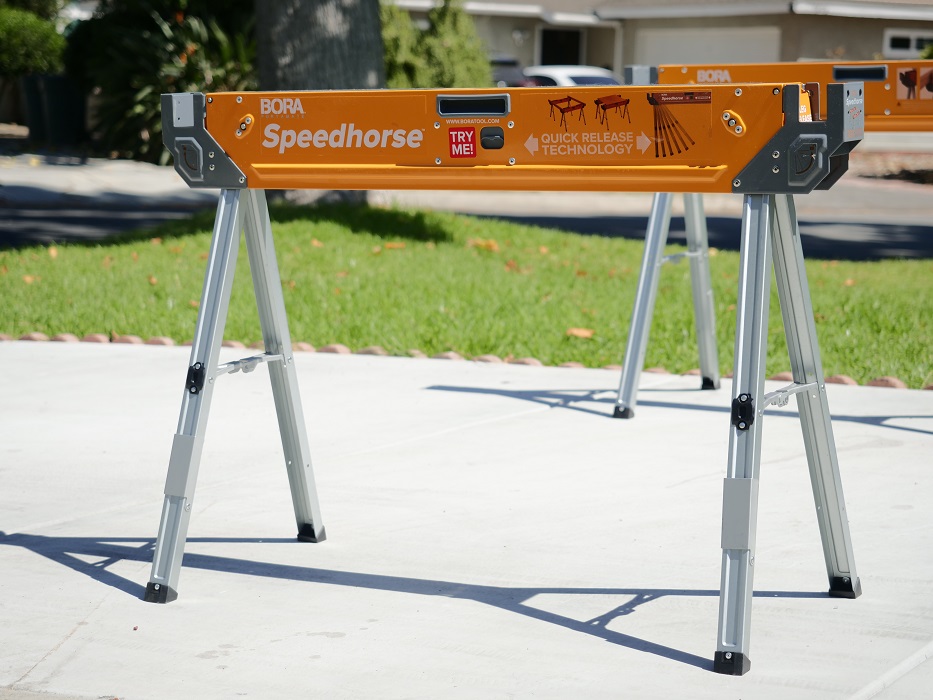 Free 2 day shipping – Try Amazon Prime 30-Day Free Trial
Interesting story when I was contacted by Bora to see if I'd be interested in reviewing their latest metal sawhorses. They mentioned that I had never covered their products which was true up to that point. However after looking into their metal sawhorse I couldn't help but feel I've seen it somewhere before and I even could have sworn I've wrote about it as an earlier news article. So I dug deep in the Tool Craze archives and found the ToughBuilt brand folding sawhorse that I wrote about. The Bora Speedhorse has a very similar design and from a quick glance almost looks identical to the Toughbuilt's. In this review we'll go over the similarities, where the Bora Speedhorse is better and where the Bora Speedhorse falls behind.
Similarities: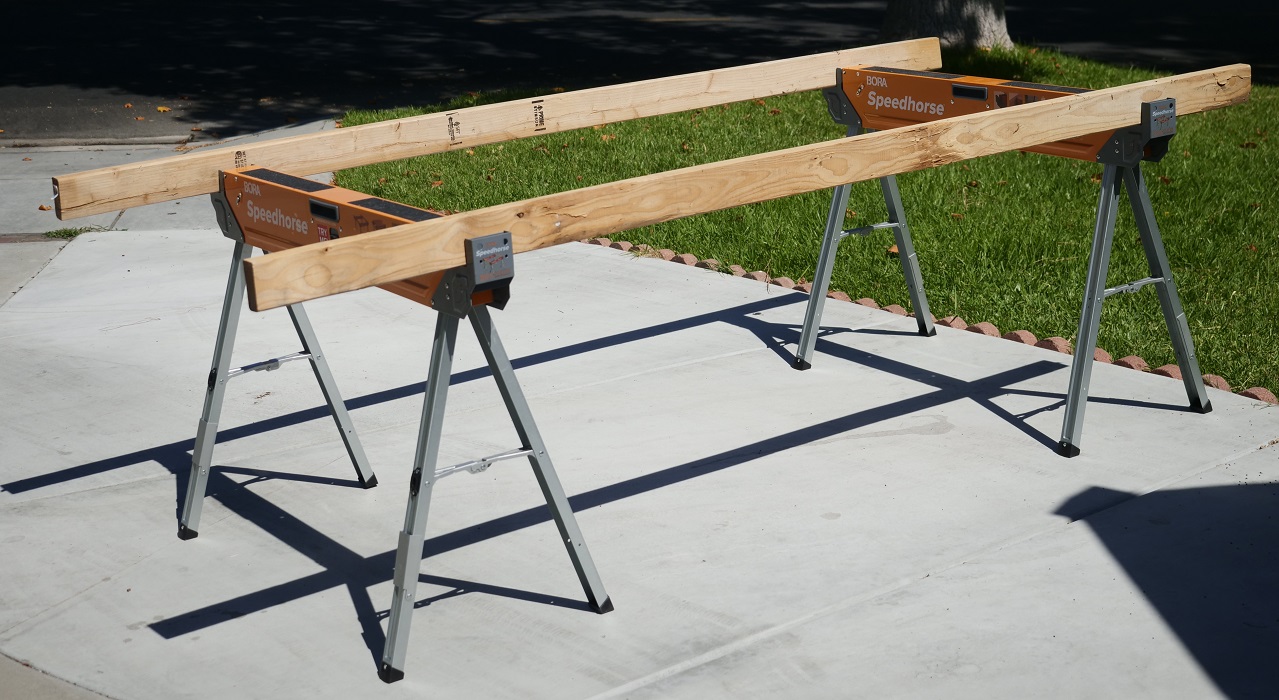 Both are metal sawhorses with a beefy top section that holds a set of fold out legs. Metal body construction means it will hold up after years of use and unlike traditional sawhorses, can hide it's folding legs which means these sawhorses take up less total space to store. Both have a carry handle, slots to hold 2×4 lumber to use two 2×4's and a pair of sawhorses to make a table, grip tape on top to make sure items placed on top don't easily slide and fold out pegs on the side to hold up sheet goods for easy cutting with only one sawhorse.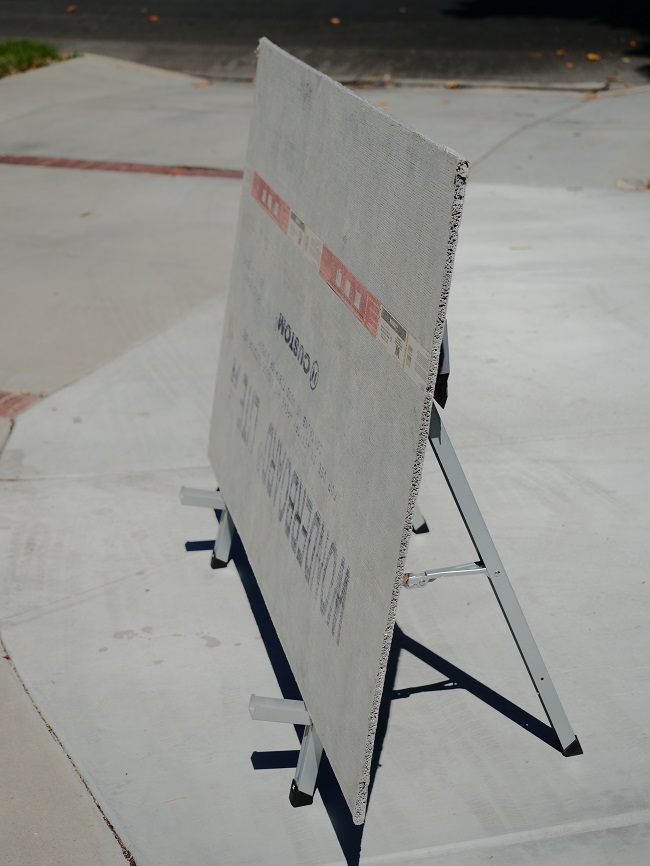 Where the Bora Speedhorse is Better:
Bora's Speedhorse as the name suggests is built for speed. Setup up and storing it's fold up legs is so fast, it literally runs laps around the competition. According to Bora, setup takes about 1.6 seconds to fold out it's legs so it can stand up. All you have to do to fold out it's legs is literally one simple step of pull sliding a button and out the legs go and fold out automagically. That's it and both sets of legs go out one after the other with that one simple step. Folding the legs back in place is almost as quick and easy and only requires two steps which is to pull a leg release lever and push each set of legs back into the main body. And you don't even have to worry about closing the legs first as they close themselves as you swing them back in the body! Folks, it doesn't get any easier than this.
The Bora Speedhorse also has the highest weight capacity rating according to Bora of a max of 1500 lbs which they claim is 200 more than any other sawhorse on the market.
Where the Bora Speedhorse falls behind the competition:
To sum this up in as few words as possible, it falls behind in features or lack of and pricepoint. First lets tackle where it falls behind in terms of features.
Bora's speedhorse has a bracket set that can hold a 2×4 on each side, Toughbuilt's C700 can do the same and their brackets can extend to hold up to 4x lumber. While Bora's Speedhorse has one set of fold out pegs to hold sheet goods, Toughbuilt's C700 unit offers three sets to hold sheet goods, both in the leg midsection (one on each side) and a third lower set on one side thus giving you more options to hold sheet goods. There's also another set of fold out pegs on the top section of the C700 that's designed to hold lumber with only one sawhorse like 2×4's and closer to you for easy cutting which the Speedhorse lacks this set of extra fold out pegs. The Speedhorse's legs are of fixed length and have fixed feet which is in contrast to the C700's extendable legs and pivoting feet supports which are great for uneven surfaces.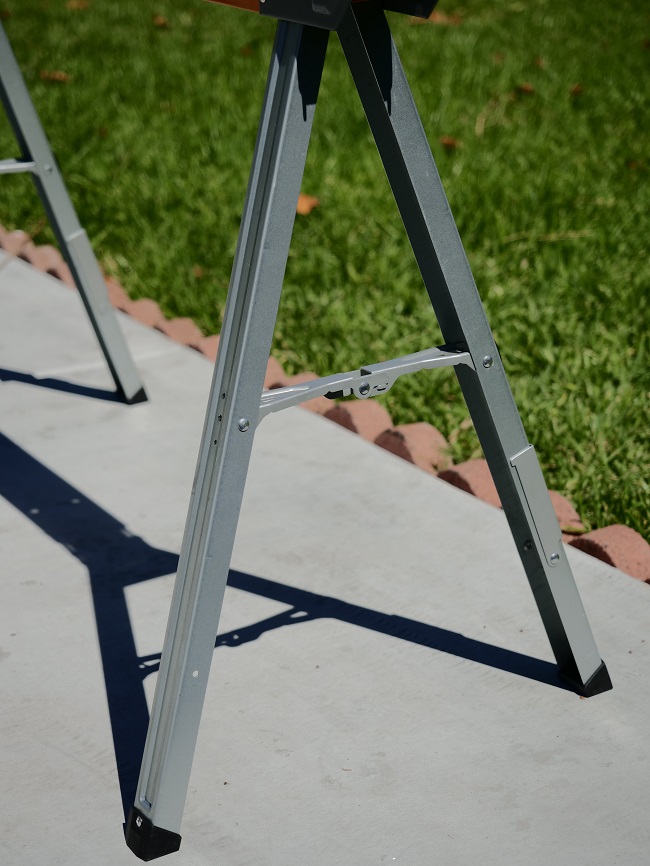 The side bracket slots that hold 2×4's to use in conjunction with another Speedhorse are only deep enough to hold the sideways 2×4 halfway. This means that half of it is sticking out above the top of the Speedhorse. Is this a big deal, probably not however Toughbuilt's sawhorses hold 2×4's all the way in with the 2×4's top's being flush with the top surface of their sawhorses. It appears Bora noticed this design quirk and added pre drilled holes on the top surface so you can screw an additional 2×4 to the top so the top is flush with the other 2×4's being held up. In my opinion, this is all un-needed extra work to get the top flush with the side 2×4's.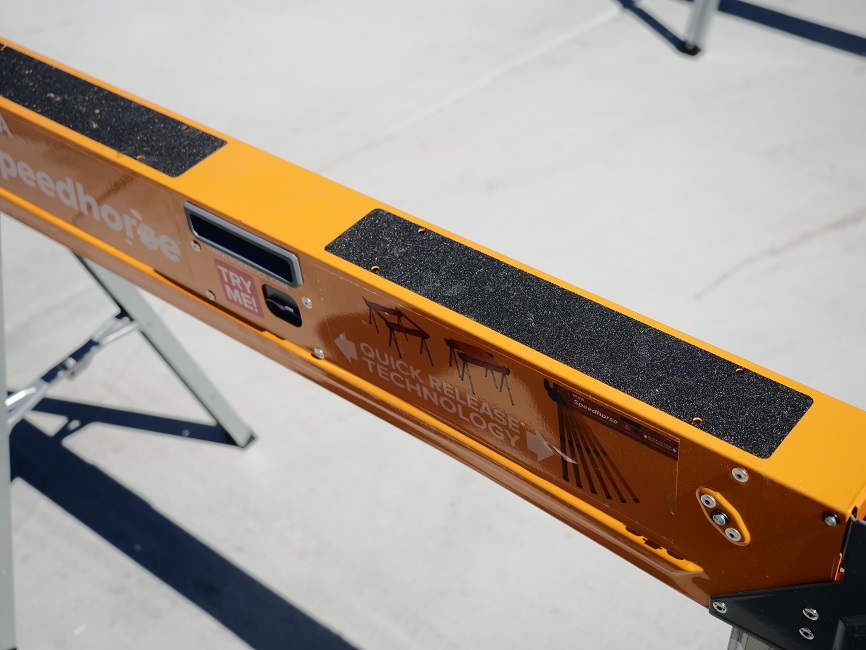 I have small hands and I found it hard and awkward to hold onto the Bora Speedhorse in each hand because the handle slots are so far apart and my fingers can barely reach them and to make matters worse, the slide switch to deploy the legs is even harder to reach making it very hard for me to do one handed. And even if my hands were large enough that holding on and reaching the slide switch was easier, the sharp top corners of the Speedhorse wouldn't make it any more comfortable. Whereas the Toughbuilt's have a pull out strap handle on top that's easier to reach, grip and use but they do lack the leg deployment button for super fast and easy setups, so it's a bit of a trade off.
Last is the Bora Speedhorse's price point. At the time of writing the Bora Speedhorse is $89 each. Toughbuilt's highest priced and more featured metal sawhorse is $59.97 making the Speedhorse about $29 more than it's competition or you can get a similarly featured Toughbuilt C500 for only $34.99 meaning you can get two C500's for considerably less than the price of just one Bora Speedhorse.
Conclusion:
Of course, the Toughbuilt's don't setup anywhere near as fast as the Bora Speedhorse's do, so if setting up and folding back for storage as fast as possible is your main concern, nothing comes close to the Bora Speedhorse for speed and ease of setup. If ultimate speed of setup isn't of main concern to you and would rather save a few bucks and gain a few extra features, there are other metal folding sawhorses on the market that might appeal more to you. Either way, the Bora Speedhorse is an extremely well made metal folding sawhorse with great engineering and ease of use. I would easily recommend the Bora Speedhorse if had some of those extra features the competition has and didn't cost a premium.
Pro's
Extremely fast and simple setup and folding for storage
Leg deployment setup as fast as 1.6 seconds
leg storage is a simple two step process
legs don't need to be closed to store them, they close themselves
takes up less total space than traditional sawhorses when folded
1500 rated weight capacity
solid metal construction
fold out pegs for holding sheet goods with only one Speedhorse
Con's:
much less featured than metal folding sawhorse competition
considerably higher price point than competition
requires user to screw a 2×4 horizontally to make the top flush when the side brackets are holding a pair of 2×4's
handle grip pockets too far apart to hold comfortably for small hands
leg release lever hard to reach for those with small hands


Free 2 day shipping – Try Amazon Prime 30-Day Free Trial

DISCLOSURE:
Tool Craze does not sell this product or any product on the Tool Craze website. Tool Craze does not handle the sale of any item in any way. If you purchase something through a post on the Tool Craze site, Tool Craze may get a small share of the sale. Please refer to the About section for more info.