Last year Bosch announced a new tool called the Freak which was a 2 in 1 impact driver and impact wrench (compact) all in one. However this new Freak tool wasn't a new tool at all, it was the same old IDH182 1/2″ socket ready impact driver from 2014 just with a new marketing name. While it was and still is a great impact driver, it's real world performance was starting to show it's age especially when compared to today's next gen high performance impact drivers. The good news is that the IDH182 finally gets a refresh and update with a completely new impact called the Bosch 18V GDX18V-1800C. Just like the IDH182, the GDX18V-1800C is also a 1/2″ socket ready 1/4″ impact driver.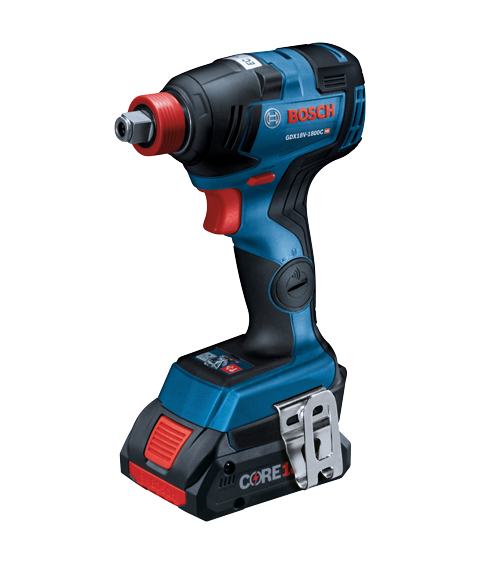 The Bosch GDX18V-1800C can perform double duty with a specially designed impact driver chuck with external 1/2″ square drive anvil that accepts standard 1/2″ sockets. This mean it can operate as an impact driver and impact wrench without the need of socket adapters.
The Bosch GDX18V-1800C has a fresh new body design that makes it look modern and is almost a half inch shorter in length than the original IDH182 at 5.8 inches in length. It won't break any shortest length records for an impact driver but you have to keep in mind that a bit of extra length is sacrificed to make the special two in one chuck head.
Torque goes up quite a bit and is now rated for 1,800 in-lbs torque which is roughly 150 in-lbs more than the original. Hopefully it's engineered to make the most out of it's torque for the best possible performance especially since there are impact drivers today that put out 2,000 in-lbs of torque or more from the pro competition.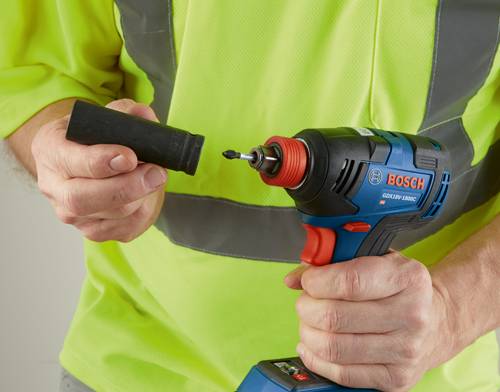 The new Bosch GDX18V-1800C is also bluetooth ready as it can take the Bosch bluetooth module into the side of the handle. But as with all other Bosch bluetooth ready tools, you have to purchase the bluetooth module separately instead of it being ready to go out of the box.
What's also interesting about the new GDX18V-1800C is that it's the USA variant of the UK variant Bosch GDX 18 V-200 C that was shown on the Tool Craze site. Check out that article by clicking here. Also when the UK variant was announced, there were two new impact driver models announced, the 2 in 1 impact driver/wrench and a new standalone impact driver. So I expect the USA version of the standalone impact driver to be announced sometime soon as well. It should look exactly the same and have the same performance stats but with a normal impact driver chuck.
The Bosch GDX18V-1800C is available now as a baretool ($159) and kit ($199 1 battery, $299 2 battery kit).
| | |
| --- | --- |
| Battery Chemistry | Lithium Ion |
| Battery Voltage (V) | 18 |
| Drive | 1/4″ Hex + 1/2″ Square Drive |
| Height | 9.0″ |
| Impact Rate | 0 – 3,200 |
| Length | 6.2″ |
| No Load RPM | 0-2,800 / 0-2,000 / 0-1,300 |
| Torque (in. lbs.) | 0-1,650 / 0-900 / 0-400 |
| Weight | 2.4lb |
| Includes | (1) IDH182 18V EC Brushless 1/4 In. and 1/2 In. Two-In-One Bit/Socket Impact Driver, (2) 18V Lithium-Ion 2.0 Ah SlimPack Batteries, (1) 18V Charger, (1) Double-Ended Bit, (1) Belt Clip, (1) Carrying Bag |
Two-in-One chuck – features a 1/4 In. quick-change hex and 1/2 In. square drive chuck that drives both bits and sockets
EC Brushless motor – delivers a max of 1,650 In.-Lbs. of torque and up to 3,200 IPM for professional power
Performance Control System – adjusts the impact driver's three torque and speed settings for precise fastening
Hammer and anvil system – designed for maximum impact endurance
Three-LED light design – provides outstanding illumination of work area
Longer belt clip – allows convenient storage on jobsite with redesigned longer belt clip
Ergonomic slim-grip handle – features nonslip housing to help prevent user fatigue
Electronic motor and cell protection – help prevent overheating and overloading for extended tool life and runtime


Free 2 day shipping – Try Amazon Prime 30-Day Free Trial

DISCLOSURE:
Tool Craze does not sell this product or any product on the Tool Craze website. Tool Craze does not handle the sale of any item in any way. If you purchase something through a post on the Tool Craze site, Tool Craze may get a small share of the sale. Please refer to the About section for more info.