May 25, 2017
Comments Off

on Bosch BLAZE GLM 42 Laser Measure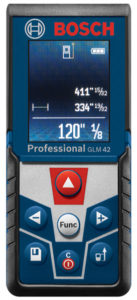 Bosch Power Tools is excited to share the latest pocket-sized laser in their BLAZE lineup. Introducing the Bosch BLAZE GLM 42 Laser Measure, the next generation of our iconic 135 ft. laser measure. While coming it at less than $100 USD, the GLM 42 packs in a ton of features:
New easy-to-read backlit color display
Memory storage for up to 20 measurements
Multiple measuring features – includes real-time length, length, area, volume and indirect functions, and addition/subtraction capability
Measures up to up to 135 ft. with accuracy ±1/16 in.
This workhorse is perfect for the pro who needs that extra power, accuracy and robust functionality on the jobsite. For more info check out the full press release below.

Bosch BLAZE™ GLM 42 Delivers Easy-to-Read Backlit Color Display That Makes Easy-to-Use Device More Indispensable

Pocket-size laser measure has 135 ft. range and great accuracy for applications that extend from length to area to volume

Mt. Prospect, Ill., May 23, 2017 – For any electronic device with a screen, a great display is the key to a great experience. The Bosch BLAZE™ GLM 42 laser measure delivers on that promise by offering users an easy-on-the-eyes, full-color backlit display with great resolution anywhere, even in dark areas or in low-light/no-light conditions.

The Bosch GLM 42 provides default real-time length, length, area, volume and indirect measuring functions that are simple to navigate thanks to a display guide that walks the user through each measurement function. The device also has a 20-measurement storage capability, addition/subtraction functionality and a digital bubble vial to provide a visual reference when measuring horizontal distances. Precise laser technology ensures instant and reliable measurements up to 135 ft. with accuracy ±1/16 in.

"The screen is a highlight, but there's more to the Bosch BLAZE GLM 42 for users in search of a laser measure with 135 ft. range at an attractive price," said Stephanie Dahl, product manager – laser measuring, Robert Bosch Tool Corporation. "This is a workhorse tool that professionals will come to rely upon. If you're a carpenter, you need this handy, precise measuring tool. If you're a real estate agent, you need this easy-to-handle, accurate measuring tool."

Default real-time measuring adjusts automatically the closer to or the farther from the target the user is – providing real-time, walk-off results like a tape measure. Bosch laser measures offer a handy pocket-size design that makes them easy to use anywhere. The squared shape plays a role in overall functionality by ensuring the unit can measure in any direction from a flat surface.

The Bosch GLM 42 is powered by two AAA batteries that supply enough power for more than 10,000 measurements. The device also comes with a target card, a hand strap and a pouch.

To learn more about the Bosch BLAZE GLM 42 or to find a local dealer, visit www.boschtools.com or call 877-BOSCH-99. Check out www.bethepro.com for additional tips and videos.

Bosch BLAZE GLM 42 Fact Box

Product
 Range 
 Accuracy 
Functions
Power
 Accessories,
GLM 42 
Price
GLM 42
135 ft.
± 1/16″
Real-time length, length, area, volume, indirect measurement
Two AAA batteries
Target card, hand strap, pouch
US: $99

Canada:

$135