Bosch introduces their very first thermal imager with the Bosch GTC400C 12V Max Connected Thermal Camera.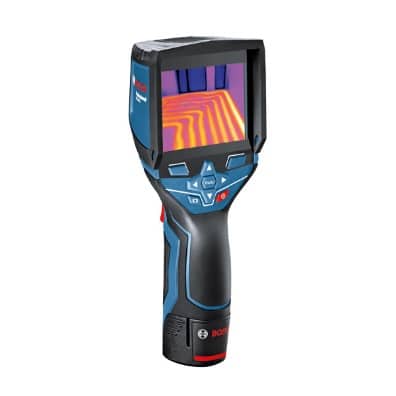 The Bosch GTC400C 12V Max Connected Thermal Camera is part of their cordless 12 volt line up as it is powered by their 12 volt max batteries, yes the same ones that powers their 12 volt drills. This thermal imager boasts a large 3.5 inch screen with a high resolution 160×120 thermal image resolution. Let's get one thing straight, it's hard to claim in 2020 that a 3.5 inch screen is considered big or that 160×120 pixels is considered "high" resolution. By cell phone standards, this is a tiny low resolution screen however in the thermal imaging world, especially compared to similar products from competing brands like Dewalt and Milwaukee, Bosch's offering does have a larger screen with more resolution which is a bonus.
Bosch's unit has two built in cameras, a thermal camera and a regular camera for better reference and allowing professionals to compare side-by-side, picture-in-picture or overlaid for a greater understanding of the work area. It doesn't have an SD card slot but it does have internal memory to save up to 500 images and you can export them via USB cable. I noticed that their press release info mentioned 600 and so did their video demo, however everything else mentions 500 so keep this in mind that it could either be 500 or 600 max but it's hard to tell. It also has bluetooth and wifi connectivity which enables transfer of documentation to a smart phone or tablet.
It is set to release in September 2020 for only one easy payment of $1199.
Fast thermal camera operation – detects temperature anomalies in seconds by just squeezing the trigger and freezing the image
Large illuminated color display – features a 160×120 thermal resolution, setting the standard for detailed thermal resolution
Integrated camera – records actual images with thermal graphic images, for side-by-side comparison, picture-in-picture and more
Precision imaging – has more than 19,000 measurement points, showing hot and cold spots, center temperature and adjustable temperature scale
Image memory – stores up to 500 images, both thermal graphic images and visual pictures
12V Max Lithium-ion power – features long runtime for complex jobs
Bluetooth® and WiFi hotspot connectivity – enables transfer of documentation to a smart phone or tablet
Jobsite-tough construction – withstands difficult jobsite conditions, and is IP53 rated


Free 2 day shipping – Try Amazon Prime 30-Day Free Trial

DISCLOSURE:
Tool Craze does not sell this product or any product on the Tool Craze website. Tool Craze does not handle the sale of any item in any way. If you purchase something through a link on the Tool Craze site, Tool Craze may get a small share of the sale. Please refer to the About section for more info.