May 11, 2016
Comments Off

on Bosch GTS1041A REAXX Table Saw with Active Response Technology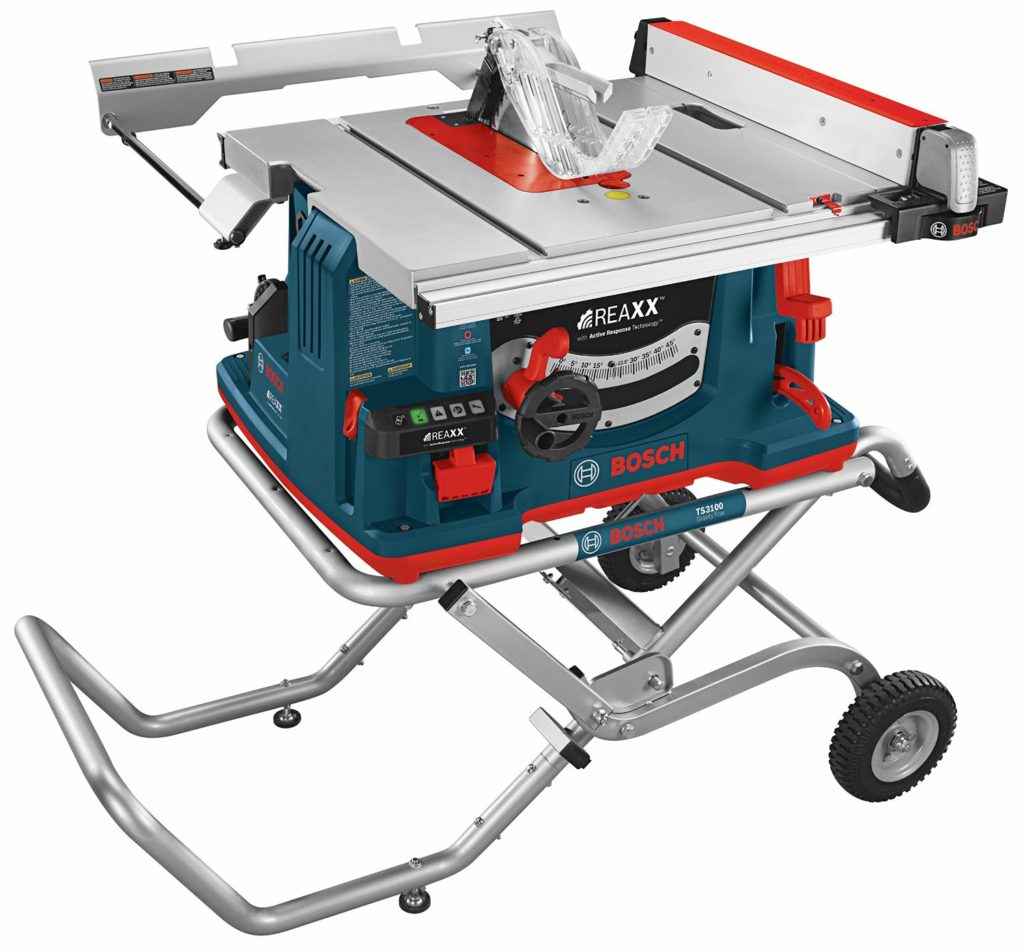 Bosch joins the finger saving table saw segment with their own flesh detecting table saw. Have you ever worried about cutting your digits while operating a table saw? Up until know, the only solution was to either leave the table saw cutting to someone else or use SawStop table saws, but now you can have the same peace of mind with Bosch's GTS1041A REAXX 10″ table saw with Active Response Technology.
The system Bosch uses on their REAXX table saw is a a dual firing cartridge that when flesh is detected on the blade, activates one of the cylinders on the cartridge which then lowers the blade in an instant to prevent damage to the user. Each cartridge can be fired twice, and more can be purchased after the original cartridge has been fired twice.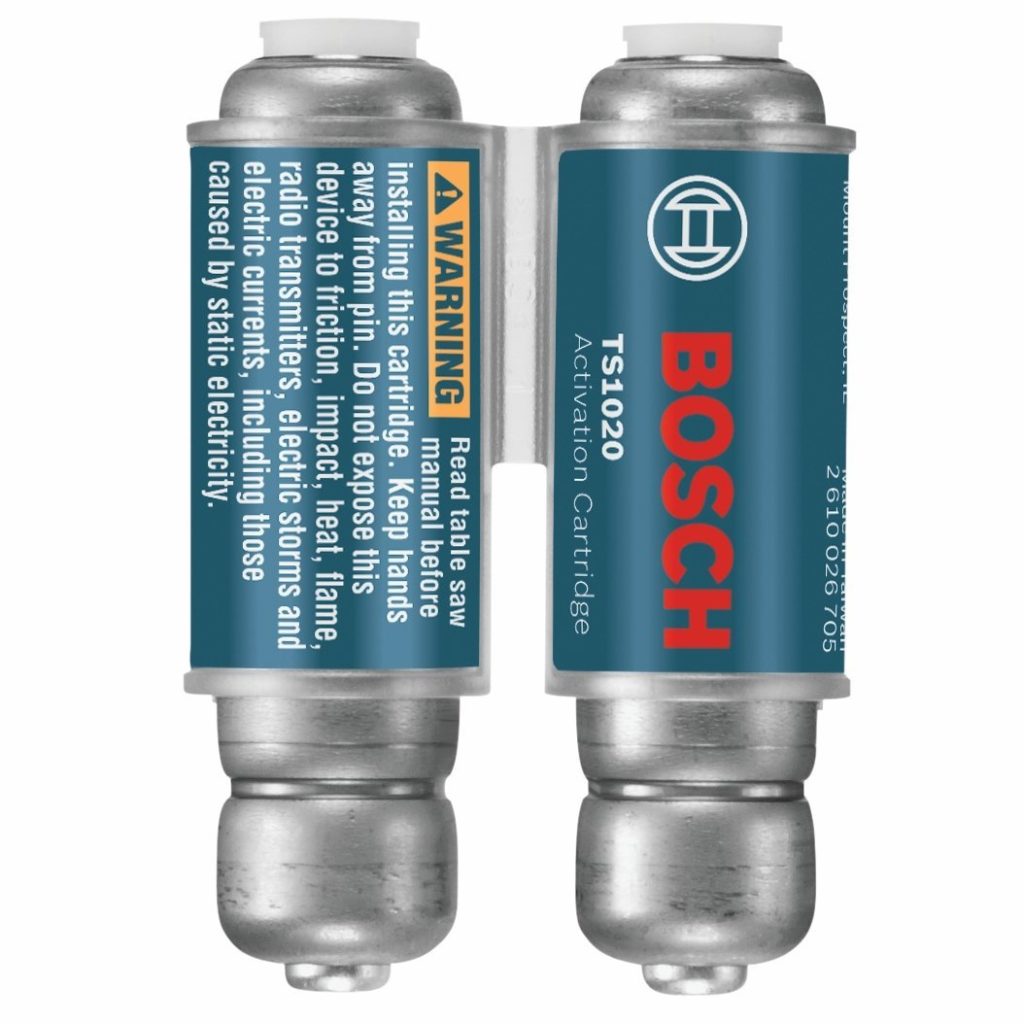 As the blade drops, it doesn't damage the blade or the saw, and getting the saw back up and running is said to be as quick as 60 seconds.
It also has an interesting on-board control panel with intuitive light display and built in NFC that can transmit data to your NFC enabled android phone via NFC such as activation history, servicing needs, and instructions.
Of course safety does not come without a price and this new Bosch GTS1041A REAXX Table Saw with Active Response Technology is priced about a grand more than their current portable 4100 table saw at $1,499. It does come with their very nice gravity rise table saw stand which can add some value to the overall price but users more concerned with safety in mind may overlook it's higher price.

Product Description
The Bosch GTS1041A-09 REAXX 10-Inch jobsite table saw kit builds on Bosch's heritage of award-winning table saw design while providing the injury-mitigation Active Response Technology platform, which delivers a rapid drop of the saw blade below the tabletop when it detects human flesh coming in contact with the blade. This high speed action helps to mitigate the potential of serious user injury. It does so without damaging the blade, and after activation, the system can be reset in less than 60 seconds. This technology reinforces the Smart Guard System, a modular blade guard that includes an adjustable riving knife, anti kick back pawls and a barrier guard. The table saw features an enhanced Square Lock rip fence engineered for exact clamping and a more substantial feel similar to a cabinet-saw-grade glide. It also has spring-loaded pre-squaring that aligns the rip fence to the blade before locking, for enhanced cutting trueness. It includes a rear out feed for 18-Inch of additional rear material support. The included Gravity-Rise Wheeled Table Saw Stand manages tough terrain for trouble-free transport of the table saw between jobsites, and provides easy setup and fast take down. The saw's onboard control panel is an easy-to-understand LED light display that integrates Near Field Communication (NFC) technology. This allows NFC-enabled phones to communicate information from the onboard control system – such as system activations, servicing needs and instructions. The saw features a beefy 15-amp, 4.0-hp max motor producing 3,650 rpm. It includes additional advanced electronics that provide soft-start to manage motor start-up and Constant Response circuitry to maintain speed under load. The saw works with nearly all standard 10-Inch fine finish and construction-grade blades and stacked dado blades, it has a 25-Inch rip fence capacity, and it has onboard storage for all necessary parts, instructions and wrenches. Includes: (1) Gravity-Rise Wheeled Stand; (1) Rear Out feed Support; (1) 10-Inch 40-Tooth Saw Blade; (1) Dual-Activation Cartridge; (1) Miter Gauge; (1) Rip Fence; (1) Barrier-Guard Device; (1) Anti-Kickback Pawls; (1) Push Stick; (1) Dual-Activation Cartridge Wrench; (1) Blade Wrench; (1) Hex Wrench; (1) Throat Plate Kit.
Active Response Technology – mitigates injury to user in case of blade contact, dropping the blade under the table with no blade damage

Easy system reset – takes less than 60 seconds after blade drop, with no damage to the blade

Dual-activation cartridge unit – two single-shot cylinders for two separate activations with each cartridge

Portability – works seamlessly with the included Gravity-Rise Wheeled Stand for easy jobsite mobility, with single-action setup and take down

Smart Guard System – riving knife and anti-kickback pawls provide protection when a kickback occurs, while the overhead guard provides a barrier helping to deter blade contact