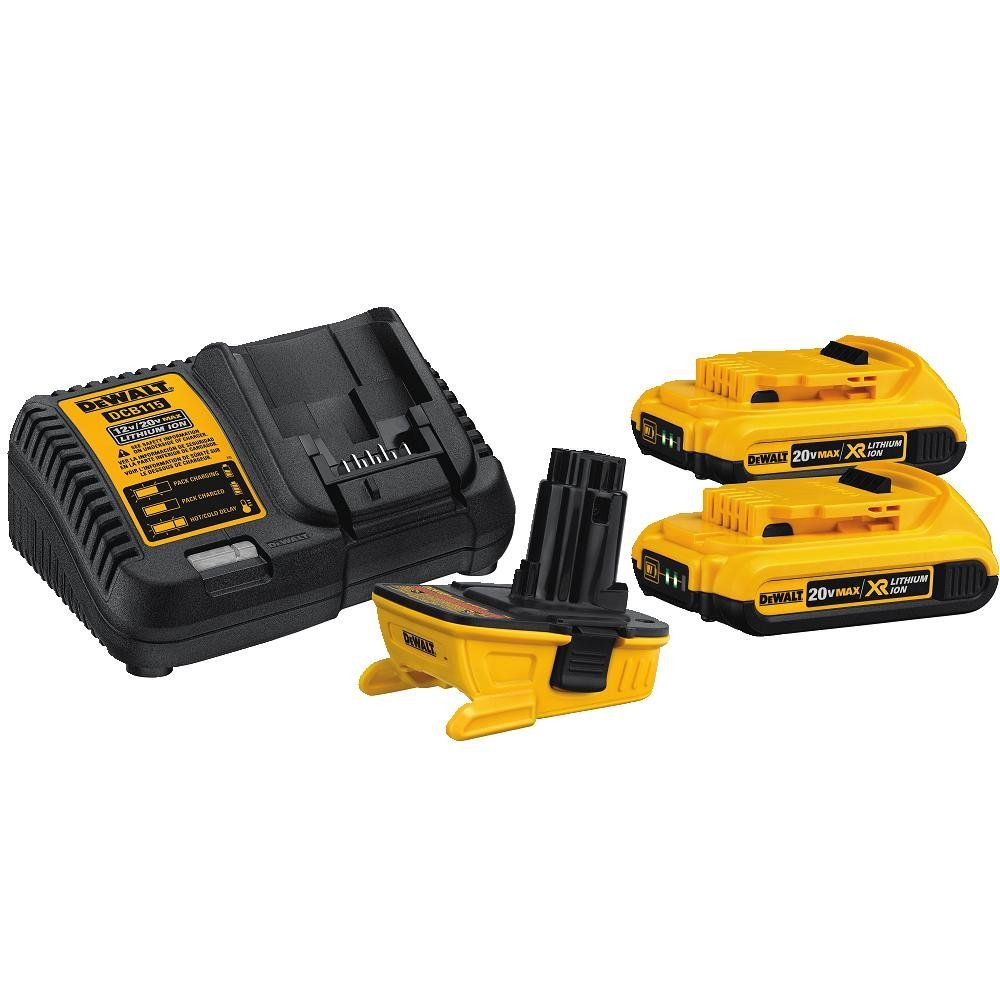 Do you have a bunch of older Dewalt 18V tools and want the convenience of the newer Dewalt 20V lithium ion slide pack batteries but don't want to buy new tools or get rid of your old ones? Dewalt has a solution for you, you can now use the new lithium ion 20V slide pack Dewalt batteries on your older 18V Dewalt cordless power tools with the use of the Dewalt DCA1820 battery adapter. Of course you would need new batteries to go along with the new adapter and a new charger for those batteries, and Dewalt conveniently sells a 18volt to 20 volt adapter starter kit with two 20V batteries, and 20V charger to get you started using the new 20V batteries on your older 18V Dewalt power tools.
I found you guys a deal on this set over at Amazon for $120.99 which is normally priced at $150 elsewhere. On Amazon, the current price is $140.99 but because Dewalt is running a $20 off of $100 or more promotion, it drops the price down to $120.99 automatically in your cart. So all you have to do is buy it from Amazon, not a third party seller, add it to your cart, and check out as usual. The promo discount is automatically applied at checkout.

Product Description
The DEWALT DCA2203C 20V MAX Battery Adapter Kit for 18V Tools allows for use of 20V MAX batteries in most DEWALT 18V Tools. This adapter requires the use of 20V MAX Chargers – this will not fit in DEWALT 18V Chargers. This kit includes two 20V MAX XR Lithium Ion batteries, and 20v charger so you can be ready to convert immediately. Use with DCB201, DCB203, DCB203BT compact batteries. Do not use adapter with premium batteries (DCB200, DCB204, DCB204BT, DCB205) in 18V Compact drills DC970, DC759. Includes: (1) 18V – 20V MAX Adapter, (2) DCB203 20V MAX XR Lithium Ion Batteries (2.0Ah), 12V/20V MAX Charger.
Compatible with most DEWALT 18V tools and allows for use of 20V MAX compact batteries

Includes (2) 20v MAX XR Lithium Ion Batteries, and 20v Charger

Use with DCB201, DCB203, DCB203BT compact batteries