May 20, 2015
Comments Off

on DeWalt 20V Max XR Brushless High Torque 1/2″ Impact Wrench DCF899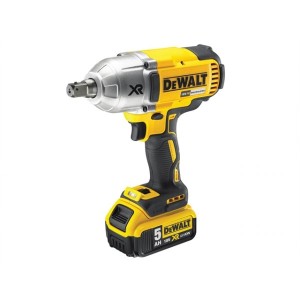 DeWalt recently came out with a new 20V 1/2″ Max high torque and brushless impact wrench to compete with the likes of the Milwaukee Fuel high torque impact wrench. This new DeWalt impact driver not only adds a brushless motor but also improves torque significantly over the previous model which had 400 ft-lbs of torque, all the way up to 700 ft-lbs of torque and 1,200 ft-lbs of breakaway torque.
Before if you wanted a cordless 1/2″ high torque impact wrench, you had to look at either Ingersoll Rand or Milwaukee's offerings as both offer torque numbers atleast 700 ft-lbs. Back then if you were on the DeWalt 20v system, you were limited to only 400 ft-lbs. The addition of the brushless motor in the new DeWalt XR high torque impact wrench means that it can also run longer on a battery since brushless motors are more efficient and consume less power than similar sized brushed motors. Because of this it can now compete head to head with the Milwaukee M18 Fuel 1/2″ brushless high torque impact wrenches which were the only brushless high torque impact wrenches at the time. Also like the Milwaukee M18 Fuel that has 2 speeds, the DeWalt also offers multiple power/speed settings. Currently all the stats aren't available but it seems to be a 3 speed impact wrench with a slide switch at the bottom of the handle above the battery.
One thing to note is that this DeWalt model is has slightly more breakaway torque than either Ingersoll Rand and Milwaukee offerings of 100 more ft-lbs at a total of 1,200 ft-lbs.
This new DeWalt 20V Max XR 1/2″ high torque impact wrench comes in 2 flavors, either a friction ring anvil or detent pin and will be sold as 5 options, 2 baretools (friction ring or detent pin anvils) and 3 kits. 2 kits will offer two 5.0 ah XR batteries (1 kit with friction ring and the other with a detent pin) along with another one 5.0 ah XR battery kit that includes the detent pin model.
Fastening torque: 700 ft-lbs
Breakaway torque: 1,200 ft-lbs
drive size: 1/2″
anvil type: detent pin or friction ring
length 8.81″
weight 7.2 lbs
3 speed/torque settings
no load speeds (IPM) 0-2,400
no load speeds (RPM) 400 / 1,200 / 1,900