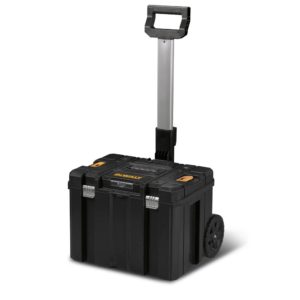 Glenn wrote in about a new Dewalt DWST1-75799 T-STAK Mobile Storage Box that he spotted in Australia. This is a medium to large sized toolbox with built in wheels and a telescoping handle. The handle and wheels not only make it very portable but also make it a great tool box to stack, lock and carry other Dewalt T-Stak tool boxes on top.
This is no doubt a late attempt to have Dewalt's T-Stak system compete with Ridgid's highly popular 22″ professional tool storage system with their pro gear cart particularly in mind. Sure, Ridgid's attempt was a copy of Dewalt's and Bosch systems at the time but by integrating the box carrier into a cart and tool box two in one along with low prices made it a hit. This is not Dewalt's first attempt at competing directly with Ridgid's Pro tool storage system as they did something similar with the Dewalt ToughBox system a while back.
Keep in mind the Dewalt DWST1-75799 T-STAK Mobile Storage Box was spotted in Australia and thanks to Cody Robertson, we learned that the USA model is availabe here under the DWST17820 model number.
Features:
Metal-Plastic telescopic handle for easy carrying
Durable 7" wheels for maneuverability
Large volume useful box for bulky items
Nameplate for content identification
Specifications:
Dimensions (L x W x H): 435mm x 1000mm x 512mm