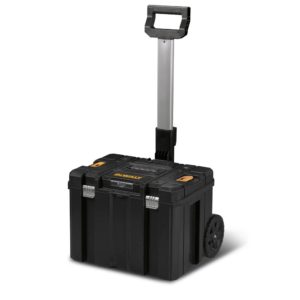 I wrote about a Dewalt T-Stak Mobile Storage Box that was spotted in Australia with model number DWST1-75799. In that post I wrote that we currently don't have that model in the USA at the moment and didn't know when or if we would get one here. But the tool guru Cody Robertson wrote in saying that there has been a T-Stak mobile storage box DWST17820 in the USA all along for at least 8 months.
This striked me as odd since I googled the Australian model and came up with nothing here in the states but that was because the USA model has a different model number, so technically I was right when I said we didn't have one here in the USA if you base that solely on model numbers, but in reality we did have one but with a different model number of DWST17820.
So there you have it, we do have one available to us here in the USA.
Anyways, going back to it's features the DEWALT DWST17820 T-STAK Mobile Storage Deep Box is similar to Ridgid's pro gear cart in the sense that it has built in wheels, has a telescoping handle to carry and wheel your stuff around and you can stack and lock on other T-Stak boxes for all your modular needs without having to purchase a separate wheeled carrier.
Price for the USA model appears to hover around $70 and it's out now in case you didn't get that in the first paragraph.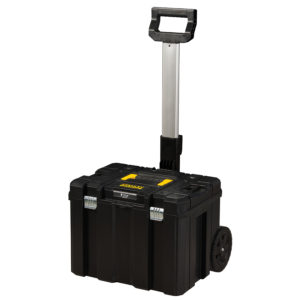 What's also interesting is that Cody Robertson wrote in saying that Stanley also has a T-Stak Mobile storage box of their own, similar to Dewalt's but with Stanley branding. We all know that Stanley Black and Decker is the parent company of Stanley and Dewalt so it doesn't surprise us that they can although it surprises me that they did.
DISCLOSURE:
Tool Craze does not sell this product or any product on the Tool Craze website. Tool Craze does not handle the sale of any item in any way. If you purchase something through a post on the Tool Craze site, Tool Craze may get a small share of the sale. Please refer to the About section for more info.