Dewalt just released their new Flexvolt 60V / 120V system and is expanding it very quickly. We heard news of two new 120V Flexvolt 12″ miter saws and now a new Dewalt Flexvolt 60V miter saw has been spotted over in the UK, the 54V DCS777 cordless miter saw. This new miter saw is equipped with a 216mm blade which translates to 8-1/2″ and the DCS777 is a sliding miter saw.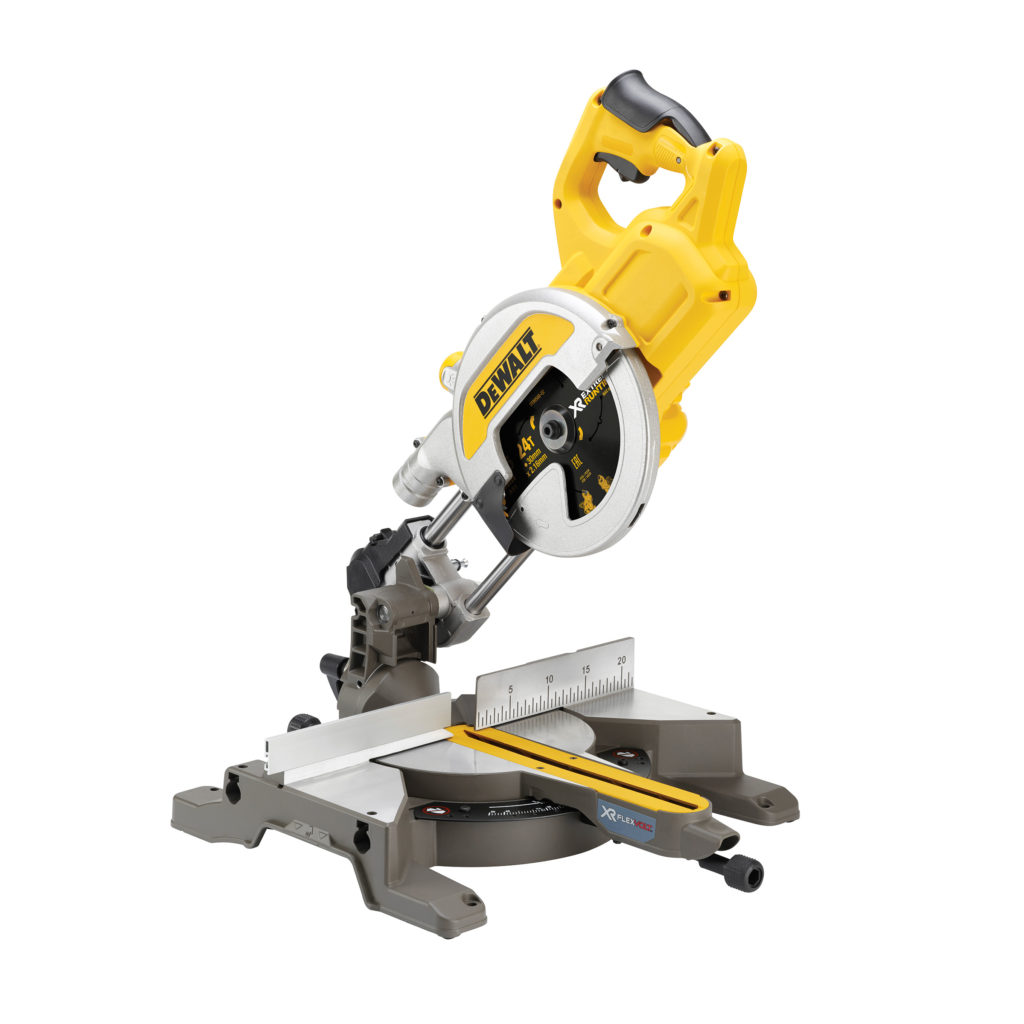 It appears to be nearly identical to the European corded model DW777 although with a few minor tweaks. My guess is that we can expect this cordless saw to have performance similar to the 1800w corded DW777 model. They did add a few modern features such as a brushless moter and the famous Dewalt XPS lighting system that uses LED lights to cast a shadow where the blade will cut. Unlike laser systems, the XPS shadow doesn't need to be calibrated and the shadow is spot on while also showing the thickness of the blade each time.
With it's brushless motor and 60V / 54V Flexvolt batteries, users can expect all day power "for most users". This saw is said to have the ability to make 140 cuts of a 75mm x 50mm (literally 2.95″ x 1.96″) timber in a single charge.


Features
The classic saw design improved and updated for the modern cordless user
XPS shadow line cut indicator provides fast accurate alignment of the blade while illuminating the workpiece for increased productivity, no adjustment required
Improved dust extraction efficiency
The base and fence have been machined to meet the accuracy of the most demanding applications
Head lock functions allow the head to be fixed restricting the traverse function for trim applications and ease of transportation
Integrated positive mitre stops at 15 – 22.5 – 30 – 45 degrees, quick release mitre mechanism up to 50 degrees
Sliding left hand fence with measuring scale for improved material support and management
Compact internal rail design for huge cutting capacity in a highly transportable format
Product specification
Voltage: 54V / 60V Max in USA
Blade speed: 6300rpm
Blade diameter: 216mm (8-1/2 inch)
Blade bore: 30mm
Bevel capacity: 48 degrees
Mitre capacity left and right: 50 / 50 degrees
Cutting capacity at 90 deg / 45 deg W x H: 173mm x 62mm
Cutting capacity at 90 deg / 90 deg W x H: 270mm x 62mm
Cutting capacity at 45 deg / 90 deg W x H: 189mm x 62mm
Max. cutting capacity at 45 deg/ 45 deg: 190 x 48mm
Max. depth of cut (saws): 80mm
Weight: 14kg
What's strikes me as interesting is that this is a 8-1/2″ saw running at 54V / 60V max while the new Milwaukee M18 Fuel miter saw will be running at less voltage while running a larger 10″ blade. If you want a larger miter saw, Dewalt makes available the mighty 12″ models running on the Dewalt 120V Flexvolt system.
No word on if or when this new Dewalt Flexvolt 60V / 54V 8-1/2″ Sliding Miter Saw DCS777 will be available here in the USA.