Diamandback Safety Tools just announced a new threaded flange wrench plumbing tool. It works the same as a spanner wrench to replace wheels on a grinder but much bigger for large plumbing flanges. Check out the full press release below.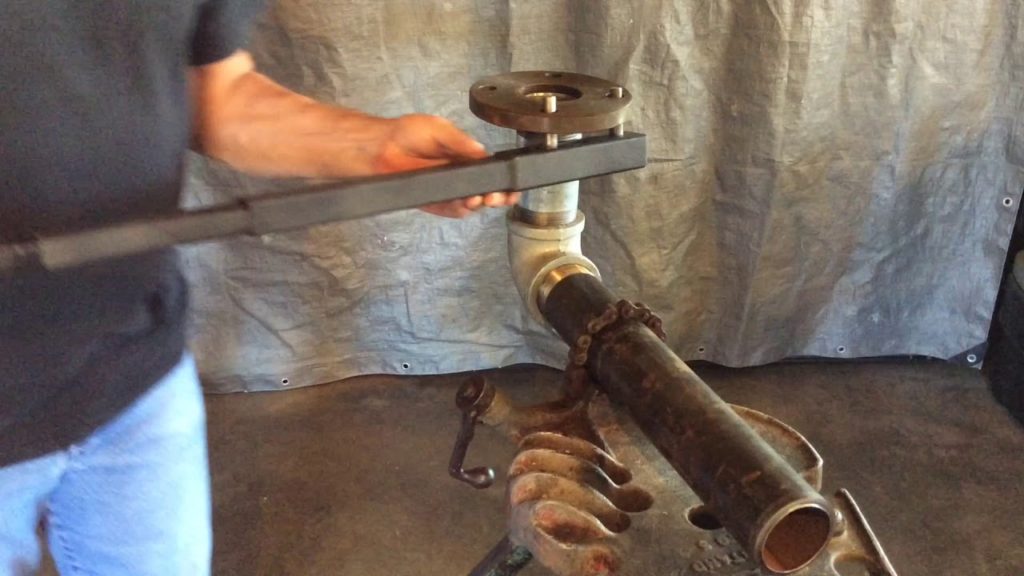 The Diamondback Safety Tools flange wrench was built in a response to a demand to increase worker safety when tightening threaded flanges. Our new revolutionary design has almost completely eliminated injuries due to tightening threaded flanges. While our steel frame two pin design drastically reduced worker injuries on its own we did not stop there. We made the pins more secure by creating two different sizes on the pins themselves. This reduces the chance of the wrench slipping by ensuring there isn't any slack between the pins and the flange holes. These benefits are what the worker needs to make sure they can properly tighten flanges to avoid leaks and injuries. Then we focused on the worker. With our "drop in pin" or "plunger pin" and our level we decreased the amount of time it takes a worker to tighten a flange from an average of roughly 2 minutes to 10 seconds.
While this efficiency of being 12 times faster doesn't seem like a major improvement (simply because of the short amount of time) it can add up in a major way. If a worker were to tighten 5 flanges a week for year with the traditional method it would take them 8 hours and 40 minutes costing the employer on average ($42.50 between hourly wages, taxes, and benefits) $368.05 per year. While if the same worker were to use the Diamondback Safety Tools flange wrench it would take them a total of just 43 minutes costing the employer (with the same cost of wages and benefits) just $30.06 and the employee would be SAFER and less likely to miss time due to injury. With the current price of $249.99 the employer would save $88 after the price of the wrench, while improving the safety for their workers! And with the Diamondback Safety Tools warranty and customer focused service the years after purchasing the wrench will be all profit.
Diamondback Safety Tools is dedicated to safety and we hope that you will choose our flange wrench to protect every companies greatest asset, the workers. Proudly made in the USA.
DISCLOSURE:
Tool Craze does not sell this product or any product on the Tool Craze website. Tool Craze does not handle the sale of any item in any way. If you purchase something through a post on the Tool Craze site, Tool Craze may get a small share of the sale. Please refer to the About section for more info.