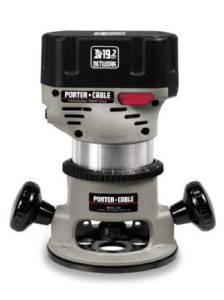 I want to start a new segment here on Tool Craze that showcases power tools from the past that would be amazing if they were still made today. To start off this segment I wanted to show you guys the Porter Cable 19.2V cordless router.
Some of you reading this are probably thinking to yourselves, we already have several cordless routers from Ryobi, Ridgid, and now Makita is jumping on board with one soon, so nothing out of the ordinary here right guys?
Here's the thing, the cordless routers available today are small trim routers. What's neat about Porter Cable's 19.2V cordless router is that it's a much beefier unit and is said to offer the performance of their corded 1-1/2 horsepower unit, the 690 Porter Cable model. So in other words the PC router would be a larger more capable unit than what's currently available today for cordless. It's build quality is also beefy just like you'd expect from a corded model.
I'm actually surprised this unit is discontinued considering it's specs and positive reviews. The only thing that shows it's age on this model is not the unit itself but the batteries it used which were older tech Ni-Cad's. Although it had 2ah batteries which weren't bad for the time.
FEATURES

19.2 Volt, 2 Amp/hour battery for more power & longer run time
Interchangeable Network(TM) battery system powers drill, hammer-drill, circular saw, reciprocating saw, jig saw, router, and more
Fully compatible with all model 690 bases – can be used as a plunger router in the 6931 base or as a D-Handle router in the 6911 base. Fixed base, model 1001, is included
Powerful 600 Watt, 23,000 RPM motor handles most jobs that a 1 1/2 Peak HP router can do
Long-life motor brushes are replaceable
Slide-in battery allows compact size and great balance with weight positioned directly over your work
Convenient spindle-lock feature so bits can be changed with only one wrench
Standard Equipment: 2902 motor unit, base #1001, 1/4″ collet #42999, collet wrench #42596, high-capacity battery pack #8823, advanced diagnostic charger #8624, carrying case, and operating manual
Slap a brushless motor on this bad boy, give it the same body and build and use today's latest lithium ion batteries with 4ah or higher capacity batteries and we'd have a winner for sure in today's market.
When did this model come out? I'm not exactly sure but Amazon has reviews that date back to 2001 meaning it's been around since early as 2001. If 2001 is the year it came out, it would make this model about 16 years old.
What do you guys think, should Porter Cable release and updated version of this model with todays modern batteries, should other manufacturers build something similar or better?
Although this model is officially discontinued, you can still find it for sale on ebay when it pops up used of course.