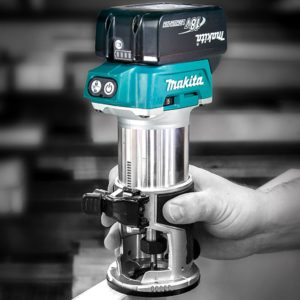 Just spotted in Australia is a new Makita 18V Brushless Trim Router DRT50Z!
This is maybe the fourth cordless router that's come out in recent times. That's after 2 Ryobi 18V models and one Ridgid 18V model so basically this new Makita cordless router is not new to the cordless market.
Even the Ridgid and Ryobi models weren't first to market as Porter Cable made an 18V larger size router (not trim router) way back in the day, I believe in the early 2000's.
Anyways back to Makita's 18V router, it features a brushless motor for longer runtime which is great since I'd expect a high RPM motor guzzle battery juice. Makita's model also has a nice variable speed dial and since Makita is a more industrial grade brand, I like that they feature a metal body besides the metal base.
It appears to be very similar in design to Makita's current corded trim router the RT0701C model except of course that it's cordless and powered by a battery. The battery holder is up top and the battery sits at the very top of the router. 
Besides the variable speed dial and the usual power on/off button there's also a lock button. I've seen Makita use this button before and it helps lock the tool so that it doesn't accidentally power on while in a tool bag or something as it's being transported.
So far that's all I know about it as full specs and details arent disclosed such as RPM's etc but I'm sure we'll find out soon.